Interview: Patton Oswalt and Rob Corddry of 'Seeking a Friend for the End of the World'
On the Apocalypse, last meals, post-apocalypse movies, and comedy one-upsmanship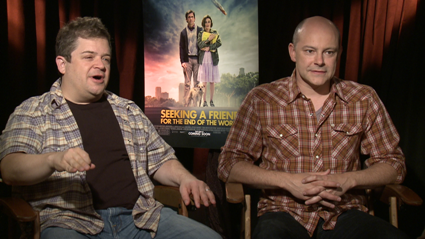 Patton Oswalt and Rob Corddry don't have many scenes in "Seeking a Friend for the End of the World," the rom-com that sees Steve Carell and Keira Knightley bond in the face of impending doom -- but the ones they have, as the saying goes, are choice. We spoke with Oswalt and Corddry in Los Angeles about last meals, the end of the world and how they'd face the actual end of all things as the sun hangs in the sky guttering out like a match held aloft in the fist of an angry God. *
In this film your character is like every character, knowing that the world is ending and are determine to go out with a bang, not with a whimper. My question is, are you two really more whimperers in the event of the actual apocalypse? Is it just at home, silk robe, glass of wine and lots of weeping for what never was?
Rob Corddry: I'm so bummed out.
Patton Oswalt: God,  I don't want to ever see a movie again.
Corddry: You know when people ask you what's your last meal? I could never finish answering that question, because I would just keep going.
Oswalt: My only worry about going out with a bang is I would want to time it just right. I don't want to do it two days too early and then I go out with a hangover. If the meteor is coming I want to be wasted.
Rob Corddry: You want to be rested
Oswalt: Either rested, or at the peak of my buzz. Half way through a bottle of wine, really happy and then boom.
When you read the script, were you gratified to see that there was lots of bizarre humor? Everything from the housewarming gift at your final party to your observations about sexual politics during the apocalypse, were you glad to see the humor in the script?
Oswalt: Well, I was glad to see that they were basically very gently kind of knocking the piss out of other apocalypse movies. We were talking about how they visit other apocalypse movies that are going on, and then veer off. There's like fifty movies going on here. It's really cool.
Right. We're only watching this movie because of where the camera is.
Oswalt: Right. We're following these two.
Mr. Oswalt, in your stand up, you have a bit about if you die in the apocalypse it's awesome, because you get to go to the VIP section of the afterlife. Mr. Corddry, do you feel bad that you don't have a stand up bit about the apocalypse I can ask you about?
(Oswalt laughs.)
Corddry: I have zero apocalypse -- I just realized I should've had way more apocalypse material for this interview.
Oswalt: You have no cards, no material ...
Corddry: I had no idea you were going to so artfully deliver them, too. You guys haveburied me in this interview. Go see the movie! It's really good.
Oswalt: Don't say it like a defeat.
Corddry: Well, I got to do my job.
Oswalt: (Mock-Sloganeering:) "You'll like it! What else are going to do, read a book? Get popcorn!"
Favorite end of the world films, outside of, of course "Seeking a Friend for the End of the World?" I will also include post of the end of the world films as well.
Oswalt: There's a great one with Anthony Edwards called "Miracle Mile" that almost no one has seen. It's really cool. Also "Melancholia," but, you know, Kirsten Dunst is naked, so there you go.
It's almost worth it all ending.
Oswalt: Almost?
Corddry: What's the one with Don Johnson and the dog?
Oswalt: "A Boy and his Dog."
The most misogynist end of the world story ever told.
Corddry: Really?
Oswalt: Or a love story between a boy and his pet ...?
("Seeking a Friend for the End of the World" opens Friday.)
*Sorry. Kinda got into it.