Videodrone New Release: Back in time with 'Men in Black 3'
Josh Brolin is young Tommy Lee Jones in this time-hopping adventure – arriving on Friday, November 30
By 
SeanAx
 Nov 27, 2012 10:57AM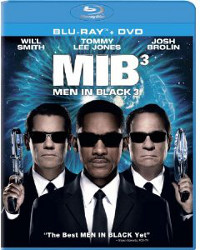 "Men in Black 3" (Sony) – Street date Friday, November 30
15 years after the original science-fiction comedy, which paired up Will Smith and Tommy Lee Jones as Agents J and K to police the extraterrestrial population secretly living amongst us on Earth, director Barry Sonnenfeld brings to old team back for another mission and manages to offer us a sequel and a prequel simultaneously.
In this installment, which finds the chemistry in the partnership unchanged after over a decade riding together -- J is as talkative and curious as ever, K still taciturn and sardonic -- the magic of time travel sends J back to 1969 where he joins forces with a younger Agent K (played by Josh Brolin with a sly impression that borders on genius) to save his older incarnation from a psychopathic alien.
Jemaine Clement (of "Flight of the Conchords") is the growling biker of a space invader who plays "Back to the Future" games with his earlier self after he breaks out of space prison and jumps back in time to… well, you know how these plots work when you scheme to change the present by mucking around the space-time continuum. Along with the sixties fashions and flourishes (including an Andy Warhol with a secret identity) and space race complications, there's even a hint of suppressed romance (because K is nothing if not loyal and by-the-book all down the line) and, eventually, backstory on not just the enigmatic and tight-lipped K but on J as well.
Continue reading at Videodrone
For more releases, see Hot Tips and Top Picks: DVDs, Blu-rays and streaming video for week of November 27