'Cloud Atlas' Trailer Bends Minds, Time and Space
Will the film mark the triumphant creative resurgence of the Wachowskis?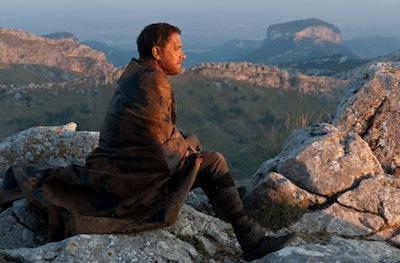 What would happen if you took the
"everybody's-connect​ed"
aesthetic of the Oscar-winning "Crash," combined it with the time-bending, era-spanning adventure of Darren Aronofsky's underrated "The Fountain," threw in Tom Hanks and Halle Berry in multiple roles, and—oh yeah—also added the not-inconsiderable creative talents of the Wachowski siblings, creators of "The Matrix" trilogy?
To find out, you need only check out
the first trailer
for the Wachowski's forthcoming "Cloud Atlas." In it, you'll find breathtaking scenery; lots of confusing philosophical voice over; a swooping, meditative score; and a healthy dollop of seemingly tasteful CGI trickery as the story moves into the indeterminate future. Oh, and also lots of the aforementioned Tom Hanks and Halle Berry, plus fleeting glimpses of Hugo Weaving, Jim Sturgess, Susan Sarandon, Hugh Grant, and Jim Broadbent. Basically every respectable actor who wasn't otherwise employed in the past year by "The Hobbit" or "The Dark Knight Rises."
As for the story... Well, we have no idea, but the trailer at least gives us an inkling as to how the Wachowski siblings and co-director Tom Twyker ("Run Lola Run," "The International") intend to weave together the six disparate story threads of David Mitchell's best-selling source novel. Check out the trailer yourself, over at
 The Hollywood Reporter
, and let us know what you think in the comments...