Veteran Actor Andy Griffith Passes Away at 86
His career spanned five decades, including 'Matlock' and (of course) 'The Andy Griffith Show'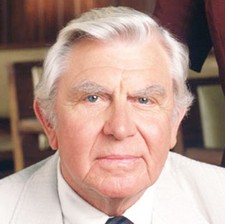 This was always going to be a tough one to take. The effortlessly endearing Andy Griffith passed away at his North Carolina home this morning, according to
The Hollywood Reporter
. He was 86 years old.
An Emmy* and Tony nominee, and a Grammy winner to boot, Griffith broke out with his fiery 1957 film debut, "A Face in the Crowd," before endearing himself to television audiences with "The Andy Griffith Show" in the 1960s and "Matlock" in the 1980s. His last substantial film role was a folksy turn in the 2007 comedy "Waitress," written and directed by the late Adrienne Shelly. (The less said about his randy role in 2009's "Play the Game," the better...)
You're encouraged to share your favorite roles and memories of Griffith in the comments below.
*His one Emmy nomination was actually not for either long-running show of his, but rather the 1981 TV movie "Murder in Texas."