Of Course the 'Paranormal Activity' Franchise Is Getting a Spin-Off
Stay after the credits of 'Paranormal Activity 4'!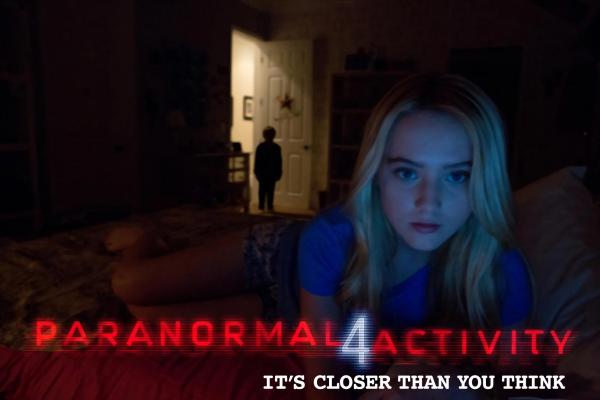 As the
mega-super-extra-who​a-blockbuster
"Paranormal Activity" franchise gets ready for the October 19th release of its fourth film (thanks to returning "Paranormal Activity 3" directors Henry Joost and Ariel Schulman, also of "Catfish" fame), it's almost inevitable that we'd start hearing chatter of a "PA" spin-off. In fact, the only thing truly surprising about this news is its timing - surely, someone was cooking up an official spin-off when the first film made almost $200 million at the box office (with a tiny $15,000 budget, no less), right?
Bloody Disgusting
reports that they have "received inside intel that Paramount Pictures is planning something special for their October 19th release of 'Paranormal Activity 4.' We're being told exclusively that fans who stay post-credits will be treated to a short clip teasing the 2013 release of the studio's unnamed Latino 
Paranormal Activity
 spinoff. This has not been confirmed." 
Again, this news has not been officially confirmed, but it seems like a strange little slice of information that it would be somewhat bizarre if it should prove untrue, especially since we already know that some of the "PA" team had been planning a new film. BD points us back to
a story from April
that revealed that Paramount Pictures was quietly putting together this project, back then billed as a "cousin" to the "PA" franchise. The news that we might get a taste of that film post-"PA4" now indicates that such a relationship between the projects might be even closer.
This new film will be produced by Jason Blum and Oren Peli and will come from writer/director Christopher Landon (who has penned the last three "PA" films), but what's most interesting about the project is that it's said to be "Latino-themed, will star a Latino cast and will tackle Catholic-based paranormal mythology." Catholic-based mythology? Yup, that's definitely something that the horror genre is into and, after the bust that was January's "The Devil Inside," there's certainly room in the found footage genre for an actually good take on this material. 
What could Paramount and the "PA" team in store for movie-goers who check out "Paranormal Activity 4"? We'll just have to wait and see.