Christian Bale and Anne Hathaway Talk Transformation and Suits
Stars of 'The Dark Knight Rises' discuss how they prepared for their roles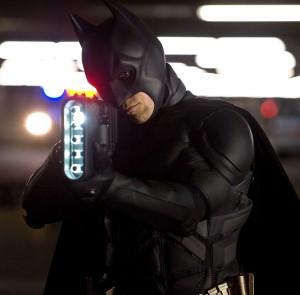 By Parade.com
Christian Bale will end his run as Batman when "The Dark Knight Rises" hits theaters July 20, and while his performances have been critical and financial successes, the actor reveals it wasn't love at first fit.
Bing: More about 'The Dark Knight Rises'
"I think the very first time I put on the suit it was at the audition. It was Val Kilmer's [from 1995's 'Batman Forever'] so it didn't fit very well," Bale said at a Sunday press conference for the film. "The claustrophobia was just unbelievable. I stood there and I thought, 'I can't breathe. I can't think. This is too tight, this is squeezing my head. I'm about to have a nervous breakdown. I'm about to have a panic attack.'"
Before the actor let the initial rash of discomfort overpower his impulse to take the role, he took a step back. "I asked for 20 minutes by myself," Bale said. "Since generally people are around asking what it feels like ... So I asked for 20 minutes and I stood there and thought, 'I'd really like to make this movie.' I have to get through this moment. So I just stood there by myself."
Over the years, he got used to the second skin. "In the same way Bruce Wayne improves the suit, we improved the suit for comfort," Bale added. "And I could rip it off myself if I did in fact see stars."
As for the last time he donned the iconic mask and cape, the Oscar winner followed similar protocol. "[My last scene] was with Anne [Hathaway] as Catwoman on a roof in New York. I was wrapped but they still had a few days on the movie," Bale said. "I just went down, sat in a room, and realized, 'This is it.' So again, I asked if they could please leave me alone for 20 minutes. I felt real proud that we achieved what we had set out too. [This character] changed my life and changed my career and I just wanted to appreciate that."
Parade.com: Top 10 Superheroes of All Time | Christian Bale: It's All a Happy Accident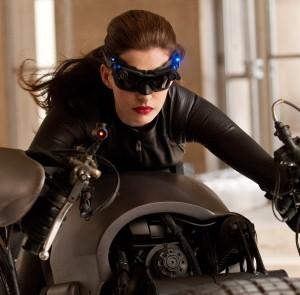 On July 20, Anne Hathaway will slink onto the big screen with seductive ease as Selina Kyle (whose alter ego is better known as Catwoman). In "The Dark Knight Rises," the third installment from Christopher Nolan's Batman trilogy, Kyle's figure is as enviable as her sticky-fingered finesse. For the Oscar nominee, it wasn't just the constraints of her character's leather suit that had her logging in relentless hours at the gym, it also was the tricky maneuvers she had to do while wearing it.
"It wasn't just about looking a certain way. I had to learn how to fight. I had to become strong," Hathaway explained on Sunday at a press conference for the film.
"I feel in situations like this -- I don't know what other actresses have gone through -- but sometimes there's a mandate that comes to you and deals with how you have to look. The way I was treated on this movie was, 'Learn how to do what you need to do and then however you look, that's the way the character looks,'" she added. "And I felt, as a woman, very protected in that way."
Bing: More about Anne Hathaway | More on Catwoman
As for the razor-sharp stilettos that Kyle performs her fight scenes in, Hathaway chalks up the heeled stunt prowess to simple indoctrinated female practice. "It's part of being a woman, you just figure it out," she added. "'The Devil Wears Prada' was really good training for that, though. I kind of ran all up and down Manhattan. Now I just ran up and down Gotham."
From the start, Hathaway understood the physical limits she would have to push to keep up with her male counterparts. "When I got the part, Chris [Nolan] said, 'So, there's going to a lot of fighting and when we did Inception, Joe [Joseph Gordon-Levitt] got in really good shape. Joe went to the gym for months so that when we did his fight scenes, he did his own fighting. I really liked that.' I said, 'Gotcha. I am reading between the lines here.' So I went to the gym and came out when we wrapped. And it was a complete transformation. I had never done anything like that."
Parade.com: Anne Hathaway: 'I Like Having Short Hair' | Anne Hathaway is Engaged
Want more Movies? Be sure to like MSN Movies on Facebook and follow MSN Movies Twitter.
"The Dark Knight Rises" opens in theaters on July 20.