Interview: Sarah Polley Triumphs Again with 'Take This Waltz'
Polley's powerful new feature stars Michelle Williams, Seth Rogen, and Sarah Silverman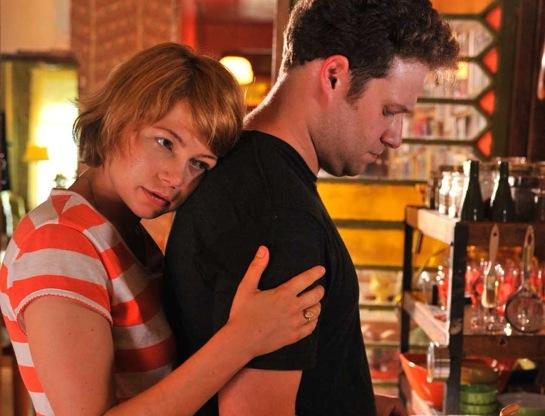 I always liked Sarah Polley as an actress ("The Sweet Hereafter," "Dawn of the Dead," "Mr. Nobody") but I'm even more impressed with her writing and directing talents. Her first feature, "Away from Her" (2006), based on a short story by Alice Munro, was a poignant look at an older couple grappling with the realities of Alzheimer's. The film garnered Polley an Oscar nomination for Best Adapted Screenplay as well as a Best Actress nod for Julie Christie. "Away from Her" won seven Genie Awards including Best Motion Picture, Best Director, Best Screenplay, and Best Actor and Actress.

Polley is now back with her second feature, "Take This Waltz," a funny, insightful, and thought-provoking look at a 28-year-old woman named Margot (Michelle Williams) who is struggling with her feelings for Lou (Seth Rogen), her husband of five years, and Daniel (Luke Kirby), an artist who lives across the street. Margot is close to Lou's sister, a recovering alcoholic named Geraldine (Sarah Silverman). I spoke to Sarah Polley by phone from her native Canada.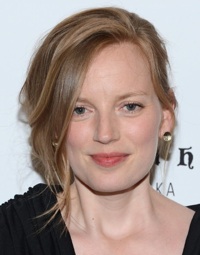 MSN Movies: I'm so impressed by your ability to make such emotionally complex films as "Away From Her" and "Take This Waltz." Is it hard to get such uncompromising and personal projects off the ground?
Sarah Polley: I think I can explain it by the fact we have public financing for films in Canada. You're able to work on films where making a profit is not the only factor which I think is really fantastic. If I wasn't Canadian I'm not sure I'd make films because I think in the United States you have to be so tough and have so much stamina to be able to keep your vision intact through all the various stages of financing. I feel incredibly lucky to have had that support for both of my films and I think it's a huge part of why I've been able to make exactly the films I've wanted to make. I know that if the films don't work it's my fault and nobody else's and that's a really good feeling!
Michelle Williams is turning out to be one of the most gifted actresses of her generation. Her performance in "Take This Waltz" is so multi-layered. When you're working with an actress with that kind of talent, is there a tendency to just step aside at times and see what she comes up with?
What amazes me about Michelle is that she's such a powerhouse of an actress, so talented and strong, but she's also unbelievably collaborative. I agree that with someone like her you'd be happy to step back and see what she's going to do but Michelle is always eager to work closely with her director as she discovers the character.
I was amazed by the performances of Seth Rogen and Sarah Silverman in this film. I think their fans will be surprised by the depth of their dramatic work here. I know both were your first choices—were either of them surprised that you wanted them for these parts?
You know, Sarah was surprised, which shocked me because I assumed she would have been offered a million dramatic roles. To me it was just so obvious that she could deliver a great dramatic performance because I think she's so unique and intelligent, and such a great performer. I was surprised that she was so excited to do the film, I thought it was going to take a lot of convincing! With Seth, I knew he was perfect for that role and I wrote the part thinking of him the whole time.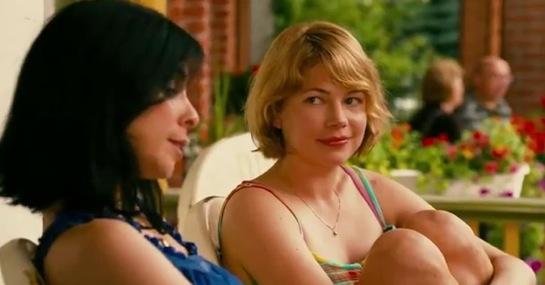 I think Sarah Silverman has a big future ahead of her in film if she wants it.

It's funny, I knew she'd be amazing but I don't think I was prepared for how incredible she was. I think she ended up thinking I was someone who just uses a lot of superlatives because after her scenes I kept saying things like "That is the most amazing thing I've ever seen!" At some point she probably stopped taking me seriously, but the truth is I was just astonished by her performance.
I think the way people view this film depends so much on where they are in their own lives and relationships. I'm pretty sure that if I'd seen this story ten years ago I would have been rooting for Margot and Daniel. But now I found myself identifying more with Lou and wanting him and Margot to work things out.
That's been the most amazing thing with this film—seeing how differently people connect to the characters. Some people feel that Margot is a self-involved, greedy, naïve character, other people are defensive about her. Some people think that Lou is the greatest guy in the world and wonder how could she possibly leave him, other people think she should've left him three years ago. People are very attached to their opinions of these characters which is really interesting. It's been fun watching these debates after the film. I've seen couples get into big arguments discussing the movie!  
Were you ever worried that Margot might not be likable enough for a main character?
I didn't think about it that way because I wanted her to be quite flawed. I feel like this idea of having sympathetic protagonists is more of a recent thing. I look back at old movies, say the films of Bette Davis, for example, and they always showed these women whose lives were a little messy. That used to be expected in movies with strong women characters but I think recently we've gone into this weird thing of needing the protagonist to be likable and to have the audience support their choices. For me that's not as interesting to watch. I can't relate to those people as much, being a fairly messed up human being myself!  
One scene that impressed me so much was the shower scene with Michelle Williams, Sarah Silverman, and a bunch of other women. It must have taken a lot of work on all of your parts for those actresses to appear so completely unselfconscious.
I feel like they went into it with such bravery, it was amazing. I honestly don't know if I was in the public eye the way they are if I would have been able to do that scene that unselfconsciously but I think we were all committed to showing the female body in a way that was neither objectified nor made fun of. None of us had seen that very much. We just wanted to say, okay, this is the female body, this is what the scene requires, as opposed to making some kind of comment about how sexy young women are or laughing at old women's bodies which happens in a lot of films including independent ones. Our goal was just to show the female body as it really is without commenting on it.
As great as Michelle Williams is as Margot, I could also easily imagine you in that role. Did you ever have a twitch of wishing you had played the part yourself?
(Laughing) Oh, no, I didn't want to go anywhere near that part! I could never have imagined playing that myself. I think one day, after I make a lot more films, I may experiment with trying to be in a film that I'm writing and directing but that's a long ways off!
Do you plan to keep acting in other people's films while also working on your own projects?
Yes, every now and then I'd love to act, but not that often because I think writing and directing take so much more time. But getting the chance to occasionally work as an actress with directors I admire? I'd love it!
Do you have a new screenplay you're working on?
Yes! I'm about halfway through adapting Margaret Atwood's historical novel, "Alias Grace," about a real-life murder that took place in Canada in 1843.
Are you also interested in directing other people's scripts?
Before I do that, I'd like to try writing scripts for other directors. For me, screenwriting is the most pleasurable, unstressful, lovely way to spend your time. I'd love to do more of that and then see what somebody else would do with it.
{"Take This Waltz" opens today in select cities and is also available through Video on Demand.)