Sundance Review: 'In a World'
A voice-over star's daughter learns to speak for herself in Lake Bell's hilarious, real debut comedy.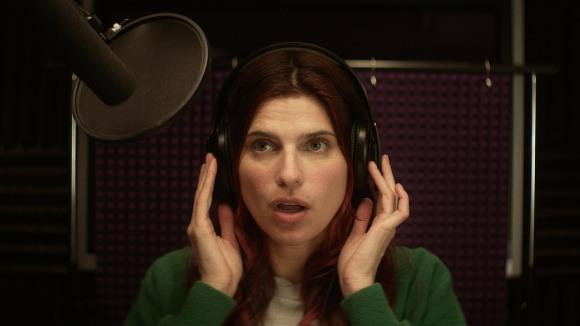 Rating: 5/5
Carol Solomon (writer-director Lake Bell) lives in her father's echo. Not shadow; her dad Sam Soto (Fred Melamed) is a trailer-voice guy, of the same generation as the late, great (non-fictional) Don LaFontaine, the gravel-and-gravitas vocal artist who made "In a world ..." a catchphrase for a generation of moviegoers who both mocked its preposterousness and loved its inherent outlandish promise. Carol does vocal coaching and archives accents for her work, surreptitiously taping strangers to capture what they sound like; it's not a superbly-paying gig, though, which is why she has to move in with her sister (Michaela Watkins) and her husband (Rob Corddry) when his groupie-turned girlfriend Jamie (Alexandra Holden) moves in with her dad and displaces her current arrangement. But Carol, with thanks to kind-hearted and wooden-mouthed sound man Louis (Demitri Martin), lands one voice-over gig and then another and another, even stealing gigs from trailer-voicing wunderkind Gustav Warner (Ken Marino); Carol's life is taking off. But in Hollywood, success is, and isn't, everything it seems ...
Written and directed by Bell with skill and grace, "In a World" shames  both big-money, big-studio limp, lame Hollywood rom-coms and the toothless, gum-the-hand-that-fe​eds-them lukewarm 'satires' about Hollywood Hollywood makes.  Carol's journey is one of self-awareness, to be sure, but it's also one that feels like it has real stakes and real struggle, and Bells' script captures the way that both families and the movie business are riddled with insecure egomaniacs who can, and will, knock you down so they might stand a little taller -- and how, in modern movie-making, a big win can come with provisos that make it necessary to take the hit and keep going. Sam isn't a monster, but he's not that great a guy, either, and Melamed's performance is utterly winning, combining velvet-voiced pomposity and scratchy, whimpering self-doubt.
BING: Lake Bell l Don LaFontaine
As for Bell, after years in projects like "Children's Hospital," it's wonderful to see her shine in a lead role -- but the real surprise here is that, as a writer and a director, her wit, skill and intelligence are as broad and warm and bright as her smile. Director of Photography Seamus Tierny captures the real L.A., not just the gleaming homes and tree-lined avenues of the well-to-do successes but the funky apartments and graffiti-strewn streets of the things-to-do strivers in the industry. Editor Tom McCardle makes sense of the overlapping dialogue and quick-shift scenes as Carol cautiously and clumsily navigates her way through newfound success as every rose comes with thorns. For all that matter, all the characters in "In a World" talk and act like people, not merely cutouts placed by lazy screenwriters to help get everyone to the next scene. 
It's also worthy of note that Bell avoids the common pitfalls of so many romantic comedies (which "In a World" is not solely, but which "In a World" nonetheless does remarkably well); the supporting characters are characters, fully-fleshed and fallible and trying, and when Louis and Carol finally, in spite of themselves, actually connect, we know why that's going to happen and why that's a good thing. There are too many great cast members to name, but Tig Notario and Nick Offerman collaborate to steal scenes like a pair of pickpockets, one lifting your wallet while the other distracts you. There are also a few delightful cameos too good to spoil, and the films' loving mockery of Hollywood -- much of the plot involves who gets to do the trailer for the upcoming quadrilogy "The Amazon Games," which will also see the return of "In a world ..." after LaFontaine's passing -- that manages to be savagely smart but also warmly knowing.
Sam, laden with wisdom and quotable bon mots, reminds Carol early on that "A voice is a choice," and while that's true, you could also flip it -- the choices you make speak for you, and part of the pleasure of this film lies in watching Carol make better choices about everything -- the family she was born into, the family she works with, the industry she works in. You don't have to be a Hollywood insider to love "In a World" -- you just have to love movies and have a family and a few hopes, which I like to think is a fairly broad pool of people. "In a World" marks the debut of a new and real talent with Bell's leap to directing and writing, but -- more importantly -- it's as hilarious as it is human, as silly as it is smart, as real as it is ridiculously funny, and I hope it finds the studio and audience it deserves; the next time Bell makes a film, I for one know I'll be listening.
Want more Movies? Be sure to like MSN Movies Facebook and follow MSN Movies Twitter.