Best of 2012: 'Searching for Sugar Man'
This documentary by Malik Bendjelloul focuses on Rodriguez, the greatest 70s rock icon who never was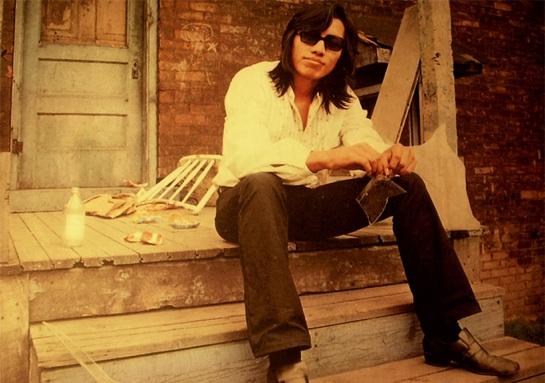 Is it too early to start compiling my list of the Top Ten Films of 2012? Because there's one film that I know will be on that list no matter what else is released between now and the end of the year—"Searching for Sugar Man," a remarkable, intensely moving documentary by Swedish filmmaker Malik Bendjelloul.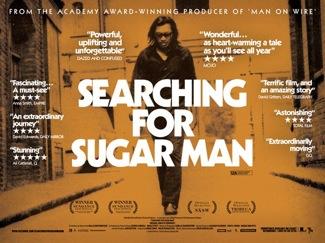 The film, which won a special jury prize and audience award at Sundance this year, opens today in some U.S. cities and many more in the weeks ahead. I started choking up just reading the press notes for this film—by the end of the screening I went to, I was a slobbering mess. "Searching for Sugar Man" tells the true story of a singer-songwriter named Rodriguez. You've never heard of him? Me neither. But we should have. Discovered by major music producers in the late 60s who were bowled over by his haunting music and amazing lyrics, Rodriguez recorded an album that everyone thought would be the debut of one of the greatest recording artists of his generation. But guess what? The album bombed and the singer went back to work at construction jobs, disappearing into obscurity.
End of story? Rodriguez thought so…for decades. But somehow, unbeknownst to the singer, a recording of his brilliant album, "Cold Fact," found its way across the planet to the troubled land of South Africa. The people who heard Rodriguez's songs were instantly smitten and made copies of the record for their friends. Those friends made copies for their friends, and on and on. This was the height of the brutal apartheid era in that country and Rodriguez's poetic but fiercely anti-establishment songs hit a nerve within the white liberal anti-apartheid community. Without knowing it, Rodriguez soon became the voice of the anti-apartheid movement. While he toiled at hard-labor jobs back in Detroit, dreaming of the career that never was, Rodriguez had become a phenomenon in South Africa, more famous than Elvis, on par with the Beatles, bigger than the Rolling Stones. Just mention "Cold Fact" on the streets of Capetown or Johannesberg and every man, woman, and child could launch into any of the songs, from "I Wonder" to "Crucify Your Mind" to the popular "Sugar Man" that was banned by the South African authorities. 
So why did no one in South Africa try to contact their idol? Remember, in the days of apartheid, South Africa was isolated from the rest of the world. Also, rumors had spread throughout the country that Rodriguez had committed suicide years earlier. Some said he blew his brains out on stage during a performance. Others thought he died of a drug overdose.
Decades later, with apartheid a thing of the past and the Internet making the world a much smaller place, two South African fans tried to find out more about their departed hero. Still convinced that he was dead, they created a website to try and find out anything about the singer's life. Eventually one of Rodriguez's grown daughters stumbled upon the site, and made contact with the South Africans. You really need to watch "Searching for Sugar Man" to see what happened next in this inspirational and extraordinary story. Malik Bendjelloul expertly weaves the events of Rodriguez's re-discovery into a taut, suspenseful tale that almost feels like a thriller. There are elements that are so unbelievable, so moving that I don't want to give them away here. Let me just say that when the incredulous South Africans found out that Rodriguez was still alive, they begged him to come give a concert. On the way over, Rodriguez's daughters prayed there would be at least twenty or so fans in attendance at the show—they didn't want their dad to feel bad when he got there. So imagine their surprise when thousands upon thousands of South Africans showed up for a series of sold-out stadium concerts!
I was very excited recently to get the chance to talk to Malik Bendjelloul and Rodriguez himself, now 70 years old, at the House of Blues in Los Angeles. I told them that I ran from the screening of the film to my computer to purchase Rodriguez's re-released music. I never remember responding to new music that strongly or that fast.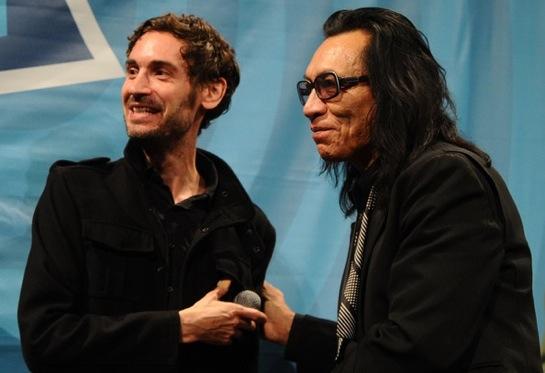 "You're absolutely right," Bendjelloul said, "I had exactly the same feeling when I heard it for the first time, it has this kind of magic quality! I first heard of Rodriguez in 2006 when I was traveling around South Africa looking for stories for Swedish TV. I met a guy named Steven Segerman and he told me the story. I couldn't believe it! I talked to a lot of people but it took me years to get Rodriguez to sit down for an interview!"

"I was reluctant," the singer admitted. "But my daughters encouraged me and I finally let Malik get whatever he needed. "Now I want to satisfy all the work that's been done for the film." Rodriguez, a very private person, is clearly still uncomfortable being the center of attention—except when sharing his music on stage. While he could not have been warmer—hugging me often and asking me questions about my life and my family—he was not very quick to answer any of my questions about his past experiences or his future plans. But he came to life whenever he spoke about his daughters or his beloved grandchildren.
"There were times when I thought I should stop," Bendjelloul told me later. "I felt like it was torture for Rodriguez to be on camera. But now it's different. We've been traveling around everywhere with the film and he couldn't be more helpful."
In the film it becomes clear that Rodriguez is someone who accepts whatever life dishes out with dignity and grace. He accepted his fate in the music industry and returned to his normal life without bittnerness. Still, I couldn't help asking him if he'd been disappointed by the inexplicable American reception to his amazing album.
"Everyone around me was very excited about it. Sure, it was disappointing, but hey, that's part of rock and roll! I'm just a seeker, I'm always searching. Music is something you never really give up no matter how many records you sell."
"I think his politics hurt him," Bendjelloul added, "and the fact that his name was Rodriguez. How dare he play anything but Mexican music with that name, right? It was a different time back then. They tried to change his name at one point but he wasn't interested. He just doesn't care about fame and money. But he loves singing, he loves performing. Which is why it was so easy for him to go right back into it when he first went to South Africa. I've met many artists in my life but never one as pure as Rodriguez. And he's never shied away from sharing his beliefs."
"I think everyone wants people to say that things are okay," the singer said. "I see so many parallels between today's world and what was going on back then. The President, the governors, the mayors all want to report a pretty picture but I think what's happening to middle and working class families today is horrible."
I told Rodriguez that I hoped he'd write new songs about what's going on in the world. If they're just half as powerful as the songs he wrote over 40 years ago, he could start a whole new movement.
To this day, people in South Africa are floored when they realize someone they believe is one of the greatest singer-songwriters in music history is barely known in his own country. Let's hope that changes as "Searching for Sugar Man" makes its way across the United States.

IN GENERAL:NOT NECESSICARILY THIS FILM  ~ CONTROVERSIAL IN THE MOVIE WORLD
  I have had it seeing advertisements for 'scary' movies during prime time , when the children are up and afraid to  go to bed after a commerical that has repeated and repeated.
I have had it with the insane violence,  abuse,   using women/men as sex toys,   near nudity   and homosexual intent ....
.... ALL THIS  ADVERTISMENT DURING PRIME TIME ....   Surely there is a law about this, since there is a law about it in the REAL world for such  actions.
                                                                                       Solid In God's Word
Are you sure you want to delete this comment?