Videodrone's New Release of the Week: 'Haywire'
Steven Soderbergh launches Gina Carano as a new action star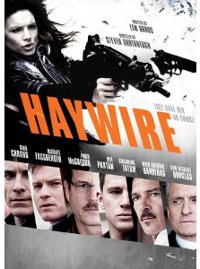 "Haywire" (Lionsgate) is Steven Soderbergh's drive-in assassin action movie by way of a sleek art-house conspiracy thriller. According to the director, the film sprung from his desire to develop a film around the talents and skill of mixed martial arts fighter Gina Carano, and the finished film -- which casts Carano as a covert agent in a shady private international agency that contracts out for government spy ops -- gives you no reason to assume otherwise.
Soderbergh's camera (he serves as his own cinematographer, under the pseudonym Peter Andrews) is focused on watching her in action and he designs her scenes to play out in long, unbroken cuts, paced at her reaction time. It's like watching a dancer in action, only her partners end up beaten and broken by the time she finishes her moves. There's a plot, of course, a meticulously constructed but still thoroughly conventional script by Lem Dobbs that involves outsourced international espionage, corrupt players, dirty tricks, and righteous vengeance, and gives accomplished supporting players Michael Fassbender, Ewan McGregor, Antonio Banderas, and Michael Douglas plenty of opportunity to play around in entertainingly stylized performances. Channing Tatum provides able (if colorless) support and Bill Paxton is her protective dad, thoroughly (and correctly) convinced that no one in her circle can be trusted.
It's not a knock to admit that Gina Carano is a limited actress, because her limitations still surpass those negligible talents of Steven Seagal, Steve Austin, Randy Couture, and most athletes and fighters gone big screen in recent decades. She plays the part close to the vest, making her inexpressiveness part of the character, but really we just wait for her to click back into fight mode. Her body language tells us more about her character than any dialogue exchange.
Continue reading at Videodrone
For more releases, see Hot Tips and Top Picks: DVDs, Blu-rays and streaming video for May 1