Nicolas Cage Qualifies For ' The Expendables 3'
Star of 'Con Air' and 'The Rock' will join in on the action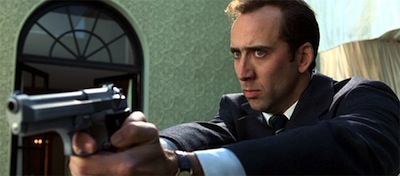 "The Expendables 2" hasn't even come out yet, and already producer Avi Lerner is making casting decisions regarding its now seemingly inevitable sequel.
The latest former action icon to join the mayhem? "Con Air" and "The Rock" star Nicolas Cage, whose experiences with John Woo on "Face/Off" alone more than qualify him for inclusion. 
Cage has repeatedly exhibited a knack for screaming inarticulately while firing dual Barettas, and those are apparently the only skills—except for kicking people in the face and/or actually speaking English—necessary to appear in an "Expendables" flick. 
According to
The Hollywood Reporter
, Lerner is also keen on roping in Clint Eastwood, Harrison Ford, and Wesley Snipes "once he returns from jail." But why stop there? What about Steven Seagal? Kurt Russell? The re-animated corpse of Charles Bronson? A CGI'd John Wayne?
What do you think, Hitlisters? Is "The Expendables 3" a good idea? And whom else should the producers target, if you'll pardon the pun?