Weekend box office: She dreamed a dream of New Year's Eve...
…but was overtaken by a Hobbit and a gun-wielding former slave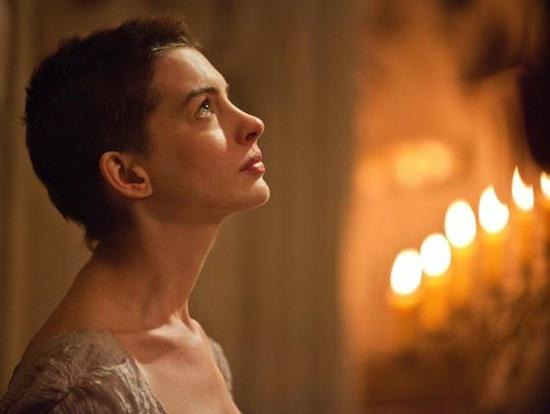 With early starts on Christmas Day, two of this week's new films managed to accumulate impressive numbers in their opening days. But while Anne Hathaway's tortured Fantine was bringing in emotional crowds over the yuletide break, she was overshadowed on the last weekend of the year by "The Hobbit," which refused to budge from first place in its third week, and Tarantino's violent but wildly entertaining pre-Civil War epic, "Django Unchained."


Although it had some strong competition, "The Hobbit: An Unexpected Journey" held onto the lead in this weekend's North American box office. The film added $32.9M (at 4,100 theaters and multiple formats) to its whopping domestic total of $222.7M. Some critics may be down on the film, but these numbers sure won't dampen Warner Bros.' enthusiasm for the next two films in the series. At #2, Quentin Tarantino's "Django Unchained" starring Jamie Foxx, Christoph Waltz, and Leonardo DiCaprio didn't seem to be suffering any fallout for its extremely violent content. The Weinstein Company release earned $30.6M over the weekend (at 3,010 theaters) which, added to its strong Christmas week ticket sales, made for a $64M domestic take to date. Universal's much-anticipated musical, "Les Misérables," starring Hugh Jackman, Anne Hathaway, and Russell Crowe, opened at #3, with $28M (at 2,808 theaters) and holiday week  totals that equaled a $67.4M domestic gross in its first six days. The new Bette Midler-Billy Crystal film, "Parental Guidance," opened at #4 but its mostly terrible reviews may find it plummeting downward after the holiday rush. The Fox film made $14.8M over the weekend (at 3,367 theaters) and a total of $29.5M domestically if you include Christmas week. Last week's Tom Cruise vehicle, "Jack Reacher," came in at #5, adding $14M (at 3,352) to its somewhat disappointing $44.6M domestic total.

Judd Apatow's "This Is 40" dropped to #6 in its second week, earning $13.1M (at 2,914 theaters) for a domestic gross of $37.1M. At #7, Spielberg's heralded "Lincoln" added $7.5M (at 1,966 theaters) to its $132M domestic take. Despite the presence of Barbra Streisand and Seth Rogen, "The Guilt Trip" fell to #8 this week, with $6.7M in ticket sales (at 2,431 theaters) and a domestic total of $21.1M. The new 3D version of "Monsters, Inc." came in at #9, earning $6.3M (at 2,618 theaters) while the week's other animated tale, "Rise of the Guardians" dropped to #10, adding $4.9M to its new domestic total of $90.2M.
After almost two months, the final Twilight movie, "Breaking Dawn, Part 2," finally left the Top Ten, as did the phenomenally successful James Bond film, "Skyfall." And what films will ring in the first weekend of the new year? Don't get too excited. January is not usually a very memorable month for the movies. But next Friday will see a wider release for "Promised Land," the interesting movie about "fracking" with Matt Damon, Frances McDormand, John Krasinski, and Rosemarie DeWitt. And for those of you who haven't gotten your fill of blood from Tarantino's latest epic,  Lionsgate will be offering a 3D installment in the "Texas Chainsaw Massacre" franchise. Happy 2013, moviegoers!