Interview: Blythe Danner of 'The Lucky One'
'How have things changed since I began acting? Good Lord, where do I start ...'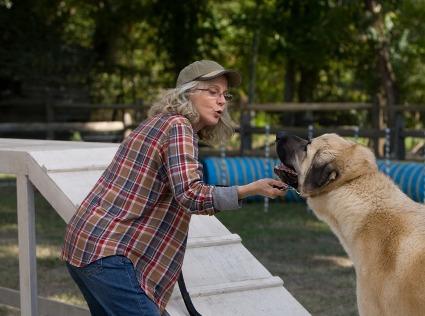 With her silver hair and elegant air, Blythe Danner sailed into the room to speak with the press about "The Lucky One," where she plays Taylor Schilling's grandmother, giving appropriate nudges and welcome comic relief to kickstart Schilling's romance with ex-marine Zac Efron. Danner may be best known as Gwyneth Paltrow's mother, but Danner's career has lasted over 50 years, with her first on-screen role in 1968. Danner shared her thoughts on a number of topics with a number of reporters.
On playing a grandmother and being a grandmother:
I'm not quite as wise and judicious in my input. I try to just be there if needed. As a grandmother I'm very goofy. I'm silly. I just love to spoil them, and I love to get down on the ground. They're very wise. They are. I learn a lot from them, just as I have from my children.
On fitting in as part of an ensemble:
 I've always thought of every piece I do as a musical piece and what instrument am I. I was thinking "Am I the piccolo, or am I the cello?" Definitely. I love doing that kind of role. It's  back up with some (characters). She's very solid. I love that too. I love the fact that she is the strong one helping, guiding silently.
On being in a Nicholas Sparks Adaptation:
When you have a good script, if you can just fulfill what's there on the page there's not a lot more that you can do or harm it, if you're just true to what the author intended and what the director wants.
On working with Zac Efron:
Well, I think he was very wise to do ("The Lucky One") now. He's mostly identified with the young teenybopper kids. I think it was a good choice for him to do this at this point. I think he'll just continue to make good decisions. One of the things in the past that's limited a lot of movie stars is that they'll keep just in the safe areas that they feel. The ones I admire the most are the ones who with abandon grasp a whole other persona and character that you wouldn't have expected them to do.
On working with dogs and child actors:
They always say be careful of working with children or dogs, because they'll upstage. We didn't have that problem with this. It just made us all more human I think and all more relaxed. It was wonderful to have them around. I've trained dogs myself at home, our own dogs, big dogs that we had in New York City. I'm looking for a dog right now. Although maybe I should say that I might be inundated with one. I know exactly what I want. I want a rescue, a mix, that doesn't shed, that's small, that I can travel with.  Rescues are important in this day and age, but I love dogs dearly.
On director Scott Hicks:
I love to be directed. I hate it when the director says, "Just go do what you want to do." To me its being part of a company is the most important thing. You want to fit into the musicality of the whole company, what everyone else is doing. I get really frustrated when a director doesn't direct. I was appreciative of Scott knowing what he wanted. I think we're like children. Actors come into the playgroup for each class and want to know where they fit. If you have parameters and you know what's wanted its great. It depends on the piece. It depends on the actors, the other directors. I have a very small part in this new film that's out right now called, "Detachment." Tony is just -- you have to sit and hold on to the seat of your pants. You're not sure what he's going to do, but its all so exciting. That's one of the great gifts of being an actor. You never get bored. There's always something new and different that you haven't experience before.
On how the world of film has changed since she started:
Oh, good Lord. Where do I start? I'm happy to see that women's roles are better than they were when I began. If you were thirty-five when I started out, it was all over unless you needed a mom or a grandmother, which wasn't very often. I think the break down of the social is just a crime what has happened to the mainstream films. Coarseness seems to be such a major chord now, language, violence, crudity. I find that it's beginning to permeate the society. I'm anything but a prude, but I find it very disheartening. ... Well not if there's something valid to be explored, or even if it's a good dirty joke that's hilarious and you fall on the floor. I loved "Bridesmaids" for instance. I thought it was absolutely hysterical ... except the poopy part, which I gather came because of men. That was the creators that insisted on that. Interesting huh? I guess they thought they'd get more guys in to see it.  No, if something is genuinely and deeply funny and a great escape from all that were mired in at the moment politically and everywhere else, it's valid. There's just too much that's gratuitous and gross.
On what she looks for in a script:
The role. The part. I'm sure there were other people they thought of first, but luckily they came to me at some point and I said yes. I loved the role. I loved the location. I have been notorious for doing some things just for the location. Not in this case, because I really did love the role. I did a film once that never saw the light of day, because they told me it was going to be in Morocco. I was working with Joe Mantegna at the time, and I said, "Just read ten pages. I don't want to do it." He said, "It's fine." But I loved this. I loved this location. I loved this role. I really enjoyed it.
On working with Taylor Schilling:
 I feel very close with Taylor. I feel very motherly towards Taylor. I adore her. I had first seen her in a series called "Mercy," and I called my agent and I said, "Get me on that show" this girl is phenomenal. Have you seen it any of you? It was so short lived. She was just extraordinary. She's just done a film with Ben Affleck and his wife. Now Ed Burns wanted her. I don't think they could work it out, but she is quite something.
("The Lucky One" opens this Friday.)