Marvel auditioning actors for 'Guardians of the Galaxy'
But who will win the coveted-- oh, who are we kidding? Nobody cares about this movie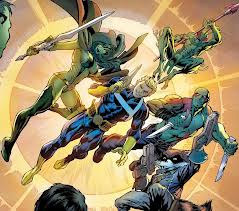 As Marvel looks ahead to a
post-"Avengers"/pre-​inevitable
"Avengers" reboot world, they face the unenviable task of casting their next superhero team-up movie, "Guardians of the Galaxy," a project so sheathed in secrecy even its most ardent fans don't know it exists. According to
Deadline
, Disney is currently auditioning actors for the ostensibly coveted role of "Peter Quill," whom we have to assume is a super hero or something, because this is, after all, a Marvel movie. Among those being mentioned? Only the biggest, most obscure names in all of Hollywood—verily, a who's who of ... wait, who?—such as Joel Edgerton ("Zero Dark Thirty," "The Odd Life of Timothy Green"), Jack Huston (HBO's "Boardwalk Empire"), Jim Sturgess ("Cloud Atlas," Across the Universe"), Lee Pace ("The Twilight Saga: Breaking Dawn, Part 2"), and Eddie Redmayne.
While the movie's release remains far off in the future—and certainly, Marvel's plans might change—one crucial question remains: even if they hire a marginally better-known actor like Garrett Hedlund ("Tron") or James Marsden ("X-Men") to lead the cast, will anybody care? Unlike "The Avengers," the "Guardians" film won't have four relatively high-profile prequels starring huge stars like Robert Downey Jr. or, um, Chris Evans, to build awareness and anticipation. Furthermore, it's just a more obscure title, and its subject matter seems closer in spirit to that horrid bomb, "The Green Lantern," than anything we would call "good" or even "mildly profitable." All of which, we suppose, is just an elaborate way of saying, "Good luck, Marvel." And that we hope they remember that audiences won't necessarily flock to just anything associated with the Marvel brand. Just ask Ang Lee, or the Punisher.
Are you sure you want to delete this comment?