Interview: Christian Bale of 'The Dark Knight Rises'
'I always keep one of Batman's cowls from each of the movies ...'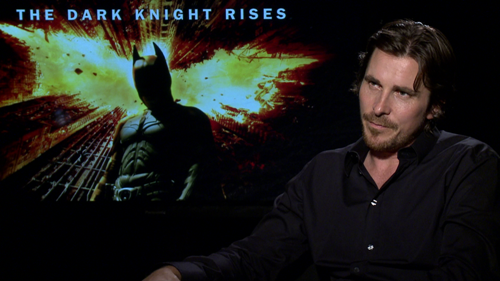 When first announced as the new Bruce Wayne, Christian Bale's casting led to some sidelong glances -- the man who was in "American Psycho" and "Newsies" is our new Batman? Thankfully, Bale turned out to be the perfect new avatar for the pop-culture legend of both Bruce Wayne and Batman, getting some surprising moments of humor and emotion among the blows and the bombs. Now, Bale and all of us say 'goodbye' to Nolan's Bat-films, and when we spoke in L.A. Bale seemed somehow both humbled and relaxed, as if he'd just exhaled on the completion of a great task ...
MSN Movies:  I'm curious, for your last day of shooting, was it a Bruce Wayne day where you're in a suit or a Batman day when you're in the suit?
Christian Bale:  The suit.  Batman Day.
And was  it a matter of shedding one tear as you put the suit on for the last time knowing that soon you'd be able to take it off…
Not in putting the suit on, but in taking it off yes, certainly.  It was just a moment of reflection -- I'm never going to be putting this back on again, what it's meant to me, the pride in my involvement and being a small part of these movies, and recognition of how much this has changed my life and my family's life and my career -- and yeah, it was good.  I just stopped; "I need a walk, I need to appreciate this."
And the other thing about this, it's nearly impossible to talk about because there's so many reversals and changes.  Did you keep anything? Did you have light fingers on your way off the set?
I always keep one of the cowls from each of the movies.
Right. And that's it? Any souvenirs other than that?
No, that's all I keep.
One thing about these movies is that they do remarkably well with audiences, they are critically acclaimed, they're extraordinarily well received -- how much credit for that do you give to Mr. Nolan?
Oh, complete.  Because you could write a wonderful script, but there's very few directors that would be able to take that script and make it into what he makes his movies into, you know?  He's very efficient, he knows exactly what he's looking for, however each and every day presents new problems, and new obstacles which, if you're smart, you use them as aids. You use them to help define the story that you're telling.  And Chris is nothing if not smart.  So, no, completely.  Hats off to him, it's all due to him.
Mr. Hardy was mentioning that when he saw you in the Batman suit, he had that brief moment of shock and awe. But when you saw him and realized just how much muscle mass he had put on for this film, he looks like a side of beef in combat trousers.  Was that startling to see your nemesis in the film materialized in so much flesh?
It was the first time that I've recognized, "Okay, now we have somebody who can physically defeat Batman," which we've not seen before. But it went beyond just muscularity.  It was a presence as well, it was an attitude, it was this militaristic attitude that he had, something very, very different from the Joker.  We had to.  He portrayed such a wonderfully iconic character with that, you couldn't have something that was brushing up against it.  It had to be something very, very different.  And Bane is absolutely different and formidable.  And listen, I have those moments too when you suddenly catch yourself in the mirror and realize, "Wow, I'm playing Batman. How did that happen?" you know? We take a serious approach to the way that we make these movies, and we have it be topical, and it's actually a hearking back to what Bob Kane intended when he created Batman. It was a dark character, you know?  But you work for seven months, you need some light relief.
It's not like you start doing lines from "Newsies" when you put on a tweed hat, but do you ever find yourself on hold with the cable company just doing the Batman voice?
I'm never on hold with the cable company, but on (the phone) with my daughter and her friends who might be asking for a little rendition.  I'm very happy to entertain them with that.
Probably the best reviews of your career.
Yep, and the most valuable ones ....
('The Dark Knight Rises" is in theaters ...)