Sundance Review: 'S-VHS' (or 'V/H/S/2')
Ghosts and zombies and aliens, oh my!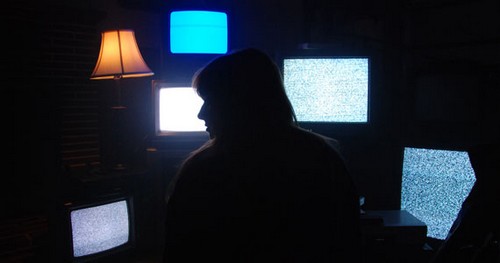 Rating: 3.5/5
As was the case with last year's "V/H/S," this year's "S-VHS" (since changed to "V/H/S/2") is a found-footage horror anthology that covers a wide range of nightmares, and its overall effectiveness is on a rough par with your average Whitman's Sampler -- all of it is watchable, but some segments are bound to appeal more greatly depending on personal taste.
Things kick off with another flimsy wrap-around, "Tape 49," directed by Simon Barrett, sees private eyes Larry (Lawrence Michael Levine) and Ayesha (Kelsy Abbott) searching for missing college student Kyle (L.C. Holt) when they come across an empty house, filled with TVs and plenty of
cryptically-labelled​
video tapes...
Continuing the series' proud forfeiture of things that might actually end up feasibly captured on home video, "Phase 1 Clinical Trials" recounts the post-surgery woes suffered by Herman (director Adam Wingard) as he adjusts to a robotic-eye implant and begins to see the dead. It's the most perfunctory of the four main segments, riffing on a "Twilight Zone"-worthy concept while settling for dead kids and loud noises, only occasionally livened up by the gallows humor that has defined other work by Wingard and writer Barrett (this summer's "You're Next," 1/26th of this spring's "The ABCs of Death"). After all, I find it no coincidence that the girl (Hannah Hughes) who shows up to explain it all is named Clarissa...
Next up is "A Ride in the Park," co-directed by Eduardo Sanchez and Gregg Hale ("The Blair Witch Project"), a crafty, convincing bit of business involving a hapless biker (Jay Saunders) who finds his idyllic morning ride interrupted by zombies. The story expands in scope from there despite the confines of the camera(s), and Sanchez and Hale pull off some sly visual tricks along the way.
The third segment, Gareth Evans and Timo Tjahjanto's "Safe Haven," rivals Radio Silence's haunted-house capper from the last film as a prime example of just how exhilarating and involving the found-footage gimmick can prove to be. A TV crew (Fachry Albar, Hannah Al-Rashid, Oka Antara, Andrew Lincoln Suleiman) finally convinces a controversial cult leader (Epy Kusnandar, giving a terrifically devious performance), and sure enough, a nefarious plot is afoot. More so than any other chapter, "Haven" demonstrates a wonderful sense of escalation and relatively steady camerawork, incorporating numerous nightmarish moments once all hell breaks loose before sending viewers home on a single-word sucker punch.
That leaves just one more chapter, the plainly-titled "Slumber Party Alien Abduction" from Jason Eisener ("Hobo with a Shotgun"). It's a giddy prankster reversal mostly shot with a dog-strapped camera, the perspective from which can border on seizure-inducing, although Eisener does try more often than most of his peers to establish the creeping tension of a clearly framed threat.
"S-VHS" ("V/H/S/2") runs one segment shorter than its predecessor, and most of them place a distinct emphasis on humor and inhuman fiends, perhaps as a reaction to the accusations of misogyny running throughout "V/H/S," perhaps to simply keep things more "fun" overall. This crew basically succeeds this time around, with laughs and jolts in solid supply, but just imagine the kind of anthology that might yet be born should all involved be held to the evident highlights of these films so far.