Interview: Director/Co-Writer Drew Goddard of 'The Cabin in the Woods'
'I love horror movies ... but there is something very interesting about what is it about them that we enjoy ...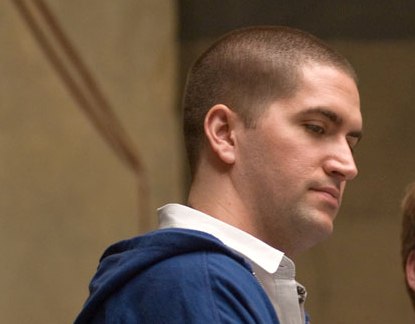 The horror-comedy of the year -- indeed, of years -- "The Cabin in the Woods" begins as five college friends take off for the title structure -- and as two mystery men, clad in shirts and ties, watch them as part of a broader mystery. The kids are a who's who of fresh faces and familiar names -- Chris Hemsworth, Kristen Connolly, Fran Kranz, Anna Hutchinson and Jesse Williams. The men watching them are led by Bradley Whitford and Richard Jenkins. To say too much more would betray the film's fun, of course, but this interview should be general enough as director and co-writer Drew Goddard talked about making the film, the challenges of marketing a surprise, and what scares him ...
MSN Movies: How important was it casting the five young people?
Drew Goddard: Crucial. I mean, it was everything.
And you hired Ms. Connolly first, right?
I feel like we may have known Fran first, because he'd been on "Dollhouse," so I think he was the first piece of the puzzle. Then Ms. Connolly was next, because we had to watch the two of them play off of each other. We did, and it was very exciting to see:"Oh, okay, you get those two together, and fireworks."
And you had fake sides (script pages) for auditioning actors?
Yes.
Then when you have the whole cast together and you read the actual script collectively, how much time did it take to calm them down, to get them un-freaked out and to explain what you were doing?
To all of their credit, they were all on board right away. If they weren't, they didn't tell us. Once we got the five of them together and read it -- we did a read-through. Just a very casual read-through to get to know each other -- you could feel it in the room. You could feel the five of them playing off each other. There's that special alchemy when something's right, and you're like "Oh, this is going to work," and I think they could all feel it as well.
The other interesting thing is how the characters are not just playing these sort of horror movie archetypes, but being set up to fulfill the horror movie archetypes as well. "Someone has to be a little bit dumber. Someone has to be a little bit randier ..."
It's tricky, because sort of each them is playing two different roles. They're playing their character, and then they're playing their archetype, and they're sort of vacillating between the two things. That's hard. That is a hard thing to get your head around. God bless them. They all got that sort of instinctively, because it's a hard thing for me to sort of intellectualize. You just sort of need to see them play it, and they all sort of understood that from the jump.
It's funny because after talking at South by Southwest, I went back and now I'm in the middle of re-watching "Capricorn One." You were talking about how growing up in in Los Alamos, New Mexico, you got an understanding of a certain kind of look -- short sleeve, tie, sitting in front of a monitor, the faceless minion of the destructive enterprise -- a character that Jenkins and Whitford play. I'm wondering what stuff did you look at? I know you must've watched every horror film.
We watched every horror film for sure, but the stuff that's maybe a little less conventional. I mean there's a lot of stuff in Los Alamos. There's a lot of just real world research in Los Alamos that we did, because it was very personal for me. It just felt right. Then out of the box, we looked at "Dr. Strangelove," because in terms of looking at tone and how we can go crazy, but keep it meaningful. That's just true of all of Kubrick. He's always pushing it, and I think like all filmmakers I think I worship at his altar. It was much more about the real world side, the Los Alamos side. We knew that the horror movie -- that's just what we are ,so I didn't have to do a lot of research.
Right. You can make "five people in a cabin, something attacks, done."
Exactly. I'm not worried about that. That is where I'm very comfortable.
I always wonder, because the trailer for this gives away entirely too much. Is that frustrating for you? Is that really frustrating for you, or do you understand that you have to get a**es in the seats somehow?
Both. It's frustrating and I understand. I mean, I get it. As a filmmaker you don't want to give away anything. You want to preserve that experience, but as an audience member I understand you've got to prove it. You've got to say, "This is worth your time." It's finding that balance. I have a feeling I will be dealing with this for the rest of my career. It's always a question.
It also makes me long for the classic days, when people like James Cameron would shoot self-contained footage for, say. "Terminator 2" that had nothing to do with the movie for the trailer.
It's smart if you can do that.
I take it you did not have that capability on this film.
Well, we didn't, and to be honest I don't know what we would've shot. I don't know what it would've been, because this movie is so unique and singular. The stuff you're talking about works a little better with sequels, where you can just say, "Oh, good. Here's what you liked. Here it is again!"
So if you have to choose between over-playing your hand and having people coming to the theater and knowing too much, or underplaying it and not having people come to the theater, you will take the former?
I guess so. I don't know. It's a great question. I don't know the answer to that question. I constantly struggle with it, is the answer. I constantly struggle with what's better, because you want people to see your movie. You do. If it plays for no one then it did me no good to play coy, so I don't know the answer to that.
There's a lot of great props in the film. There's a great physical look to it. Everything from everything in the basement, right down to the perfect gradations of cut in one of the actress' cut offs, and the 'telescoping' coffee cup. How fun is it to right and think about physical stuff like that?
So much fun. I mean that was true of everything in this movie. It never felt like work. It felt like, "Oh this is what I would be doing in my free time to have fun, and I'm luckily getting paid for it." It just felt like this is what I love to do. That's the fun part of the job.
Mr. Jenkins and Mr. Whitford, they're obviously keeping to the script. They're not interacting a lot with the rest of the cast, but how much of a pleasure is it to just watch them go?
So much fun. Everyday watching the two of them work, I was just aware of "Oh, I'm sure it's never going to be this good ever again in my career." I just felt like I'm watching something special happen, like "Oh, this is now become greater than the sum of its parts" actually watching these two men create something magical, which you're always going for. You always want to be appreciating of it as it's happening.
How do you cast those parts?
We just wrote it for them. They were in our minds as we were writing. I've always loved both of them. I've always loved their work. That's the fun part about being a director. You get to say, "Oh, now that I'm in charge, I can try and cast whoever I want." They can always say no, but that's okay. I get to do it the way I've always wanted to do it, and they were at the top of my list.
When you and (Joss) Whedon co-write, is it the whole thing of one of you looking over the other's shoulder while you type or is it mailing drafts back and forth?
We got a hotel room, and we said, "We're not allowed to leave this hotel room until we have written this script." We can't write looking at each other, so we had an upstairs and a downstairs, and we both hand-write. We were both handwriting and then yelling at each other, and then one of us would input it into a computer. It's a very strange structured way of working. I wouldn't recommend it to anybody.
But you had the spine of it overall? You were like, "We're going to do this here, that there."
That's right, very strong outline, very strong structure. That's the way we would always do it at "Buffy." The more work you put in on your outline, and getting the skeleton of your story right, the easier the process is later. That was very much the case here.
You've been touring with it. You've been showing it to people. Is there a concern that you might (pull a) "Scott Pilgrim" and show it to every interested party for free before it even opens?
I don't know. I guess I don't worry about that side of things too much. I like watching this movie with people. I like showing it. If people want to see it I want to show it to them. That's my feeling. This other side of is a little bit out of my hands. My job is just to make my movie as best as I can. I'm happy to show it to people who want to watch it. That's what's fun. That's what I love to do. I don't really worry about the other side of it too much.
I always wonder about it, in this new era of blink-and-you-miss-i​t social media. Do you track that stuff? Do you have a little ping in your feed whenever anyone says the words 'cabin' and 'woods' in proximity?
I don't. It's one of those things that's actually nice, because there's so much it. There's no middle ground I've found. If you're going to pay attention to it, you're going to spend your whole day worrying and reading about it. There's just so much. In this day and age social media is very much a rabbit hole. It's one I don't have the time to do I've learned. I'm sure other people have restraint and can just do a little bit, but I'm not one of those people. That's why I'm not on Facebook or Twitter or any of those things.
How much of the movie is like a little nudge of the elbow about the fact that ethically, watching horror movies is a weird thing, because you're deriving so much pleasure from watching people be frightened, tortured, killed?
I think that might've been the jumping on point for this movie. The question of 'Why do we love this. What is it?' Jumping off it was first A) "We love this," and then B) "Why do we love this?" I love horror movies, Joss feels the same way, but there is something very interesting about what is it about it that we enjoy. I think that question is sort of at the heart of this movie.
"What is this itch that this weird sensation scratches?"
Exactly, and what does that itch say about us a people, where does this not just fit into. I didn't want this movie to be just about other movies. What was interesting to me was to explore what this says about us as a people, and why we need mythology. I think you can extrapolate the question further from horror movies to just mythology in general, and particularly the dark part of mythology that we see in our story telling over and over and over. We see these same themes come up, the sacrifice of youth. We see these themes come up time and time again. That was very interesting for me to explore
The other kind of theme of the film, that ties into religion a little bit, is that there's no business like show business.
That's right.
There's a lot of stage management going on in this film. A lot of like, "....And action." Did that tie into your inner von Stroheim, a caricature of a director??
Yeah, I've got to be careful. It's certainly not my goal to --
Just the idea of directing other people who are directing.
No I think that's right. I think that's a great question. I don't run afoul of religion, because I'm very respectful, but I also understand there's a show business side. There's a show business side to mythology just in general. In terms of our story telling, it's as much about the way the stories are told as it is about the story itself. That was very much at the heart of this movie. As we're exploring mythology, we're exploring how we pass these stories on, and that becomes about the directing the director side of it, as you say.
(Goddard and I talk about one of the film's more broad and bright jokes.) How important are those little deliberate touches of the quotidian and horrible amidst the paranormal and deeply disturbing?
To me it was crucial. To me that's what I love. Before we started writing, that was a scene very early on that we were just riffing on, and it suddenly became very funny to us. Once we had that, I felt like "Oh, we have the tone of this movie. We have sort of the heart." I guess I've just always responded to that. One of my favorite others, if not my favorite, was Douglas Adams, "The Hitchhiker's Guide to the Galaxy." The way he would mix the mundane with the operatic, I would always respond to. He was so important to me as a kid. I always liked the sort of crazy mixed with the simple and relatable.
I know this is a fairly bloody film. Was there stuff you found yourself dialing back? Were there violations or acts where you went "No?"
I didn't want to make it so gruesome that you didn't want to watch it. It was much more about still keeping it fun. I did like the sort of over-the-top side of it. It's all about finding the balance. You also didn't want to make it goofy. You wanted it to be in that middle area between the two things. Between gruesome and goofy, I think that's sort of where we exist.
And go for somewhere in between at "groofy?"
"Groofy." We tried to go for "groofy. "
Or "goofsome."
I like "goofsome" better.
Top three horror films that have scared the hell out of you.
Oh, on the scary side?
Yeah.
Okay. Working backwards I'm going to go with "The Descent," because I thought I was going to have to leave the theater when she gets stuck in the hole, because the claustrophobia of it was so overwhelming, I thought "I can't watch this movie anymore." I loved it so much. That's number three. Number two was "The Strangers," because there's something about the "home invasion" quality of it that I found incredibly powerful.
And that movie is weird, because it works so much better than the premise makes it sound.
Yes, that's correct.
It does a lot of Wes Craven depth-of-field stuff.
Which I loved, but it was really effective for me. I thought I was going to have to turn it off. I was really scared in that movie. Then number one is "Sleepaway Camp," which I don't know if it is scary anymore, but I haven't been able to watch it since I first watched it when I was nine, because it traumatized me so much. There's a beginning of that movie, where there's a kid on boat, and his dad's on the boat, and I think his dad dies in a very real and horrific way. As a kid it traumatized me. I couldn't even keep watching the rest of the movie. I bet if I watched it now I'd be like, "This isn't scary at all," but there's something about watching these things when you're young that you maintain your trauma for the rest of your life.
Are you looking forward to traumatizing people for the rest of their lives with "Cabin in the Woods?" Are you prepared for the karmic fallout when somebody says, "Look man, I saw 'Cabin' when I was nine, and it messed with my head?" Are you ready for that?
I guess so. Look, if I had all the filmmakers that traumatized me when I was a little kid in this room, all I would say is "Thank you," because they've made me who I am. As much as I say "trauma," it all comes from a place of love. The fact that I am feeling emotions at all based on a work is a wonderful thing, so I'm happy to be apart of that discussion.
("The Cabin in the Woods" opens this week.)