Interview: Sofia Vergara is an alien in love in 'Escape from Planet Earth'
The 'Modern Family' star hopes to branch into dramatic films—with the right directors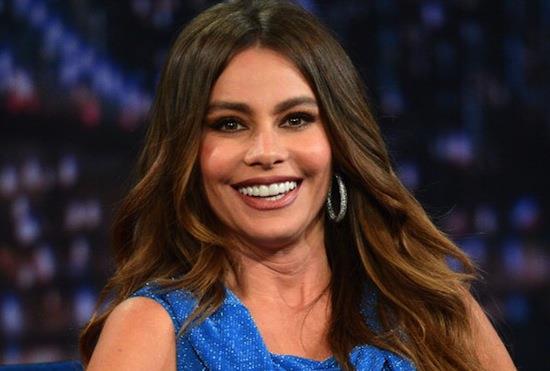 Colombian-born Sofia Vergara is one of the Emmy-nominated stars of the brilliant ABC series "Modern Family." Her part in the Weinstein Company's animated feature "Escape from Planet Earth" is frankly so small, I was surprised she was included in the recent press day for the film—and so was she! But, honestly, who would pass up the opportunity to talk with the talented, funny, and yes, stunningly beautiful former dental student? This was Vergara's second experience with animation—she had a much bigger part a few years ago in "Happy Feet Two." In this film, she plays Gabby Babblebrook, a journalist from the Planet Baab who is smitten by the film's hero, Scorch Supernova (Brendan Fraser). I joined a few Earth-based journalists for a roundtable discussion with the vivacious actress.

MSN Movies: Is it challenging to act in an animated film since you don't get to interact very much with the other actors?
Sofia Vergara: Yeah! The first time I did it the director had all the actors inside the booth which was was very rare—we had Robin Williams and Hank Azaria and other actors doing the scene, it was great. But this time I just went in alone for two hours. I also came onto this film very late—I did it like a month ago!
What's your character like in the film?
She's a newscaster and she's in love with the hero of the movie. She's trying to show the world how fabulous her boyfriend is.
In real life do you think you'd be with someone like Scorch or someone like Gary, his nerdy but much smarter brother?
Uh…Scorch! (Laughs.)
Bing: More on Sofia Vergara | More on 'Escape from Planet Earth'
You're usually dressed up to the nines when you're on camera or on the Red Carpet. Was it nice to have your voice be the star for a change?
Oh, but I WAS dressed up to the nines in the booth while I was doing it! (Laughs.) Full make-up and everything!
You have such beautiful teeth. Were you really going to be a dentist back in Columbia?
Yes. I really wanted to be a doctor at first but 20 years ago in Columbia that wasn't really an option for women who also wanted to get married and have kids. So the next best thing for me was dental school because you still go to three years of medical school and then you focus on teeth. But first you have to know how the whole human body works. So yes, of course, I would have been a dentist if I hadn't started in the entertainment business. But I'm not complaining!
How much did you learn? Could you make any diagnoses?
Yeah, of course! Four times a week we were in the amphitheater with the cadavers and I learned how to dissect them and about every little vein on the body, every muscle. That was the part I really loved and that I still use!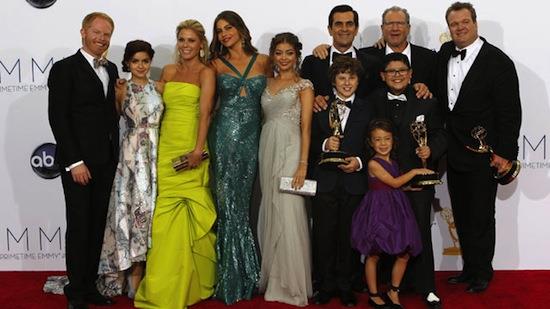 Are you relieved that the baby finally arrived on "Modern Family?" Were you glad to get rid of that fake belly?
Getting rid of the belly was amazing because I was pregnant on the show when we were shooting during the summer! We did a lot outside in the heat and the plastic thing sticks to your skin, it was horrible! But now we're working with the baby and it's great. They don't let babies be on the set for very long, so we do all the scenes with this plastic baby and then when we're ready they bring the baby out for like 20 minutes! Right now they're not asking the baby to act or anything, he's just there. To be honest, when I first heard the rumors that there was going to be a baby on the show I never dreamed it was going to be Gloria and Jay! But it's amazing to have those storylines—and a lot of fun.
Is "Fulgencio" a real Colombian name?
No, not at all, they made that up! (Laughs.)
You're so great at comedy—are you also hoping to do dramatic roles in movies?
You know, I've never really had any training in acting, I've been learning as I go. Comedy comes naturally to me, I think, but I'd like to do serious roles, too. I did a Robert Rodriguez film that's coming out this year called "Machete Kills."
And you were all set to do "The Paperboy," right, until they changed the schedule and you had to bow out? Did you see Nicole Kidman do that part in the film?
Yes, I think she did a great job. It was a fun role but I was so glad I didn't have to pee on anyone! (Laughs.) For her, that level of acting is nothing! For me, it would have been three weeks of major stress! 
Are there any movie roles you'd love to get your hands on?
You know, if a director thinks I can do it, I'll do it. I know my limitations and I believe in directors directing. For example, for "The Paperboy," when I auditioned three times with director Lee Daniels and he was sure I could do the role, I said, "Okay, if he thinks I can do it, I'm sure I can do it!" But I would never be like, "I want this part and I don't care what anyone thinks!"
"Modern Family" is the one of the best shows on TV right now. Please tell us that it's going to be around for many years to come.
I hope so! I'm paying for my son's college so I really hope so!
"Escape from Planet Earth" is currently in theaters.
Are you sure you want to delete this comment?