Interview: Chris Hemsworth of 'The Avengers'
'I feel naked without the hammer …'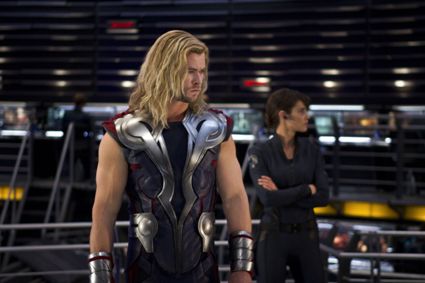 With his blonde hair, enchanted hammer and sci-fi/Wagnerian hybrid clothing, the mighty Thor is one of The Avengers; speaking to MSN Movies in L.A., Australian Chris Hemsworth is more mellow and more relaxed than his on-screen character. We spoke with Hemsworth about his anxieties in taking on the role, about whether the hair or the hammer makes the superhero, and playing make-believe with a $200-million budget. 
MSN Movies: When it comes to those moments where you have to get into character as Thor, what helps more: The hair or the hammer?

Chris Hemsworth: The hammer. It feels right. I feel naked without the hammer. There were scenes where he doesn't have (it), and I don't even know where to put my hands.
You get a little fidgety, as a thunder god, without your hammer?
You do.
"Thor" had that big cosmic epic scope, that mix of science and Shakespeare. When you look around this, and you're standing in a flying aircraft carrier and fighting alien monsters, how do you wrap your head around the muchness of it?
It's all make-believe, whether you're in another realm in the middle of Asgard in some sort of ethereal chamber, or some helicarrier, like in this. To be honest, right there whomever you're acting with, that becomes your focus. A lot of that is green screen anyway so you can't even see it. It becomes about the script, and about the interactions with the characters, and trying to find what's the truth in that moment, and then you just step by step, and hopefully it all falls into place.
You sign on board for "Thor," and at what point does it dawn on you, "Hey Robert Downey Jr….  I'm going to be doing a lot with him." Chris Evans, Scarlett Johansson, Jeremy Renner …this amazing cast that you get to be apart of. When did that dawn on you?
The only person that was involved at that time when I signed on was Downey. The idea of being with all these other superheroes was exciting, but when I met Downey and everybody on it, it was nerve wracking. I thought, "How the hell am I going to hold my own against this guy?", bouncing back and forth. By the time we got to "The Avengers" I felt thankful that I had shot my individual film, so I knew who this character was. I might have been nervous beforehand, but walking on set it was great, a whole lot of fun. I think everyone was as excited as each other to be there. 
("The Avengers" is open now ...)
Are you sure you want to delete this comment?