TIFF Review: 'Seven Psychopaths'
As Farrell, Walken, Harrelson and Rockwell go all-out, it's all fun and games, until someone gets shot in the eye …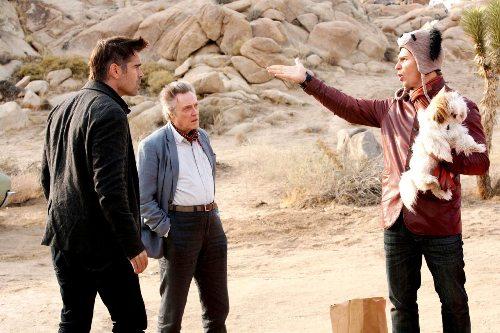 Rating: 4/5
Martin McDonagh's "Seven Psychopaths" promises a bloody good time. It delivers, starting with its come-on title and followed by the opening scene that pans from the "Hollywood" sign to a Silverlake reservoir where two leather-clad toughs laying in wait to do murder argue about the exact mechanics of John Dillinger getting shot in the eye -- and John Dillinger versus "The Godfather"'s Moe Green, with one being a real shot-to-the-eye victim and one not -- are interrupted, violently and hilariously, by the "Jack of Diamonds" serial-killer....
McDonagh previously gave us "In Bruges," as well as a series of punchy profane plays about male ego and male violence. And it's clear that his time as a filmmaker has meant time in the belly of the beast of the movie industry; consider this, perhaps, his attempt to get vomited up before he gets dissolved into nothingness like so many before. It's not exactly hard to make fun of Hollywood, but if you're going to shoot fish in a barrel, you might as well make some noise and have some fun. Soon, we meet Martin (Colin Farrell), an aspiring screenwriter and successful drunk, whose next project has a title -- "Seven Psychopaths," and so we go down the rabbit hole -- and not much else. 
                                                                BING: Martin McDonagh | 'In Bruges'
Martin's best frenemy is Billy (Sam Rockwell), a loose-cannon would-be actor who punches potential directors at auditions and supports himself through a scam worked with his friend Hans (Christopher Walken), where Billy nabs dogs from their owners and Hans, sweet and doddering, returns them and reluctantly accepts a reward. Martin is blocked, but Billy and Hans aren't; they lift a sweet shih-tzu, Bonnie. Who's owned by fearsome gangster Charlie (Woody Harrelson), who's willing to put resources and bullets into his search.
And as Martin tries to stitch a series of cool, cruel vignettes into a film so his script might be more than a title, he and Billy and Hans and Bonnie go on the lam. But what's the connection to the Jack of Diamonds killer? Is Billy just a random dognapper? Does the dapper, cravat-wearing Hans have his own secrets? And is Charlie as tough as he thinks he is, when the rubber hits the road?
Like a sunsplashed, convertible-driving Californian version of Michael Haneke's "Funny Games" -- and yet, as Time Out New York's David Fear pointed out, actually funny -- "Seven Psychopaths" is a violent film about violent films, about the difference between fact and fiction, John Dillinger and Moe Green. When Marty spins the tales that go into his screenplay, is he making things up or repeating real stories he's been told?  Are those his stories to tell? "Seven Psychopaths" devours its own tail, served raw and bloody, with a smile. (Actually, yes, in a weird way, "Seven Psychopaths" is a stranger and more violent cousin to Charlie Kaufman's "Adaptation," with a little less moviemaking and a lot more murder.)
The cast all turn McDonagh's dialogue and monologues into bebop jazz riffs whether together or solo, and, like "In Bruges," there's the overall sense of men realizing they're not as tough as they think they are, and finding that out the hard way. (I haven't mentioned female characters played by supporting actresses Abbie Cornish and Olga Kurlyenko, as they have, perhaps, a total of three scenes; Linda Bright Clay, as Hans' beloved wife Myra, though, is excellent.) Farrell has the blinky, bug-eyed look of a man astonished by the misfortune he's called on himself; Walken's silken-yet-strangula​ted trademark vocal tones get a workout; Harrelson is both menacing and pathetic. But it's Rockwell who saunters into a formidable set of scene-stealers and makes a meal of every moment; he's devoted, demented, diabolical and delighted, with a rubber face and a split-second smile instead of a soul.
It may seem like McDonagh's attempting to have his cake and eat it, but, let's be honest: Isn't that what you'd like to do with a cake, too? With its twists and turns supported by a spine of real drama -- McDonagh is, like David Mamet and Neil LaBute, a moralist whose harsher fables can make him look like a misanthrope -- "Seven Psychopaths" demonstrates, hilariously, the big difference between watching violence and living it, and how everyone has a plan until they get punched in the face. 
("Seven Psychopaths" is premiering at the Toronto International Film Festival; for more on movies, be sure to like MSN Movies Facebook and follow MSN Movies Twitter.)