Interview: Lynn Collins of 'John Carter'
'I studied fencing and sword fighting at Julliard ... but those booty shorts are pretty small ...'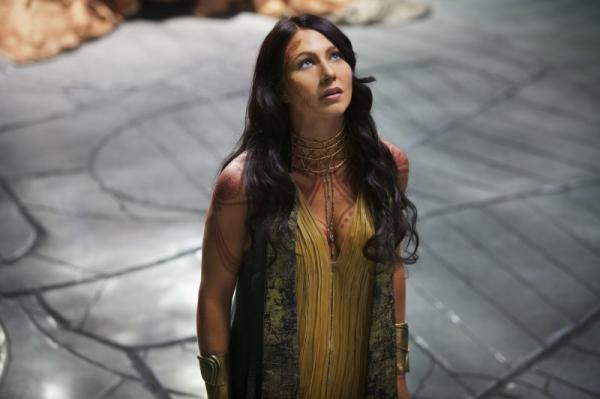 As the peaceful princess-scientist-w​arrior of Mars Deja Thoris, Lynn Collins gets to swordfight, romance Taylor Kitsch's John Carter and appear in a series of outfits ranging from the breathtakingly ornate to the breathholdingly skimpy, At the same time, Collins is no mere beauty; when we spoke in Phoenix, her sense of humor and spirit came out as we talked about her stage combat training, her role as Deja Thoris and if exactly how closely she'll be looking at "John Carter"'s box office take ...
MSN Movies: You play Deja Thoris, who's a princess, a scientist and a political leader ... but more importantly, you looked pretty convincing with that sword. How much fighting training did you do?
Lynn Collins: I started karate when I was around four or five, an Okinawan style called Shorin-ryu. Really, my parents made me study that until I was seventeen. Then I went to Julliard, where I studied fencing and sword fighting there, so by the time this came around I was ready.
You were just waiting for the sword fighting?
I was just waiting to kick some butt.
You were saying to your agents, "Why is there so little sword fighting in the modern drama?"
Come on! Why did I go to Julliard?
"'This 'Social Network' script? No sword fighting!" In all seriousness, when you're on the set of this film -- this multi-million-dollar​ epic shot on sound stages in London and in the wilds of Utah, which was more terrifying -- the hugeness of the organization and the filming or the smallness of some of your outfits?
 (Laughing) Well, the largeness of the whole thing I was sort of shielded from by Lindsay Collins, one of the producers, and Andrew. They kept us out of the fray, out of any of the political stuff that was going on or any issues that were happening. I didn't know anything about them. They really protected us ... but those booty shorts are pretty small.
All kidding aside, when you step on set and there's huge green screens and flying crafts and Willem Dafoe is wearing stilts and a helmet, and you're like, "Well where he is, there'll be a nine foot alien," how does the immensity of it not sink into you and not affect your performance and your job?
You know it was interesting, there was something that happened similar(ly) where the director, Michael Radford, who directed "Merchant of Venice," said to me .... there was Al Pacino and there was Jeremy Irons, and he said "You take the head status. You can't keep looking at them like they're these huge movie stars you adore. Take the status." I say that, because I had to look at all of this insane huge amount of money being spent on this set and that set, and this scope and that scope, and I had to take the status. That got me through it.
No matter if there was a lot of green screen or a lot of effects and a lot of make up, when you walked on set you were the princess of Mars.
Absolutely.
You look so different from how you look in the film. Are you worried about kids not pointing at you in grocery stores and going, "Mommy, it's the princess from 'John Carter.'" Are you not worried about that?
I'm not really worried. I feel like there's so much bigger things to worry about. I feel like part of your job as an actor is you're going to get noticed, and the more successful you get, the more noticed you are. It's kind of like a Catch-22. It's not something that I'm balking at, and it's not something that I'm eager for. It's kind of like you've just got to step up to the plate.
The first weekend as the box office returns come in those are going to be substantial indicator as to whether or not this kicks off a franchise or is a stand alone delightful film in and of itself. Will you be watching those results going "I'm going back to Utah, if they come in relatively well?''
If I get to work with Andrew Stanton and Taylor Kitsch again, I don't even know how my body could contain its excitement if this goes further. Playing Deja Thoris has made me grow immensely as a woman, as a human being. It's enriched my life in ways that are countless, and I would love to continue to work with this group of people.
("John Carter" opens Friday.)