Interview: Director Bart Layton and Producer Dimitri Doganis of 'The Imposter'
'What kind of a human being would perpetrate a crime of this kind? What kind of a family could fall victim to it?'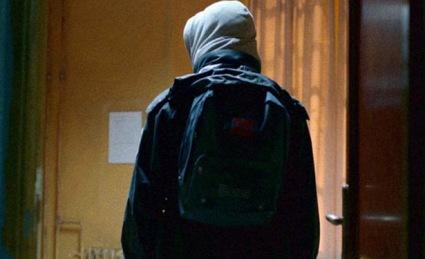 In "The Imposter," Frédérick Bourdain smiles, looks to the camera ... and explains how he, a French-Algerian man with brown eyes and receding brown hair, found the name of a missing American teen who roughly matched his description and size, and then posed as that missing boy -- not merely enjoying media attention, but, ultimately, living with the boy's family for 3 months. Smiling -- not shy -- Bourdain explains just how he took Nicholas Barker's name and identity -- and how he made it from Spain to the Barker family in Texas. It's a tense, twisty tale -- and one where, as Bourdain and director Bart Layton lay out how the crime happened, you find yourself more and more intrigued by the small details, moments of expediency and sheer guts that went into this part of Bourdain's story, even as you're impressed by how Layton's artifices and constructions fill the tale with a rough-hewn kind of meta-reality. We spoke with director Layton and producer Dimitri Doganis in L.A.
MSN Movies:  Watching the film, I was sort of struck by two questions. One is, why this story? I mean, it's a crime tale, it answers all these questions about identity, but how  specifically ... I mean, when you heard this story, what made you think, "Okay, I want to shoot this"?  And second of all, why the decision to shoot it the way you did?
Bart Layton:  Well, I think, you know, it's really rare that you come across a story – a true story – which if it was a work (of fiction) , if it was a plot to a movie, you wouldn't believe it. You know, I think that immediately as a standpoint, given that our background is as documentary makers and working factual television and movies really, you know, there aren't that many of these kinds of stories around, I think – that's unusual.  And it certainly felt like it was bigger than a true crime television story, and, you know, there was some talk about whether it should be – whether we should think about doing it as a scripted narrative feature.  And, you know, again I think, my feeling was the most extraordinary thing about this story is that it's true. And I felt that it was important to preserve the truth.  You know, it was important to preserve, to try and understand how a situation like this can come about.  If you read something like this, I think your first inclination is to think, "Well, how could a family mistake a French Algerian man with brown eyes and brown hair for an all-American –
Dimitri Doganis:   ... Blonde, blue-eyed, younger, no receding hairline  ..
Layton:  ... Exactly. So two questions is that first, what kind of a human being would perpetrate a crime of this kind? And the second thing is what kind of a family could fall victim to it? And I think in that, there is this bigger question of not only deception but self-deception.  You know, what are we capable of convincing ourselves of if we desperately need it to be the case? So it felt like the story, as extraordinary as it was, offered the opportunity to get into some bigger questions, which are really where -- you know, we realized we weren't going to find a neat, perfect answer to how this all happened. We were going to find different, competing versions of the truth ...
Doganis: ... And that felt like it provided the opportunity to make a very unusual and innovative kind of documentary.  And if you think of what a documentary is, one is used to looking for a single, objective truth laying out clearly, with searching it, finding nice facts, and explaining as concisely and cleanly as possible to an audience. This is a very different kind of endeavor because what you have is the same events but given completely different meaning by all of the different people involved. So you have a series of competing, overlapping, contradictory truths that all of these different characters involved in these event are trying to lay out.  From a kind of filmmaker's point of view, there's a real challenge in that. In that you think you, as filmmaker, you're never going to be able to make a call on which one of those is accurate. The evidence isn't there to do that. So how do you do it? YIn that challenge there's great possibility to do something new and different and execute it in a very bold and different way, which I think was the side plot for the way in which Bart chose to bring it to screen.
It is very easy to imagine the lesser version of this story where it's "Was he the boy… we don't know…" and that whole tedious thing is dragged out forever as opposed to this which is from the jump, the imposter, the gentleman who posed going "This is how I did it. This is what I did." Is it more interesting to you to have somebody explain the magic trick than it is to have him just give a flourish and go "Ta-da!"?
Layton:  It's a really good question you ask, and that was the subject of some debate for us at the beginning.  In the different structures for the film, there is one structure which is you tell a family a story and then the revelation is – it's not the boy. And then you need to go back and try and understand how this all came about.  And I think the problem with that is by the time you've done that, you're left with this huge question of, "How could this possibly have happened?"  And in order to answer that you need to tell the story we tell at the beginning, which is about the deception. The story of deception – having already revealed that he made it to America, that he made it into the lives of the family – then it becomes redundant to go back and tell the beginning of the story.  And your question – Is it more interesting to tell the magic trick? – I think one of the things you need to understand with this story, one of the things that we, the audience, needs to understand, is how this situation could have come about. How does he do what he does?  How is he capable of fooling not only the American authorities, and the (Missing and Exploited) Children's Center, and the Spanish police and state department, and the FBI, but also the family?  And I think part of that is you, the audience, being let in, being on the receiving end of the con man.  And there is a question as to how much we, as filmmakers, and you, as the audience, are also kind of sort of spun the story, if you know what I mean, by him. 
It's also interesting to know that nobody looks for plot holes in a story with a happy ending.  Like, the idea of everyone so happy to see their lost son, brother back, whatever, that it really just sort of washes over any sense of reason or logic or that his hair's brown.
Layton:  Well, as the film makes clear, there are all sorts of reasons why perhaps people might accept a stranger into their midst.  And I think those are the questions, those are the big things that you're left with, you know.  And I think some people find it frustrating, but I think it's the big question, isn't it?
Your resume is shooting a lot of stuff for TV, reality, non-fiction, whatever, (the adjective is for programs in which you shoot fast, you're getting stuff quick.  But I mean, did you look at stuff for this to go, "We can make it look and feel a little like this, or we wanna …"
Layton:  Oh yeah, it was definitely important that we went "You know, nothing about the production process or the way in which we envisaged the look and feel of the film was gonna be television," you know? You can't do…
But even more specifically than "not television," I was really reminded of early Errol Morris.
Layton:  Yeah, I mean, I love Errol Morris obviously, you know.  I think without him, films like this probably couldn't, you know, might not be getting made.  And other amazing documentaries, have you seen "Touching the Void"?
Yes.
Layton:  You know, it triumphs as a film.  And so I think, but those aren't so much reference points.  In fact, I haven't watched that since kind of school really, but there were other movies that were certainly reference points for us, which also play with the idea of subjectivity, so "Elephant" by Gus Van Sant was… amazing film. And also that was one of the, that was certainly a reference point early on for the drama elements were going to, you know because I don't know if you noticed, but some of those drama sequences because again it comes about subject memory and subjectivity, it was important that when you go into those drama sequences it's like you're going into one person's version of the story.
But normally you're going into one person's version of the story. In many cases you're going into a cinematically inflected…
Layton: Totally.
…because this is a kind of narrative where so much is part of the film.
Layton:  Absolutely.  And also…
Doganis:  Maybe it is fiction.
Layton: You know, using those POV shots, tracking shots over the shoulder stuff is partly intended to remind you whose side of the story you're in. When you go into it, you're given a shorthand to understand whose version of the story you're watching from. There are other movies like "Zodiac" where it felt like ...the way I've described it before is, if someone tells you a great story you have a movie that kind of plays in your head, don't you? It's a visual experience even though your imagination is making the film.  And it was that that I was trying to create.
But all these super clever nods in it of having it play out not just as a story you imagine in your head, but as the film's version of it.  Like when our narrator looks to camera done out as a cop ... as a side note, have you seen "The Arbor?"
Layton:  I haven't, and funny enough, perhaps,I didn't watch it because someone told me – it was my DOP -- when I was explaining to him about these lip syncing shots,) which was actually something we had done in television project many years ago – 5 years ago.  But my DP said, "Oh yes, that ... " because his friend, his best mate  shot it.
Is there ever a concern when you're making material like this, is a lot of it like "Hurt Locker" bomb defusing because you're talking to all these subjects where at any second they could say, "I changed my mind, I don't want to use any of this footage" or "I don't want to talk to you anymore"? How gingerly do you handle the real people?
Layton:  I think the ( real answer is that you treat them with respect, you put them in the picture from the very beginning, what the story is, what she is, it's your story in your own words and of course, you know, making them aware that some of those difficult questions are going to come up.  And if they choose not to answer them, that's fine, but we are gonna ask them, and I think it would be disingenuous to get someone into an interview and say, "This is what we're going to ask you, we're not going to touch on that ..." and then drop a bombshell when the cameras are recording.
Doganis: That's when you have to worry about  stepping carefully. If you're honest and straightforward from the get-go at what you're trying to do, then you can always look people in the eye and there's no … by the time that they're agreed … first of all, they trust you more ... because they just do.  And secondly, when you come down to doing those interviews and you ask them questions, they know what's coming. The family, they knew what was going to be asked of them. They know that if they really have a problem they can talk about it. And that may be something that is revelatory about (the topic) .
Our narrator, he's unreliable, but he's going through the whole story, everything he did, how he did it, what happened ... he's talking to you, to the camera, the camera extension of you. To you, what's the ratio in him of contrition to braggadocio? What percentage of "This is what I did and I'm so sorry" to "This is what I did and I'm kind of awesome ..."? Did you get a sense that he was kind of enjoying being profiled as a master criminal or was it all just "I'm so sorry I ruined these people's lives"?
Layton:  I didn't see any remorse, and I don't believe you do in the film.  And I think, I would say that my appraisal of that, I hope, is very similar to yours, having seen the film.  I don't see that he was remorseful. At the same time, I think there is ... it would be unfair to say that there aren't times when you hear the story that he's telling and you feel sympathy for the logic of it.  And at that point you start to wonder, "Am I falling victim for the same kind of manipulation that everyone he has encountered in all of these incidents have also fallen victim to?"  And that was a key to our decision for him to look the audience in the eye and for the audience to be very much on the receiving end of the story that he wants to tell, so that rather than us being outside of this whole extraordinary series of events that you kind of can't relate to –you can't relate to a family that could mistake their kid for someone else, you can't relate to a guy who decides to pass himself off as someone else – well, actually, I think with this film, you kind of can. And I think it puts you inside the experience, you know?  If we made it as a kind of investigative documentary for the voiceover and it was like we were looking down a microscope at this bizarre group of characters, you wouldn't understand it in quite the same way as you do, even though there is no definitive answer.  I think you certainly get all those characters and their potential motivations for wanting to sort of for all wanting to be complicit in this extraordinary lie.
('The Imposter' is now in limited release ...)