Cannes Interview: 'Room 237' Director Rodney Ascher
On Kubrick, crazy-talk and the way 'The Shining' gets into your soul ...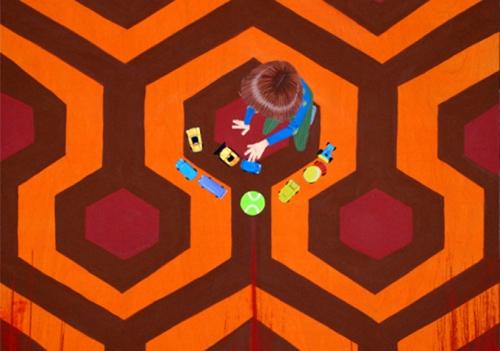 A breakout hit at Sundance, Rodney Ascher's "Room 237" is the story of "The Shining" -- not the film, but, rather, five different critics' and enthusiast's ideas about the film. To one, it's a metaphor for the genocide of the American Indian; for another, a metaphor for the Holocaust. To another, it's Kubrick apologizing, in the form of a hidden code, for faking the footage of the Moon landing in 1969 ... Full of crazy love for films and enough bizarre theories to keep you puzzled, and thinking, for weeks, it's perfect the film is playing in the Director's Fortnight her at Cannes. We spoke with director Rodney Ascher at great length; here's the first part of our interview. 
MSN Movies: Where exactly did "Room 237" come from? I guess it's going to involve your personal relationship with "The Shining" as well?
Rodney Ascher: Well, the first time I saw "The Shining" was actually just the first time I tried to see "The Shining." When it came out in 1980, I guess I was eleven or twelve, depending on the math, and I made it about ten or fifteen minutes into the movie before I ran out in terror. It was really just like the opening music over the reflective lake at the top of it with -- it was like the music more than anything. Just set the stage for this like apocalyptic sort of judgment on mankind. I guess, even when I just saw the scenes of Jack Nicholson being interviewed for the job in the hotel, the sense of dread and inevitability was more than I could handle. The way the steady-cam kind of leads him to the office, it was as if it was dragging me towards a destination I didn't want to go, and as deeply as I could dig in my heels, I would still be sliding on that marble floor on my way to the office. I think many childhood fears are very strong in visceral experiences like that. They stay with you, so a couple years later I sought out the film. Since then I've seen it again and again and again, and Kubrick has always been one of my favorite filmmakers. This project really got started when Tim Kirk sent me an article online about this (one) guy's radical interpretation of what the Shining really meant.
I read it and almost immediately I thought, "To turn this into a visual piece could be kind of interesting." I didn't want to just do a straight adaptation of that guy's one idea. Me and Tim kind of batted it around, and went for these long walks with our little kids thinking about the implications of this thirty-year old horror movie, and we started researching what other people had to say. I think pretty quickly we came across Bill Blakemore's article that he wrote in 1987, that was syndicated in newspapers around the country that the film was an allegory for genocide of the Native Americans. That one kind of rang a bell, and I remember being informed of that, and maybe even the article, but I kind of struggling to really see it when I saw the movie. He was actually the first guy that we interviewed. I spent three and a half hours the first time I talked to him, mostly just listening with my jaw on the floor. He really passionately and engagingly went through the film.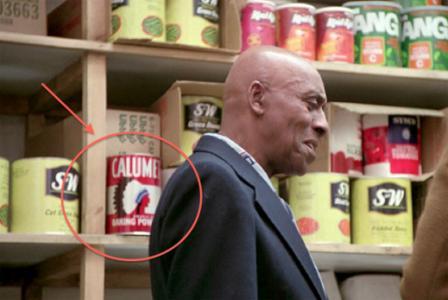 All these guys have this photographic recall, and I don't think any of them were really watching the movie in front of them, but they would say, "You know the scene where they're getting the tour of the main lobby, and before they hit the elevator there's the photographic print of an American Indian on the wall on the right ..." Sometimes I didn't know what they were talking about during the conversations, but then I would line it up with the movie and kind of the hairs would always stand up on the back of my neck, because my reaction would always be, "They're absolutely right." Certainly a big question of mine when we were starting off was, "Are these theories going to be compatible or are they going to be totally in conflict? Are they going to reinforce each other? Are they going to argue with each other?" Trying to find a way to braid them together kind of became the big fun of the editing process.
Did you have to go looking for completely crazy theories? How far afield did you wind up going, before going, "No, that theory is too crazy. We're going to stick with what we've got?"
Well, most of the theories are pretty spectacular in one way or another. You might say the Native American or the Holocaust theory are more conservative than the "Moon Landing" theory, but it's still a far way from the straight text of the film that you have to travel. For me the process wasn't so much of "This person is too far out. This person is more believable," so much as "Who had something compelling, something developed?" There are a lot of guys online who would maybe post some YouTube clips, and they just had this one little thing. There'd be one remark on how you can sort of see pictures hidden in the compositions, like, "This window is an eye, and this lamp is a nose, and this face resolves into something." I find all that stuff pretty interesting but I got more interested when people's theories kind of dovetailed into something about heir biography as well, and when the stories became kind of personal, and when their theory stretched out long enough that there was point after point after point. I think there's a moment in all of these where somebody has one idea about "The Shining" and you might say, "Oh, Okay." Somewhere between three to five points that support your thesis it becomes very persuasive.
So you were looking for people who had not only built these castles-in-the-sky of folly or glory, but who had moved in?
Everybody I talked to and everybody I wanted in the film were very passionate. It's important to them. If there was a guy who was playing into some sort of an armchair game, and was totally dispassionate, and didn't have any personal investment in the movie, it wouldn't have been nearly as interesting for me.
A lot of the film is predicated on the idea of fair use; you take these moments from "The Shining" and from all of Kubrick's films and from other movies and they make a point. At the same time, were you worried that some of the more artistic flourishes might violate the spirit of that, i.e. cutting stuff from "Eyes Wide Shut" where Tom Cruise is outside of the theater into the discussion of "The Shining" to have him as the Kubrickian archetype moviegoer … Was there stuff where you said, "Too far. It's unfair use now?"
Ascher: Not exactly. I just kind of made the film the way I wanted to make it, with my best understanding of the law. Then as the film began to get some momentum we had it vetted in a kind of insanely boring legalistic style. Our movie has a lot more clips than many others out there, but its still the same process for us as it is for a film that has much fewer of these kinds of things. You know license this, and fair use of that, and create this big spreadsheet.
At the end of the day you felt good that when you released this you wouldn't automatically get a cease-and-desist letter?
I'm not a lawyer. I made the movie I wanted to make it, and the folks involved in the process signed off on it.
Goddard said the best form of film criticism is to make another film. Does "Room 237" function in a way as criticism of film criticism in a way that there are so many of these theories out there in such multiplicity? Does that strengthen the idea of film criticism or does it water it down?
I don't know that I know the answer to that. I'm fascinated to hear it put into that context. The implications of this film for film criticism wasn't anything that was super at the front of my mid as I was making it. …
George Orwell has a classic line that "There are some things so stupid you have to believe in them." No names, but when some people were articulating their ideas about "The Shining" were you inside rolling your eyes and going, "Oh come on, come on?"
No. I mean I don't necessarily believe that everything everybody says about the movie was necessarily intentional. That doesn't mean you can't see the film that way. Mostly I was just kind of engaged and kind of fascinated. When somebody would sort of hit a basket from the far end of the court, I got excited. I didn't think it was ridiculous, I thought it was exciting.
Would this film work as well with a movie where the director was alive, or does it have to be from that unknowable abyss of death?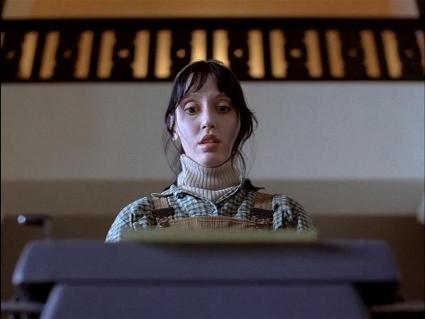 I think the abyss of death helps create a sense of mystery here, but there are two things to consider if the filmmaker is still around and present -- he may not want to be fully candid about his intentions, and he may want to play kind of coy about what he was getting at. Also a lot of artists work subconsciously. They make an intuitive decision based upon, "I like this, maybe. I don't quite know what it reminds me of." Famously the director of "Nightmare on Elm Street 2" had no idea that the film works really well as a story about a kid struggling to come out of the closet. In the DVD commentary for it, some of the other people on track ask him about it, and he's like, "I did not see that in the movie. I did not intend it, but I can totally see it now that it's been discussed …"
(Tomorrow: Part Two ...)