Jessica Chastain To Join 'Iron Man 3?'
Because Gwyneth Paltrow wasn't insecure enough already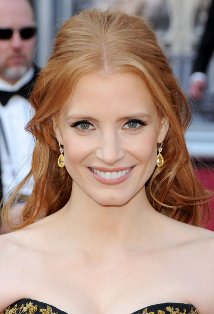 According to
the Hollywood Reporter
, Jessica Chastain ("The Help," "The Tree of Life," "Coriolanus," "Take Shelter") is in talks to join the ever-expanding cast of "Iron Man 3." 
Chastain's ostensible role is, as yet, unknown. That said, whomever her character ends up being, she would presumably fill the void left by Scarlett Johansson as Gwyneth Paltrow's younger, prettier rival. Now, don't get us wrong—we love us some Pepper Potts—but there are a lot of weird character dynamics at play in the "Iron Man" franchise. Why does Pepper tolerate Tony Stark's wandering eyes? Especially given his celebrated reputation as a playboy and well-chronicled history of near constant womanizing? Come on, Pepper, have some self respect!
But we digress. What say you, Hitlisters? Does Gwyneth's Pepper Potts really have anything to fear? Can Tony Stark be a one-woman man? And what character could Chastain be playing? Spider-Woman? The Black Cat? Scarlet Witch? The Wasp? Wonder Woman, in a heretofore unprecedented DC/Marvel crossover event? Or maybe even someone without superpowers? As always, let us know what you think in the comments.