Stepping back in time on the set of 'Gangster Squad'
Talking to Josh Brolin and other cast members during an all-night visit to 1949 Los Angeles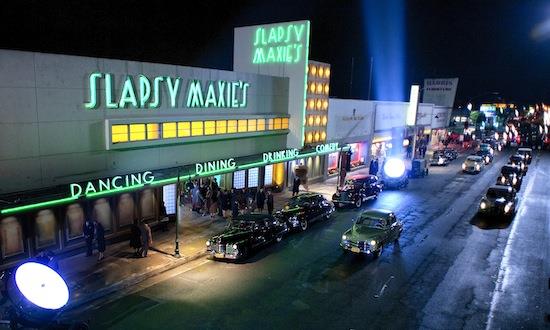 Some of the greatest gangster movies ever made have come from Warner Brothers—films like "Little Caesar," "The Public Enemy," "I Am a Fugitive from a Chain Gaing," and "Angels with Dirty Faces" all the way up to "Bonnie and Clyde," Goodfellas," and "The Departed." The studio hasn't lost its touch. When I arrived in Bellflower, California, for a visit to the set of Ruben Fleischer's  new film, "Gangster Squad," I couldn't believe my eyes. An old furniture warehouse in this depressed community had been transformed into an exact replica of Slapsy Maxie's, a glittering and popular nightclub that once stood on L.A.'s Wilshire Boulevard and which had connections to gangster Mickey Cohen. But this was no ordinary movie set, with false fronts or disjointed rooms with movable walls. This one-of-a-kind recreation was built to scale with every part of the club constructed in the proper location. The front lobby led to the stunning restaurant and nightclub which, in turn, led to the backstage area, dressing rooms, and offices that Cohen used to launder some of this gambling profits in the late 1940s.

"Gangster Squad" tells the story of a real-life group of L.A. cops who were secretly charged with bringing down the ruthless Cohen (played in the film with delicious abandon by Sean Penn). While some characters in the film are composites, most of them are based on the real deal, including the square-jawed leader of the group, Sgt. John O'Mara (Josh Brolin) along with risk-taking Sgt. Jerry Wooters (Ryan Gosling) and the squad's technical genius, Officer Conwell Keeler (Giovanni Ribisi). Throw in a gun-wielding cowboy type, Max Kennard (Robert Patrick), his devoted partner, Navidad Ramirez (Michael Pena), and a smart and well-connected African American cop, Coleman Harris (Anthony Mackie), and you have a unique group of misfits that was able to succeed where many others had failed.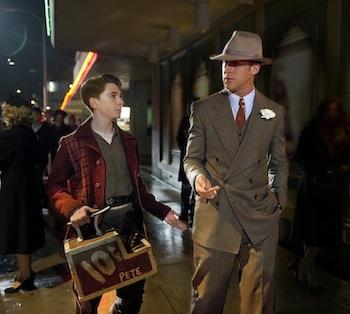 We ended up spending the entire night at Slapsy Maxie's watching the talented cast and crew. The actors were dressed to 1949 perfection by costume designer Mary Zophres, who outfitted most of the films by the Coen brothers. More than 200 period extras and the dozens of vintage cars cruising down Bellflower Avenue only added to the illusion that we had really traveled back in time. We watched Fleischer direct a stunning tracking shot in which Gosling's character encounters a shoe-shine boy (Austin Abrams) in front of the hot spot and then enters the bustling nightclub that is full of patrons, performers, and some of L.A.'s toughest gangsters including Cohen and his latest girl, Grace Faraday (played by Emma Stone who has never looked more ravishing).
In between takes of this complicated shot, as the gorgeous vintage cars were moved back to their starting positions, we spoke with producers Dan Lin and Kevin McCormick. Lin mentioned Maher Ahmad, the film's talented production designer. "It's really every production designer's dream to build a location like this," he said, "you don't get that opportunity very often."
At this point the group was exactly halfway through the shoot, and McCormick marveled at director Fleischer's grasp of the material. "This was a movie that he felt down to his very core that he was born to make. When we met with him he was genuinely excited about what he could bring to it." The producers talked about Warners' history with gangster films ("they kept the lights on at the studio for many years!") and how this story depicted the days when you had to act a little more like gangsters in order to get the gangsters.
We then moved inside Slapsy Maxie's and sat down at one of the cushy booths to talk to Ruben Fleischer. I couldn't believe the level of detail inside the club. I picked up a matchbook with the nightclub's logo imprinted on it that no one in the audience would ever be able to see and noted the period-correct cigarettes in the ashtrays. Fleischer, an avid cinephile, told us how thrilled he was to be working on the film. "I think some of the greatest movies of all time are within this genre," the young director said, "'The Godfather,' 'Goodfellas,' The Untouchables,' so many classic gangster movies that I am such a fan of. I'm thrilled to have the opportunity to make one myself!"
Fleischer was understandably thrilled at the amazing group of actors that came together for the film. "I don't know what to say about the cast except that I'm the luckiest guy there is! I knew Sean had to play Mickey Cohen so we worked very hard to convince him to do it! And if you read the character description of O'Mara, it said he had the kind of jaw you could break your fist one—that's Brolin to a T! Ryan also embodies the traits of the real Wooters. Everything really fell into place—we got four great guys to fill out the cast—Giovanni Ribisi, Anthony Mackie, Robert Patrick, and Michal Peña. And Emma is the best. I've worked with her before and was really psyched when she agreed to be part of the film."
Fleischer's previous movies ("Zombieland" and "30 Minutes or Less") were comedies. Did he feel like he was exercising new muscles on this film? "Oh these are muscles that have never been worked before!" the director admitted. "And this film is on such a different scale, it's a huge picture! We're in 55 different locations over 68 days. There are 65 speaking parts, we have hundreds of extras—and some of the world's greatest actors!"
Called to shoot another scene inside the club, we filed into the perfectly outfitted backstage area (complete with showgirls' dressing rooms and makeup tables) and listened to the band singer warble 1940s tunes during  a scene involving quite a lot of action.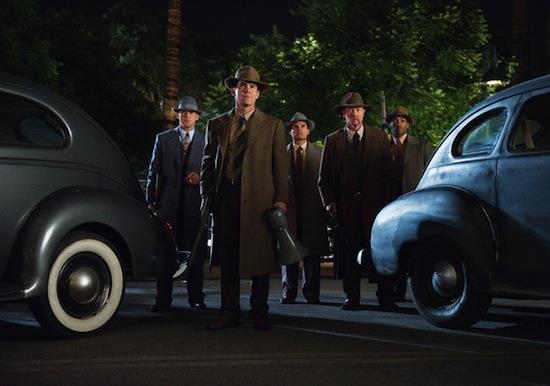 By the time we went to the next scene, shot across the street from Slapsy's, it was after 2 am. We gathered around Josh Brolin's chair to interview the actor before his next take. I was about an inch from his beautiful 1940s suit and couldn't help but admiring the expert tailoring. Oh, for those glamorous days when everyone dressed up! Brolin loved his duds, too, as well as the larger themes of the film. "For me, it's about the passion of this guy," he said, "it's cops and robbers, it's good and evil, it's Shakespearean, it's mythological, it's all this stuff—that's the fun of it!" O'Mara's wife (played by Mireille Enos) has a featured role in the film and Brolin told us how the real-life couple's daughter had recently come to the set and shared stories about her parents. "That had a huge impact on me," he said. The scenes between Brolin and Enos are extremely poignant. "My wife [actress Diane Lane] would be mad if I told you this but I'm going to say it anyway! When we first got together we wrote these very long emails to each other even though we spent zero time apart! I wrote them all the time—I'd even go into the bathroom just to write another email to her during that first extremely romantic year. I put together a book of emails we had after that first year that turned about to be 474 pages! Anyway, I went back recently and started reading those emails to feed what Mireille and I are doing in this because O'Mara was a total romantic, too, and a total idealist. He really believed in what he was doing here—it's fun to be able to play that kind of passion!"
What did he think about this time period in Los Angeles? "Listening to my dad [actor James Brolin] speak about this time and seeing what happens to his face when he talks about it is enough for me to believe that there was something special happening at that time." This was Brolin's first night at the Slapsy Maxie's location—what did he think of the set? "Oh my God, it's incredible," he said. "I saw the building for the first time as I got off the freeway and thought, 'holy shit!'"
Brolin then bounded up a ladder to join some of the other guys in a rooftop scene overlooking the nightclub. Ryan Gosling, looking fabulous in his own period suit and fedora, stood next to us for a while but was the only one of the actors present who didn't want to be interviewed, despite the entreaties of the on-set publicist. Not that I blamed him—it was now close to 3 am and the serious actor didn't want to break character!
We did talk to Robert Patrick who plays the oldest member of the squad. "It was still sort of a lawless time in L.A.," Patrick said about the film's era, "sort of like the Old West. Mickey Cohen came in after Prohibition and set up shop. It was a really sexy time period, to be honest with you—cars were sexy, clothes were sexy, people were sexy. I guess that's my fascination with it!"
"My guy, Max Kennard, was born in the 1800s and he's from Texas, he's been transplanted to Los Angeles. I carry a Colt 45 Peacemaker so I'm sort of a throwback. I learned how to do the quickdraw for the film and I have a great scene where I shoot a can in the air six times. This guy has sort of a Texas mentality—shoot first and ask questions later! But now he's trying to redeem himself for things he did in the past. I think he's a good guy!" Besides the fancy gunplay, what did Patrick do to prepare for the role? "I lost 30 lbs.! I wanted to give that kind of visual of the long lean cowboy."
Giovanni Ribisi told us that he was fascinated by the gangsters of this period. "Back in the day, actual gangsters were celebrities," Ribisi said, "they were bigger than movie stars!" The actor talked about how excited he was to be working with this "dream cast" and with Ruben Fleischer. "Ruben is fantastic! The morale of a set is really predicated on the director's disposition and his know-how and Ruben is just a master of that. He's kind of newer on the block than a lot of the people who are involved with this film and he's handling it beautifully."
Actor Anthony Mackie concurred. "Ruben is kind of like a movie junkie. And he's all about pictures. When I first got this part we went through all of these books and looked at photos and ideas of  who my character would be, and who black people were in general during this time. It was really important to him to create characters that were true to this period. It was a very interesting turning point for African American culture. You had a bunch of people in black communities with a very keen eye on where they wanted to go and they were working diligently toward that."
The actors were called back into Slapsy Maxie's and we watched the hordes of period extras filing back into the nightclub. I looked at my watch—it was almost 5 am! I really felt like we'd traveled to a long-vanished world that night, a dangerous but hopelessly glamorous world, and it was with great reluctance that I left the hoity-toity club and climbed back into my non-vintage car for the drive back to the present.
"Gangster Squad" opens everywhere on January 11, 2013.