Comedian Mike Birbiglia follows up his debut with new 'My Girlfriend's Boyfriend'
His hilarious 'Sleepwalk With Me' was an indie hit last year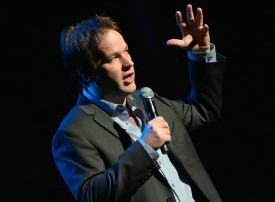 Comedian Mike Birbiglia already had a loyal following when he debuted his first film, "Sleepwalk With Me," at last year's Sundance Film Festival, thanks to his popular stand-up routine, his many comedy albums, and his frequent appearances on Ira Glass' "This American Life."
But Birbiglia's popularity could only take him so far, as "Sleepwalk"
might
have ended up a complete disaster - a film that Birbiglia directed, co-wrote, and starred in based on his own one-man show and book of the same title. Probability of self-indulgence? High. Yet Birbiglia's film ended up being one of the hits of the festival, an achingly funny and surprisingly emotionally nuanced
coming-of-almost-mid​dle-age
tale that won Birbiglia tons more fans. And, apparently, also the chance to adapt more of his very amusing material.
Bing:
Mike Birbiglia
|
'My Girlfriend's Boyfriend'
Over at
THR
(via
Cinema Blend
), a new interview with the multi-hyphenate reveals that he's busy adapting another one of his stories, known as "My Girlfriend's Boyfriend." The story is one that Birbiglia has shared on "This American Life," one that focuses on a teenage Birbiglia caught up in a romance with "cool kid" Amanda, who might not be as single as he'd hope. You can listen to it for free
here.
Birbiglia is writing the adaptation, which he warns will have a different name, though his original story is considered a "jumping-off point" for this new film. A possible change to the material? Birbiglia revealed that he will likely star in the film, meaning it probably won't center on a teenage "Birbigs," but perhaps a more adult one.
"Sleepwalk With Me" is now available on iTunes, DVD, and Blu-ray.
Want more Movies? Be sure to like MSN Movies 
Facebook
 and follow MSN Movies 
Twitter
.