Weekend box office: Hansel and Gretel get their revenge
The grown-up duo conquers nay-saying critics as well as witches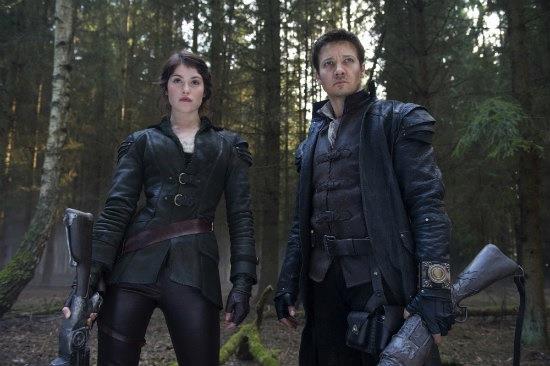 If Jeremy Renner and Gemma Arterton's leather-clad Hansel and Gretel were really smart, they'd leave the witches alone and spend more time hunting down movie critics. On the other hand, maybe they shouldn't waste their time—despite an abundance of abysmal reviews, the Paramount revenge fantasy handily beat the competition to claim the #1 spot in the North American box office this weekend. There IS a reason some of these less-than-stellar films come out in the fallow months of winter!


In a weak weekend for new releases, "Hansel and Gretel: Witch Hunters" defied its critics and attracted the lion's share of moviegoers, earning a respectable $19.6M (at 3,372 theaters). Last week's horror film "Mama" moved to #2, with $13M in ticket sales (at 2,682 theaters) while "Zero Dark Thirty" came in at #3 with $9.7M (at 2,929 theaters) and a new domestic total of $69.8M. "Silver Linings Playbook" continued to gather awards momentum and audiences at #4, adding $9.4M (at 2,641 theaters) to its now $68.9M domestic total while the Jason Statham-Jennifer Lopez thriller "Parker" opened at #5 with $7M (at 2,224 theaters).

Tarantino's "Django Unchained" showed its staying power in its fifth week by moving up to #6 even though it lost more than 500 theaters. The film added $4.9M (at 2,007 theaters) to its new domestic total of $146.2M. Possibly one of the worst-reviewed films ever to hit the Top Ten, "Movie 43," an all-star sketch comedy film from the twisted minds of Peter Farrelly and his pals, opened at #7 with $4.8M in ticket sales (at 2,023 theaters) but…um…don't expect to see it here next week! Slipping to #8, "Gangster Squad" earned $4.2M (at 2,590 theaters) while "Les Misérables," the #9 film, also added $4.2M (at 2,201 theaters) for a healthy domestic gross of $137.5M as well as another weekend award for its star Anne Hathaway. At #10, last week's "Broken City" continued its disappointing showing with only $4M (at 2,622 theaters).
Dropping off the Top Ten this week was Arnold Schwarzenegger's poorly received comeback, "The Last Stand," along with the horribly reviewed "A Haunted House" and successful first film of Peter Jackson's new trilogy, "The Hobbit: An Unexpected Journey." The only new contenders for next week's list involve two unlikely relationships: one between a human and a zombie in "Warm Bodies" and one between a hitman (Sylvester Stallone) and a young NYPD detective in "Bullet to the Head."