Does Jennifer Lawrence Really Sing in 'House at the End of the Street'?
It's not every day that a horror film produces a sweet, indie-style music video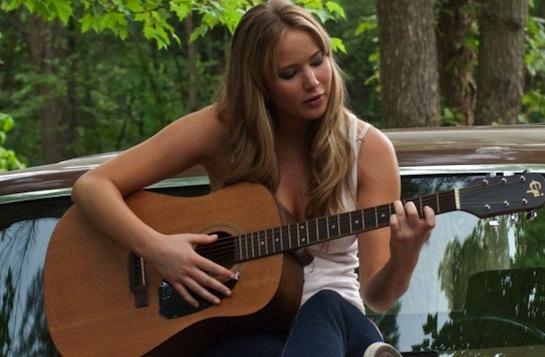 I need to tell you a secret, but please don't spread it around. Are you ready? I really liked "House at the End of the Street," the new horror film starring Jennifer Lawrence and Elisabeth Shue. Ssshhhh! At an screening of another film earlier this week, I was sitting near a group of critics who had seen Lawrence's new movie and expressed more disdain for the film than they had for "The Oogieloves in the Big Balloon Adventure." "If anyone I know gives a positive blurb for that trash," I heard one critic saying, "they're dead to me!" Such sentiments were echoed in the reviews of many critics around the country. Arriving at a "House at the End of the Street" screening the following night, I expected the worst. But instead of an embarrassing debacle, I found myself perched on the edge of my seat throughout the film and riveted by the story's twists and turns. Lesson #1: Having zero expectations for a film can be a real bonus. Lesson #2: No matter what else you do, get Jennifer Lawrence in your film!
I admit to being captivated by the young star who first blew me away with her Oscar-nominated performance in "Winter's Bone" a few years ago. As far as I'm concerned, Lawrence is the main reason to get excited about the hugely successful "Hunger Games" and the sequel the actress is currently shooting. But rather than finding some pre-fame schlock that Lawrence would subsequently purge from her resume, I was also entranced by her performance here as a rebellious teen trying to come to terms with from her parents' divorce and looking for friendship in her new small town. Oh, did I mention that Jennifer and her mom moved right next door to a house where a terrifyingly brutal murder recently occurred? No biggie.
On top of her amazing acting chops, the Internet was abuzz this week with a clip of Lawrence whipping out her guitar in the middle of the fright-fest and warbling a lovely tune. Who knew she could sing, too? Well, maybe she can't. While the actress apparently did go into the studio to record "All You've Got to Do Is Fall in Love" for the film, word comes today that in the end the producers replaced her vocals with the voice of singer Sarah Rayne. Oops. No matter—even if she couldn't sing a note, I'd go see any movie that Jennifer Lawrence is in!
Check out the music video for the film after the break.