Lucas Till To Join Werewolf Movie 'Wolves'
Officially the worst title ever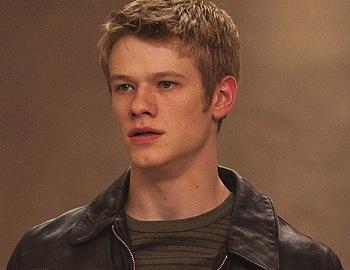 According to
The Hollywood Reporter
, Lucas Till (Havok in "X-Men: First Class") has agreed to play the lead in "X-Men" screenwriter David Hayter's directorial debut, "Wolves."
Till would ostensibly play a young man who turns into a werewolf and is subsequently framed for murdering his parents. Forced to go on the run, he ends up in a small town called Lupine Ridge (ha!) that may hold the key to his salvation. Which makes this project sound sort of like last year's "Abduction," only with werewolves instead of CIA agents. 
Almost as though Hayter was watching "Abduction," suddenly remembered that its star—Taylor Lautner—was the dude who played the werewolf in "Twilight," and then thought aloud, "You know what would make this better? If the dude who played a werewolf in 'Twilight' was still playing a werewolf!" Because that is usually how people come up with ideas for movies.
Still, "Wolves" is an egregiously bland and objectively horrible title. It has none of the cheeky humor of "An American Werewolf in London" or the exotic intrigue of "Cave Lupum: Beware the Wolf," a project that we actually wrote ourselves. It's pronounced "Cah-wey," and means "beware" in Latin. Latin! A dead language! That was widely spoken in Ancient Rome... But that might be giving too much away. We'll say no more. Hollywood, you have our number...
hello carol cacure am and I love you very much. since I saw you in the movie daa hannan hontana I inprecionei parabens with your talent! I'm from Brazil and I really want to meet you please come / When I ask Brazil porfavoz I love love love you lucas till I'll do a blog about how much I love you .. thank you for reading ...

Are you sure you want to delete this comment?