Hailee Steinfeld Will Teach Audiences 'Why We Broke Up'
But who will she break up with?!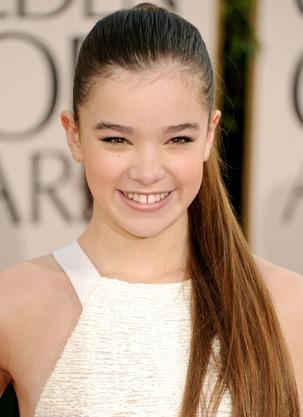 It looks like young Oscar nominee Hailee Steinfeld is aging up into the teen romance genre after her breakthrough role in the Coen brothers' "True Grit." We'll next see Steinfeld in Carlo Carlei's classic take on "Romeo and Juliet," and she's currently filming "Ender's Game" with "Can A Song Save Your Life?" set for prouduction after that, but she's now in negotiations to sign on for something pretty mainstream - the lead in a cinematic adaptation of a recent young adult novel.
Deadline
reports that Steinfeld is in the midst of a deal to star in Beth McCarthy-Miller's "Why We Broke Up." The film is adapted from the recent novel by Daniel Handler (who also penned the "Lemony Snicket" series and completed this screenplay) as illustrated by Maira Kalman. McCarthy-Miller is currently readying her feature film debut, "Tammy," but she boasts an impressive resume with a ton of television gigs, including directing episodes of "SNL," "30 Rock," "Up All Night," and a staggering number of awards shows, all of which should give us an idea of her sense of humor and quick timing.
Per
ComingSoon
, the book's synopsis reads as such:
Min Green and Ed Slaterton are breaking up, so Min is writing Ed a letter and giving him a box. Inside the box is why they broke up. Two bottle caps, a movie ticket, a folded note, a box of matches, a protractor, books, a toy truck, a pair of ugly earrings, a comb from a motel room, and every other item collected over the course of a giddy, intimate, heartbreaking relationship. Item after item is illustrated and accounted for, and then the box, like a girlfriend, will be dumped.
Steinfeld will, of course, play Min. Additional details also give us some insight into Min - she's "a high school sophomore and cinephile who enjoys hanging out with friends at her favorite coffee shop." Ed is a fair bit different than Min, described as "a senior and captain of the basketball team, and gets caught up in their whirlwind romance." There's no word yet on who will (or could) play Ed. Any ideas?
Are you sure you want to delete this comment?