Check Out the First 'Iron Man 3' Trailer
In which Tony Stark can't get over 'The Avengers,' and then gets his face rocked by Ben Kingsley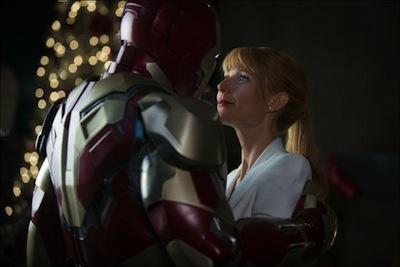 It's been five long months since "The Avengers" came out in theaters and broke box-office records the world over. And in today's world of easy access and instant gratification, five months can seem like an eternity. So, just in case "The Avengers'" recent release on BluRay and DVD wasn't enough to slake your appetite for all things Marvel—and why would it be? Since you, like us, have probably seen it 15 times already— here comes the first teaser trailer for next May's "Iron Man 3."
"Nothing's been the same since New York," says Tony Stark in an atypically serious voice-over, perhaps unintentionally echoing a sentiment that many ardent "Avengers'" fans might agree with. "You experience things, and then they're over." Say it ain't so, Tony! We know "The Avengers 2" is coming in 2015, so they're not really "over," but we get where he's coming from.
The rest of the trailer? Tony experiments with a new Iron Man armor, as is his wont. Pepper Potts is creepily romanced by the exquisitely cast, vaguely evil Guy Pearce. Ben Kingsley continues to besmirch his "Ghandi" legacy by adorning a ridiculous costume and intoning some portentous bull-plop about how he's a "teacher" not a "terrorist" and how "there are no heroes" before blowing up Tony Stark's seaside Malibu mansion, rocking Iron Man's world—and ours along with it. Oh yeah, and then there's the faintly dub-step soundtrack, another "Iron Man" first. We guess that last part was inevitable.
What do you think, Hitlisters? Check out the trailer below, courtesy of
Apple
, and let us know in the comments...