Interview: Gina Gershon of 'Killer Joe'
On NC-17 scenes, fame, 'The Exorcist,' grooming tips, 'Face/Off,' life in the corner of the public's eye and pretty much everything.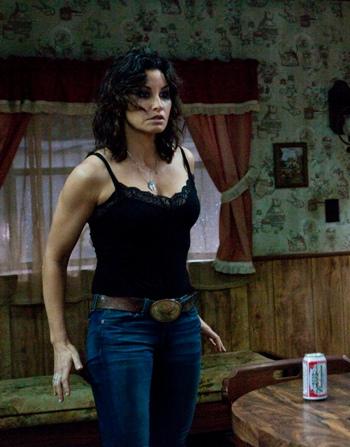 In William Friedkin's trailer-park noir "Killer Joe," we first see Gina Gershon's character Sharla opening the door of her double-wide in the rain late at night, howling at her stepson Emile Hirsch ... naked, and visible only, from the waist down. It is the least of the indignities her character suffers in the film, including the NC-17 film's creepy-clammy final interrogation scene, as conducted by cop/killer Matthew McConaughey. But in the real world, Gina Gershon -- who's turned into a stealth hyphenate in different disciplines over the recent years, recording with a band and writing children's books -- is simply excited about having worked with William Friedkin, the man behind one of her most-loved films. Gershon's been in films from the camp classic to the two-fisted, with a sophisticated air that can command a room with one raised brow and, at the same time, an earthy physicality that helps her hurl herself into goofy physical comedy. She has worked with directors from John Hughes to John Woo, Robert Altman and Olivier Assayas. She is, speaking about her film in L.A. with us, an absolute force of nature. At one point, discussing authenticity, she conducted me, delicately, through the longest conversation about the intimacies, culture and class structure of feminine grooming that I have ever had in my life. I tried to merge the digression, but she made her point, laughing. If there is one great secret to her long and diverse career, it was demonstrated that day: It is very easy to laugh along with Gina Gershon. 
MSN Movies: When you're doing a 28-day shoot, how much like live theater does it feel -- just in that you're going from scene to scene relatively swiftly?
Gina Gershon: I mean, everything wasn't in sequence except for the end. It felt, I mean, it never felt like live theater because you don't have the audience right there, but I have to say doing long scenes is not typical in a film. So that part was really great. This felt more like live theater than another movie. I mean like theater just because we get to play the scenes for so long, and it's really like in one location. We have to stage it.
All the blocking.
All the blocking, yeah, had to be kind of thought out before certain scenes because of course you have the camera here, and so if you're going to do a 5 or 6 page scene, or even a 15-page scene, you (hand gestures)  know. So sometimes in movies you can kind of move around in a different sort of way and you had to remember the choreography in your head and then forget about it.
But do you feel the momentum build?
Yes, absolutely. I mean, the longer the scene goes, especially with these scenes, especially the interrogation scene, I don't think it would've worked as well if we had to keep saying, "Cut, cut, cut" 'cause it just kept going and the feeling that it wasn't ending and it allows you emotionally to just be very organic with where you're going and feeling kind of like a trapped rat, and honestly if there was a cut you'd be like (Sigh) "You're off the hook."
Right.
There was no getting off the hook.
Right, because you're so immediately in the moment you don't have that little shift in your perspective telling you you're off the hook.
Or just the pressure is there and it's constant, and you know. So I think that worked really well, but of course if it's cut, cut, cut ... you still make it work. But I found this an easier process. And especially I think Billy wants a certain rawness, and I really think that shows up in the film because of the longer takes.
I asked Mr. McConaughey and Mr. Hirsch this, when you make movies but you obviously love them, what one of Friedkin's films had the biggest impression on you as a film lover? What's the one where you're like…
"The Exorcist," hands down.
Really?
I made my parents take me to see that. I tricked them, because I don't think they quite understood what it was when I was like 11.  They wanted me to do something and I said, "Fine, I'll do this but you have to take me to see 'The Exorcist' on opening day."  They were like, "What?" and I said "You have to do this." And of course they did, and my mother was horrified. Of course, I was completely obsessed with it and I loved it. And she was like, "I can't believe we took her to see this movie!" But I just loved it, and I've probably seen that movie over 100 times.
Wow.
I'm obsessed with it.  He's such an incredible filmmaker. Every time I watch it I feel like I see something else --  that something else is revealed.
It's a quiet horror film. It's a subtle film. There are things in the build or that sneak up on you, but it's not all jump-scares and fountains of blood.
Listen, why "Killer Joe"? Listen, if "Killer Joe" was being directed by Joe Schmoe, I might've had second thoughts. "The Exorcist" is so brilliant because if it was directed by anyone, you know, less than Friedkin it could've been a ridiculous movie. It could've been silly. But he makes - all the acting is so wonderful in it and so believable that you are in that world and you believe every second. And the way he moves the camera and the way he builds the tension, the way he uses sound, is incredible. And I think he's probably one of the first guys, I mean I'm saying that, maybe it's not true, but who used sound in a very subliminal way.  If you watch the Blu-ray version … It's just incredible when you hear the sound -- like the sound of the rat scurrying across the roof during a different scene - across the attic in a scene before that - it adds a psychological tension that's very disturbing. Listen, I was happy when I met him for this project because I got one of the first Blu-ray versions signed by him and so I thought, "Hey, worst comes to worst, I got a great Blu-ray version of 'The Exorcist' signed by Friedkin."  So I was very excited. It was a win-win day for me.
But you were saying earlier, that you were originally shown this as a theatrical work, or someone was interested in having you do the part on the stage in its initial theatrical run.
Yes.
And you thought it was weird but gratifying to have a play come back to you like that?
Well, it always secretly bothered me that I kind of wussed out and I didn't do it as a play because I just thought psychologically at that time and emotionally I just felt like I didn't want to go there 8 times a week. 'Cause if you're going to go there, you got to really go there. And I thought, "Do I want to live with this and do that scene over and over and over and over again?"  And I thought, "No! Not really. I just didn't think I could handle it at the time.  But it bothered me, and I don't shy easily away from difficult pieces. But it really freaked me out when I read it. And so when it came back I was like, "Oh my god, it's that! It's that piece, it's that play that's now a movie. And William Friedkin is directing it? C'mon." It's like, you know, it was fantastic.  And William Friedkin is the director. As an actress, I find myself -- to me, if you're going to go for it, go for it, right? And I find a lot of times I'll say to directors, "Hey! Let's do this!" and they're like, "Oh, that's just going too far." And I'm like, "Oh, okay." There is no too far with Billy, as long as it's authentic and truthful and is right for the character.  I'm not talking anything sensational, I'm talking how far psychologically do you go? He's a very visceral director, and I like that visceral sort of acting. And he makes it very easy to go there.
When the director of the "The French Connection" says you're going to open your door in screaming rain with just a shirt on and probably wearing a merkin, which is probably one of my favorite Victorian words, you just go for it?
Um, you know what? My only consideration, the only discussion was listen, I need to, you know, when he said you're going to open the door and this is what was written, it was crucial to me that I had the proper look for Sharla. It's her introduction, and she's so feral to me and so wild that, to not get too personal, you know, I didn't have that.
She has an aesthetic that you yourself do not.
Yes, that's a nice way of putting it. She wouldn't go out and pay money to wax. I'm living in the 21st century, it's almost like a given. I don't even think women could grow their hair like that anymore. But I found it, not only did I think it would be really funny, and I think it's good to start the movie off knowing you could laugh, but it introduces her character. If all of a sudden you have this perfectly groomed little thing, it didn't make sense. It's a lie, it's starting off that character with a lie.
It's like when you see actors playing people during the Depression with perfect teeth.
Right.
For a less intimate example.
But that's like saying an exact example. It's a good example because it's like really? They had awful teeth. Dirty those teeth, darken them up, make them look screwed up!
Listen, anything that takes you outside the movie or the character for a second, it's not right. You don't want to think that. You just want to think, "Woah, wow, she's gnarly! She opens the door, she looks like that and she just doesn't give a s&*t."
What is it about crime that it unfolds so well in both the Deep South and small, hot rooms?
The merkin that we chose, her bush, to say the least, it's really symbolic of her character. And it's important before I even say a word you understood a little bit who this woman was.
I completely get that; at the same time, I don't want to be the reporter who spent his interview to ask you about your merkin for 20 minutes straight, so we should …
(Laughs) Listen! Merkin! I'm bringing back the merkin in a big way. It's one of my favorite words and I really love the whole history of it.
I think you should do a reality show called "American Merkin."
"The 'Merican Merkin."
Yeah, "The 'Merican Merkin."
(Laughs).
What is it about the South and small rooms that make them both great settings for crime stories?
I think the heat.
You think the heat?
I think the heat, you know, makes people agitated. I think closed settings, you know, claustrophobic settings make your nerves a little bit more raw than a big luxurious space where you can get away. When there's no place, when you're feeling trapped and you're actually in a space that you are trapped, it adds to the tension.
The whole Tennessee Williams thing: It's too hot to sleep. I might as well drink and commit an adulterous affair.
Listen, if "A Streetcar Named Desire" was set in Sweden…
(Laughs).
…or in the mountains, it wouldn't have been the same.
A lot less yelling.
A lot less yelling, a lot less sweaty, it also brings out that rawness I think.  It's like if you could have a respite, have a nice cool drink in your air-conditioned room I think it makes you feel that much better.
But if you keep the humidity index too high for a couple extra days, you're allowed to kill somebody.
That's right.
I'm always curious when I talk to people who've had as terrific careers as yourself, what is your biggest unsolicited public recognize? What do people say to you, "Oh! You, you're…" What do you most often get?
I can't actually answer that because I've done a couple of -- I think I've hit a couple of different genres, I've done different characters, but besides that I've also done music, I also wrote a book.
Right.
If you're a little kid, they'd be like "Hey! I loved 'Camp Creepy Time'!" and they have no idea that I'm an actress. When I was doing my music, hardcore people didn't really care about my acting but they saw the music movie "Prey for Rock and Roll".  Then it really depends on the demographics with some people love the TV comedies, "Curb Your Enthusiasm" comes up a lot, of course "Showgirls" was always a favorite especially amongst the drag queens and gay community. "Bound," if you're a gay woman, that's definitely the one they're going to gravitate towards. If you love action it'll go to "Face/Off" - it's really projection. Whoever's coming up to me, whatever they like, that's what they'll recognize.
You're like this walking Rorschach ink test for people.
Yeah. (Laughs)
 I ... adore "Face/Off."
"Face/Off" is a fantastic movie. John Woo is a really great director. I was so excited I was able to work with him.  I mean, he really is a master at that. I keep telling him, "You have to do a musical!" Because the way he choreographs an action scene was very similar to when I'm doing a show on Broadway, when we're doing a whole dance routine for a whole day and a half you're choreographing every movement, where you're rolling, where it's going to explode, and he makes these crazy scenes so balletic. I mean, they're really poetic and it's like doing a dance when you do an action scene with him.  ...
("Killer Joe" is in limited release.)
Are you sure you want to delete this comment?