New 'How the Grinch Stole Christmas' movie coming
Only this one'll be computer animated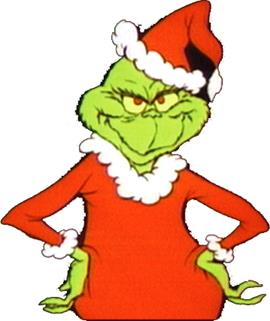 No matter what your opinion was of "Horton Hears a Who" or "The Lorax," both of those films were at least faithful in appearance, if not in spirit, to the beloved Dr. Seuss books upon which they're based. Which is more than one could say about Jim Carrey's live-action "How the Grinch Stole Christmas," which managed both to pervert the themes and intentions of its beloved source material 
and
 be crass and ugly. So we can only greet as promising the news, courtesy of
Deadline
, that Illumination Entertainment—the studio behind "Despicable Me," "Hop," and the aforementioned "Lorax"—is working on a new animated version of Seuss's "How the Grinch Stole Christmas."
Of course, there remains something off, odd, and potentially self-defeating in the act of making a greedy, exploitative movie about how greed and exploitation are bad. But then again, ours is not to question why. No, ours is just to report the "facts," and then complain about them endlessly. One might ask why another "Grinch" movie has to happen at all, especially so soon after the last one, but—hey—they remade "Spider-Man" after less time had passed, and "The Lorax" somehow managed to make almost $400 million worldwide, despite being aggressively mediocre.
Is a new "Grinch" movie necessary? Couldn't they just re-release the original and call it a day? And can we take this news as a positive sign that we have finally learned, as a society, not to make live-action Seuss films? As always, let us know in the comments, or tell us on MSN Movies 
Facebook
 and MSN Movies 
Twitter
.