Videodrone New Release: Closing the time travel loop in 'Looper'
Joseph Gordon-Levitt and Bruce Willis are two sides of the same man battling across time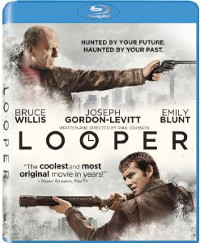 "Looper" (Sony) is the smartest science fiction thriller of 2012. On the surface a clever collision of killer-for-hire action and time-travel conundrum, Rian Johnson's juiced-up genre blast ostensibly pits a callow young executioner (Joseph Gordon-Levitt) against his future self (Bruce Willis). The younger is charged with killing his older self (closing the loop, in the film's vernacular) while the older is determined to change his future.
Johnson's creative approach to a familiar genre elements, however, is simply our entry into a superb character drama, with Gordon-Levitt doing a brilliant Willis and Willis as a dead man walking who remains just as self-involved decades on. Both, curiously, are so focused in the present self they treat their alter ego as an enemy. Emily Blunt provides fierce support as a single mother whose devotion to her son nudges at least one of them to evolve.
"Good news: Not only is the smart, sexy, sophisticated but still slam-bang sci-fi action-thriller not dead, it's just gotten itself a potent shot in the arm by way of writer-director Rian Johnson," celebrates MSN film critic Glenn Kenny. "… what makes this picture an instant classic is the near-punk attitude Johnson exercises on the material. Having constructed a relatively airtight scenario concerning all of the relevant permutation of time-travel paradoxes and such, he exploits his story elements in ways that keep the viewer asking, "Wow, are we really going there?""
More new releases at Videodrone here
For more releases, see Hot Tips and Top Picks: DVDs, Blu-rays and streaming video for week of January 1