TIFF 2011 Review: 'Alps'
'Dogtooth' director takes another bite at the world with black, bleak comedy and playfully perverse drama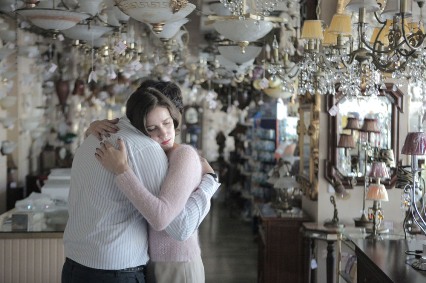 Rating: 4/5
"Dogtooth" had the evident vast amount of talent -- and just as importantly, a vast amount of time -- to make a splash on the film festival circuit, where it played Cannes, Toronto and South By Southwest. That slow-motion assault stretched from 2009 to 2010, culminating in a deserved but inexplicable Best Foreign Film Oscar nomination. Among those for a taste for cinema both strange and strong, eyes were focused on director Giorgos Lanthimos' next film. Would it continue the surreal startling strength of "Dogtooth?" Or would it move in its own direction as something new in the face of expectation?
And the answer is yes, and no. "Alps" is remarkably like "Dogtooth" in staffing (Lanthimos again teams with Efthymis Fillippou as his co-writer, and again features Aggeliki Papoulia in a lead role) and thematic and plot elements (we again have dancing freakouts, pop culture as psychic wound and cranial injury as how men assert authority). And at the same time, "Alps" is more open than "Dogtooth," and takes place in a fractured and dark version of the real world in a way that that film's sealed and antiseptic small-scale dystopia did not.
Four people -- nurse Papoulia, paramedic Aris Servatalis, teen gymnast Ariane Lebed and her coach Johnny Vekris) -- gather together in what could be either a small business, a support group or an improbably sensitive conspiracy in the name of helping people move on after the death of their loved ones. Not by talking, or by small gestures of support but instead by acting, and acting out, as the people who have passed. A bereaved family who've lost a young daughter, for example, recreate a nice day at the beach with her, as Papoullia splashes in the surf and say what they want her to say in the name of replication and relief.
Again, Lanthimos and Fikkippou don't spoon-feed us backstory or explanations, and they are not afraid of showing how modes of communication -- talking, sex, society -- can go horribly amiss. Servetalis and Papoulia have very different ideas about the group's aims and methods, and the schism between them becomes bizarre and bloody. If "Dogtooth" was a David Hockney painting of summer lawns and swimming pools sent to hell, then "Alps" is more of an Edward Hopper painting -- the dark spaces of the urban night, full of the walking wounded. And yet there aremoments of bleak comedy in "Alps" -- from the dementia of Papoulia's dedication to the cause to Lebed's ardent desire to do her gymnastic routine to pop music, not the pounding strains of "Carmina Burana," only to be told by her coach "You are not ready for pop."
It's a weird joke, but the dark sorcery of Lanthimos' brand of mad magical realism is that it actually pays off; in many ways, "Alps" is about good and bad ways of moving forward, and about if you can change who you are by being someone else so much you lose sight of both the real and the fake. "Dogtooth" was a perfect convergence of pop culture and politics, theme and technique, allegory and art -- and also benefited from being a welcome surprise in a European cinema dominated by either sickly sentiment or frosty emotionless terror, by the confections of Christophe Honore and Jean-Pierre Jeunet or the cold empty plates of Michael Haneke and Lars von Trier. "Alps" is a strong, strange follow-up, and if it does not burst in the brain like Lanthimos' previous film, it's hard to deny that its fractured, flawed characters -- the emotionally wounded trying to heal the emotionally wounded, at great cost and greater danger -- haunt and hound your imagination, feelings and intellect.