Eva Green joins 'Sin City: A Dame to Kill For'
Sequel continues to round out its cast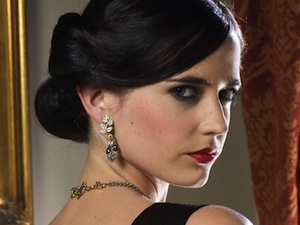 According to
Deadline
, "Casino Royale" femme fatale Eva Green has agreed to join the cast of Frank Miller/Robert Rodriguez's upcoming "Sin City: A Dame to Kill For." Green will reportedly play Ava Lord, a "deadly muse" from Miller's eponymous graphic novel. Does that mean she's playing the titular "Dame?" We honestly have no idea, but find her casting exciting all the same.
Although the CGI-heavy film is currently filming in Rodriguez's Austin, Texas studio, it continues to add to its cast at a frenetic pace. Just recently, the production added Josh Brolin and Julia Garner ("The Perks of Being a Wallflower") in vaguely specified roles. It would seem safe to expect all these casting rumors to peter out at some point, although... They do a suspiciously good job of raising public awareness of the film...
What do you think, Hitlisters? Could the film's producers find a way to keep adding to its cast right up until its scheduled October 4 release date? And if so, would this represent a quantum leap forward in cameo integration, or in viral marketing? More details as they become available...