Interview: Actor Dwight Henry of 'Beasts of the Southern Wild'
'I actually turned the part down three times ... '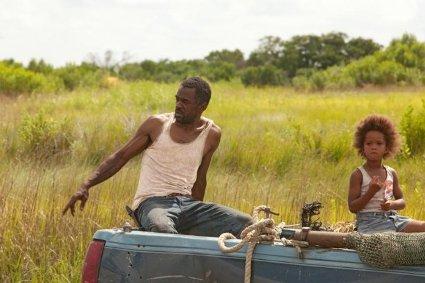 As Wink, the harsh-but-loving father to Hushpuppy (Quvenzhané Wallis) in Benh Zeitlin's acclaimed "Beasts of the Southern Wild," Dwight Henry loves and lives with a fierce urgency, and a primal power. The actor who plays, Wink, though, couldn't be further from the glowering, gruff patriarch stalking the screen in the film. Dwight Henry -- best known as "Mr. Henry," to the patrons of his New Orleans bakery shop -- is a father, baker and newly-minted actor flush with excitement for his role in "Beasts in the Southern Wild," even bringing some of his fresh-made world-famous Buttermilk Balls to the press day for the film. We spoke with Henry in L.A. about his audition process, his life and how he came to be the rough, raw heart of the film's father-daughter epic.

MSN Movies: You got involved in this because they put flyers for auditions up in your bakery?
Dwight Henry: Yeah. They put them up there, and basically when I put it up there it was for my customers. I always wanted to go to it, but running a restaurant you just never have time for little sweet things like that. I put it in there for my customers to see, doing a favor for the production company. They used to come over and they used to eat breakfast and things over there. One day I decided, "Mike (Gottwald, producer), let me go over there and do this read for you." He was always trying to get me over there. I went over there and I did the reading for him, and he came back about a week later and said, "Mr. Henry, Benh loved what he seen when you did the reading, and he wants you to come in and do another reading." They already secretly knew what kind of person I was. I run a mainstream business in a small community and people have so much respect for me. We used to sit down in the bakery, like you and me talking, I got two hundred customers a day come in, and all two hundred of them when they come in through the course of the day, everybody acknowledges "Mr. Henry, Mr. Henry how you doing?"
Everybody has so much respect for the struggles I had to get started, and the successes that I had since I've been in business. Everybody has a kind of respect for me, so they kind of knew the kind of person I was, how much of a family man I was, how much I love my children, and things that they needed in the character. I went over there and auditioned, and I moved my business from one location to another location, and within the three months that it took me reopen my bigger spot, they were looking for me to give me the part, but no one knew where I was at. They were asking all the people in the neighborhood, "Anybody seen Mr. Henry?" Even my landlord. Nobody knew where Mr. Henry at, because for the first nine years of me being in the business, I worked three hundred sixty-five days for nine years in a row. When I had that break to reopen I kind of took the break to get away from everything, and I didn't let too many people know where I was at. Two days after I opened up my new location, Michael Gottwald, the producer, walked through the door, "Mr. Henry, we've been looking for you, Mr. Zeitlin wants you to have the part. He loves the way you did it. He thinks you are perfect for the character." He got a schedule. I had to move out of town. He had a full schedule for three months. I was like, "Michael I'm flattered, but I cannot do this. I just opened up. I'm flattered. I wish I could, but I just can't right now."
So he said, "Alright we have a little time before you start shooting again, so I'm going to come back and see if we can work things out." He came back again, "I can't do it. I'm sorry, Michael, I can't do it." "Okay we've got a little more time," I actually turned him down three times. Then I started to think about, "Okay they've seen some things in me that I didn't see in myself. They believed in me. There's so much belief in me" and things like that, so within that time period I was actually working things out with my partners, putting people in place to do baking and stuff like that while I was gone. They made a lot of concessions as far as, "Mr. Henry whenever you have to come back, we have a driver for you. It can be in the middle of the night, early in the morning, we will readjust shooting."
They were willing to work around your baker's hours.
They did work around my baker's hours. They made so many concessions as far as making it comfortable for me to go do the film. They made all the concessions. I made concessions as far as getting people in place to run the business while I was gone, and I signed the contract and was able to go do the film. Even after that they used to try come and get me to bring in acting coaches. After we decided we was going to do it, "Okay. Mr. Henry we're bringing in acting coaches to work on script reading, technique and different things I needed to do. They used to always try to catch me in the evening time. I was always sleeping, always tired, because I'd been in work all night that night. They made more concessions. They brought the acting coaches in at midnight at night at the bakery while I'm making donuts, making bread, we working on the script, working on techniques and all these things while I'm working at the same time. Everyday we did that for like about two months, before we started shooting it. Running all kinds of different acting coaches to work with me with all these different things they thought I needed to know before we started to shoot. Even the director, Mr. Zeitlin, he used to call me. He couldn't catch me. Everybody can't catch me in the middle of the night. Me and Benh, we used to sit in the bakery all night,  just me and Benh. Nobody else, just me and him talking about life, my life from the time I was born to then about all the good things that happened in my life, the people I lost, the people he lost, the people he loved. We talked about my life, what I like what I love. We cried together about family I lost, family he lost. We sat there me and him boohoo-ing, water coming out of our eyes, talking about my dad when I found him on the sofa dead, talking about people that he lost in his life and things like that. We got to learn a lot about each other. He wanted to know not just about Dwight the character, he wanted to know Dwight the person, things, what made me tick, and things like that, because he used some of these things that we talked about and put it into the script and into the character. Things just went so well.
Obviously the part isn't the performer, but you just seem happier than Wink. Wink is kind of a mean-spirited, angry, scared --
No, because you see the character Wink, that little girl, Hushpuppy, is the most important person in the world to him. He's dying in the movie. Every day that goes, by his life is deteriorating by every single day. She don't have a mother in the movie, so it's extremely important to him that she be able to survive when the dad is not here, because she don't have nobody else. It's a sense of urgency with a passion when he's telling her how to do things. He's telling her with extreme passion and urgency. "You don't need to know how to do these things. You have to know how to do these things, because Dad is not going to be here." I'm not being angry with her, I'm just passionately trying to emphasize with an urgency the importance of you knowing how to do all these things that you're Daddy is teaching you how to know, because she don't know, but I know I'm not going to be here that much longer. It's a love with an urgency.
Even as fathers -- I'm a father. I have a girl her age, seven years old, and she was six when we started shooting. Everything I do in life, my business that I built for thirteen years, I'm not doing that for me, I'm doing that for my kids so I can leave them something, a legacy. When I'm up in the sky in heaven I can look down and make sure I did something for my kids. That's the same thing that I'm trying to do in the movie, trying to pass on everything that I know.
Like one of the scenes where I say, "Stick your hand in that water and catch that fish, because you've got to know how to fish when that storm come in. When you get blown you away from your home, you've got to know how to survive. You've got to know how to feed yourself. Nobody going to feed you but yourself." It's emphasized with an urgency, her need to be able to survive when her dad is not here, because I do that in real life with my kids. Everything that I do is for them. I sacrifice a lot of personal things that I can have. I can have a lot of things in this world, but I do without a lot of things to make sure my kids get the best education, got a comfortable home and things like that. So I brought that same love, but in a certain kind of way. The same love that I have for my kids in real life. That love with a passion to the film to teach her how to do these things, because in the film she is one of the most important things in life to me, and the land that we live on and our friends. Friendship, family and land is the most important thing to us in real life in that region. I'm from New Orleans. We've had to go through catastrophic things throughout the course of our lives. I was two years old when my mom and dad had to put me on the roof for hurricane Betsy. He lived in that same ward, everybody here, I lived in there since hurricane Betsy. Thirty some odd years ago, when my mom and dad had to put me on a roof and wait for a boat to come get us out of the ward. It's a long series of situations. Its not one incident. People try to relate hurricane Katrina to it, because that's an incident that was on the news that people heard about, but it's a long series of incidents that we went through, and we are going to have t go through living on the gulf coast. There's a possibility of losing your family, losing your loved ones. People telling you, you have to leave the house you built from the ground up, the business you built from the ground up, leave the land your grandparents are buried in. they're telling you you've got to leave that. We have a resiliency point where when hurricanes come, we might have fifty percent of our whole population stay, and guess what?
We're going to have a hurricane party. Not just a party, because we're a party city, to show this hurricane that you not going to make us change our life. We're going to party even in the midst of the worst circumstances in the world. We're still going to be resilient and show our flavor and our culture. We're not leaving. I brought that same passion to the film by going through this. I was in hurricane Katrina in neck-high water. I refused to leave the business I worked so hard build. You think I'm going to leave, let vandals come, vandalize my place, take all my equipment, possibly burn my place down? You're going to need more than the National Guard to pull me away from thing that I love like that. If you were from that region, you would understand what I'm saying. As a father the most important things to you is family when you're a father, your kids. I brought that same passion of going through this and real life to the film.
They could've brought a lot of outsiders to play this part, professional actors, but they wouldn't have brought the passion that I brought to this film by going through this real life. Throughout the course of my life from the time I was born to now I have to go through this. Just like I was telling them yesterday, we just left Dallas. We just left Dallas yesterday and when we got here, I flipped on the news; they had a hailstorm in Dallas. One of the worst hailstorms in history happened yesterday in Dallas. Bricks flew down on thousands of cars. Everywhere they were showing cars just smashing in Dallas, yesterday, and we just left there and had no inkling that that was going to happen when we left there yesterday. The same thing can happen, I'm sitting right here, I can go back to New Orleans and we might face the possibility that when I get back people might have to evacuate a storm that's developed in the Gulf. It's an ongoing thing and the strength that we have to have through the worst circumstances in the world, we have to be strong. That's where we get a lot of our strength from. If you a boxer, the more fights you have the tougher you're going to be. If you're a football player the more games you play the better you're going to be. The more storms that come in, the tougher we get, so that's where we get a lot of our toughness and our resilience from. From having to go through these things in the course of our life, that makes us tougher.
("Beasts of the Southern Wild" opens Friday.)