'Jack Reacher' author addresses casting concerns regarding Tom Cruise
Vows that leading man is "a fantastic Jack Reacher"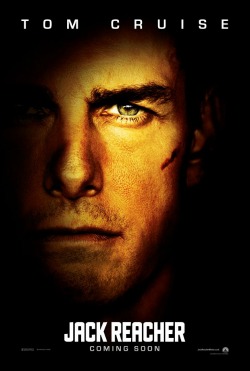 From the moment Tom Cruise was announced as the star of "Jack Reacher," the first big screen adaptation of the eponymous character's adventures from Lee Child's wildly popular book series, fans of the novels were flummoxed over the choice of leading man. Reacher's physicality has long been one of his most marked traits in Child's books (he is described as "a giant, standing at 6′ 5″ tall with a 50-inch chest, and weighing between 210 and 250 pounds…Reacher is strong enough to break a man's neck with one hand and kill a villain with a single punch to the head or chest"), so the decision to cast Cruise, who is, well, decidedly
not
any of those things, was a head-scratcher.
Bing:
'Jack Reacher'
|
Tom Cruise
But author Child doesn't seem to need much convincing that Cruise is the right man for the job - playing a no-rules, no-nonsense ex-military cop who just can't seem to stay out of trouble. In a new featurette about the film, Child talks about Cruise's suitability for the role, and we get a much fuller look at some of the more brutal techniques that Cruise-as-Reacher employs. He might not be a giant, but it seems wise to not mess with Cruise in his new role. 


Yes, Lee Child focused on the physicality of Jack Reacher.  Tom Cruise is not that person.  But good acting can carry a persona a long way.  Futhermore, this is only a movie that is made from a slightly above-average series of thrillers, so let's not go getting our drawers in a bunch.
Jack Reacher couldn't do most of what Lee Child has Jack Reacher doing.
Are you sure you want to delete this comment?