Interview: Director William Friedkin of 'Killer Joe,' Pt. 1
'A lot of "Killer Joe" is about repressed anger... and for some, that explodes into murder.'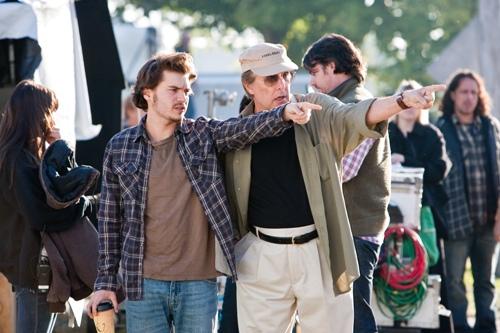 Gene Hackman, pounding his hands on a steering wheel. Max von Sydow, facing down Satan in a little girl. Driven cops from David Caruso to Roy Scheider, crazed-but-calm madmen from Michael Shannon to Willem Dafoe.  Leading ladies from Karen Allen to Ashley Judd. Experience directing in the streets of New York and L.A. and experience directing operas and stage production. William Friedkin is a titan of the cinema with a distinguished resume; sitting in a hotel suite with his editor Darrin Navarro to talk about his new film "Killer Joe," he's a hearty tale-teller and raconteur in beige slacks. "Killer Joe," like "Bug," is based on a play by Tracy Letts, and stars Matthew McConaughey as a Dallas cop who moonlights as a hit man, hired to help Emile Hirsch, Thomas Haden Church, Gina Gershon and Juno Temple's sub-functional family with a little problem that a little murder could clear up real fast. We spoke with Friedkin in L.A. about his process, shooting on digital, and staying crazy; part two will appear tomorrow.
MSN Movies: There's an interesting thing talking to Mr. Hirsch earlier when he compared your directorial style to "high-stakes gambling" in terms of a momentum and the speed and the shove of it. Would you say that's a fair assessment of as to where you are right now?
William Friedkin: It's interesting. I don't know what the hell he's talking about…
(Laughs) … but it's not uninteresting… I don't know what he means, but I do encourage actors to go for it, to surprise me, and to surprise themselves. So I think that's what he refers to. Take some chances.  Don't just come in… that's why I don't rehearse. Because if you rehearse something, it tends to get set. And I'm not interested in it being set.  I'm interested in spontaneous behavior, not perfection. It's like, I don't know what I'm going to say next. You may know your questions, but you don't know exactly how you'll put them.  Or we don't know how a conversation's going to go. And that should be true of a contemporary drama.
But I mean you're working in a confined space in this kind of unique model you've been working in, a hybrid of the cinematic and the theatrical in terms of construction and sense of space and claustrophobia in two cases. Do you do blocking as opposed to line-by-line rehearsal so when people are being beaten up you can figure out who goes where?
Friedkin: No, I have a good idea of how it should be staged.
Right.
Friedkin: For example, you should come in that door … shake hands with him, come over shake hands with me, ask where we prefer to have you sit, sit there… You know, I try to stage it in as offhand a way as the way things happen. Sometimes, but not always, I stage things in extreme ways.  But in the case of "Joe," I wanted as much verisimilitude as possible.  I wanted it to seem as though you were in the room with these people, or wherever they are, you're overhearing something you shouldn't be hearing.
This is, of course, a play adapted for film, which you've been doing since back to "The Boys in the Band" or working with Mr. Pinter in the '60s. What do you find is a key to making that work?
Friedkin: A great script!
There you go.
Friedkin:  That's the key to making that work. If I didn't like the script, I wouldn't do it.
Right.
Friedkin: If I didn't identify with the ideas or the characters or the situation, I wouldn't want to do it!  But I've made films that come from different things -- from human life, from my imagination, from novels -- they come from different sources and they have to be worked up.  I mean, there were a lot of changes that we had to make to Tracy's screenplay. As good as it was, there were a lot of practical things that I couldn't do, and I had to find another way to do.  But that happens with everything.  But we all live in confined spaces within ourselves, and that's why I find a confined space in a drama a very exciting arena. Because when you come right down to it, everyone is trapped inside of their own imaginations, inside their own dreams.  Sometimes our dreams destroy us -- the pursuit of them. And all of this takes place in very confined spaces of the human soul. And I find that as a very productive setting for the stories that interest me -- the confined space.
And I'm curious, Mr. Navarro, Mr. Scorsese said notably that every film has a soft underbelly and it's the editor's job to cut away at it.  I mean, was there a difference between the first cut and the final version…
Darrin Navarro:  Of course.
…or did you two have a simpatico working relationship where that happens rarely?
Navarro: Oh, I think both are true! I don't think it's neither-nor. We have a very simpatico relationship. Billy extends a great deal of trust in me and seems to value my input. He comes in with a very clear idea of what he's after and we go and we make that, which is based largely on the script and the shot choices. Every one of his shots has a very specific purpose, and so we make that. But then once we've got that, then we find the underbelly and we say, "Okay, what is it?" And usually on the films that we've worked on together, there's a lot of pacing that needs to happen, there's a lot of "This isn't as good as it ought to be" and it comes out, and there's just that kind of process of novelty where you say, "What can we do that's interesting that makes this better?" It has nothing to do with pacing, there's nothing being not working -- it's just what if we move things around, what if we need a step of experimentation where we find new things in the material that weren't necessarily there before. So the carving away of the underbelly is only one part of it.  But it is an important part of it.
I'm also curious about, Mr. Friedkin, a lot of the films there's been this conflict between morals and professional ethics in that Joe's character has almost no morals but a very highly developed sense of professional ethics.
Friedkin: That's good, yeah.
And Mr. Hirsch's character has no morals and no professional ethics.  Is Joe meant to be an even remotely sympathetic character, in terms of at least he's up there on the screen getting the job done?
Friedkin:  Not necessarily. Chris in "Killer Joe" is a guy without alternatives. He's painted himself into a corner, and he's trying to get out of it the best way he can. Joe is a professional doing a job, and when the thing goes bad, that brings about a lot of anger that he's repressed. And so a large part of "Killer Joe" is about repressed anger.  And a number of those people, like Dottie, who in the end, her anger explodes into murder.
And I want to ask you about Miss Temple's character, Dottie, because it's very interesting in the press notes, much is made of the fact that Chris is 22 but Dottie's age is never mentioned.
Friedkin:  (Dottie's) her age. (Temple) turned 21 when she made the film. At one point in the film, she's telling Joe a story about when she and Chris were 16 and they saw Mommy and Daddy used to fight.
Right.
Friedkin: And she remembers one time when she was screaming and how Chris threw his body over her.  And that's when she was 16.  And that's the only real reference to how old she is except during the seduction scene when Joe says, "How old are you now?"…
Like she's going back in her memory…
Friedkin: …and she says "12" and he says "So am I." And her saying "12" refers to this boy that she had a crush on, Marshall, when they were 12, and he was her first and possibly only true love. He loved her with a true love, you know?
Right.
Friedkin: And so Joe takes her back to that. So she says 12 and a lot of people strangely have asked me, "Is she supposed to be 12 years old?" No, and she isn't!
Is having her sort of swan around in the nightdress and the tousled blonde hair, is that going back to "Baby Doll" and all of that stuff?
Friedkin:  It's not going back at all. It's who she is. She would have never heard of "Baby Doll."
Right, but I don't mean it as a fashion choice on her part, I mean it as an artistic one on yours ...
Friedkin: No! She lives in a trailer, you know? She's supposed to wear an evening dress? She doesn't want to wear a dress as you can see. In the story, she doesn't think she looks good in it.
Right.
Friedkin: She likes the way she looks in cutoff jeans and torn T-shirts. Her shirts are probably Chris' old shirts, you know? And that was the choice that we made. I don't live in a trailer, but I walk around in pajamas all the time. So does Hugh Hefner by the way.  He's not my idol, but he walks around in…
(Laughs) That's a very big part of his image.
Friedkin: Yea, he only wears pajamas! He won't go out!
Right.
Friedkin: You know, 'cause he has to put on clothes! I understand that. I mostly wear Moroccan pants that I bought in Morocco that have a stretch waistband and I wear T-shirts.  It's not a fashion statement; it's just for comfort. I think Dottie's whole life is to try to be comfortable with her existence. She's had to suppress her inner life, suppress her emotions, and get as comfortable as she can with these animals that she's lived with.  Her mother tried to kill her…
Right.
Friedkin: …when she was a baby. If you can imagine, I try to imagine what that must be like and if that had ever happened to me, how I would feel. I think I would be able to commit murder at some point.
Mr. Navarro, I know you folks didn't shoot with the Red, but you did shoot with another digital camera I believe?
Navarro: The Arri Alexa.
Did that just make doing everything that much swifter? Like in terms of you don't have to wait for dailies to get developed; you could just pop the hard drive or card inside of a camera?
Navarro:  Honestly, no. The process that's involved in taking these big, fat video files off of a digital camera -- especially the Alexa, 'cause we were one of the early adopters of the Alexa camera so not all the kinks had been worked out ... it can be as time consuming a process as getting dailies through the lab. But it has a wonderful image, the Alexa camera, and…
Friedkin:  Once you put it into a computer, it's a lot faster than it used to be to edit on the (physical editing desk).
Navarro: Oh! Editing digitally, which is separate from, because we can still edit digitally even if you do shoot film, you can still use Avid or a non-linear editor to cut it. Digital technology is applied in a number of different places, but the choice of camera doesn't really have any impact on how quickly we can edit. But digital editing is certainly faster than film editing.
Friedkin:  It used to be you have these little strips of film hanging on a trim basket, trim bin and clips, and you'd say, "Where are those three frames that we left…"
Navarro: You'd have to send an assistant to go find it. That would be me.
Friedkin: … and sometimes they were on the bottom of the bin lost and you'd have to put in white slugs, white leader, you couldn't find the frames that you cut.  So the editing process is a lot faster now. The shooting process is no faster. And again, the shots depend on how well you light them.
And I'm getting to understand that it takes as much to light good digital as it does to light film now.
Friedkin: Yeah! I mean lenses, the cameras are "faster" in terms of how much light they let in.  But if you want to light dramatically, it takes as long to light a scene for digital as it does for 35. You know, there's an art. The cinematographer's art of lighting is no different. What you can do is forget about good lighting and just turn on some lights and you're ready to shoot with an Arri.
But then you have a movie that looks suspiciously like a home film.
Friedkin:  Sometimes … yeah. But I like the look of the digital cameras. I like them. I like a good clean print. I don't like dirt all over the print or scratches or splices.  You don't have that with digital. You have the same image as you see through the viewfinder. Of course I haven't looked through a viewfinder for years. I know what the lenses do.
Right.


Friedkin: And I'll just say to the cameraman, you know…
Yeah.
Friedkin: …I won't even say it. I'll just say, "Here," or "Let me see the whole room. I'm going to walk around." I know what the lenses… Why waste time looking through the lens when I'm not going to be operating the shoot? The important thing about directing is to keep it moving, keep that set active. Don't let the actors go back to their dressing rooms between shots. Keep the set alive and humming. So I'm very conscious of that.  And if I wasn't, I would fall asleep myself between set ups.
I want to ask you something. Mr. McConaughey, he's got such a great presence, but this is a bit of a departure for him. I cannot think about when he's been quite so malevolent. But was that a concern for you? Did you just know that he would be able to step up and do it?
Friedkin:  That was an inspiration. I saw him not in a movie, but being interviewed on television. I don't remember if it was Larry King or Charlie Rose, it was one of those in-depth interviewers. And he was himself in this interview, not hiding behind a character.  He was charming, obviously good looking, and intelligent about himself and his work and his roles, and the idea popped into my mind at that time, why not play Killer Joe that way? As a charming, good-looking guy instead of an old grizzly bear -- which is probably what the real Killer Joe was. If there had been one, he would. And I originally thought of older guys much less conventionally good-looking, and then I saw him on this interview. It's like the Movie Gods sometimes takes part in your actions. It wasn't anything he had done that I have seen except that interview ...
(Part two of our interview will run tomorrow; "Killer Joe" opens in limited release this week ...)