Weekend box office: Jessica vs. Arnold
Chastain's two films topped the box office while Schwarzenegger's comeback vehicle opened weak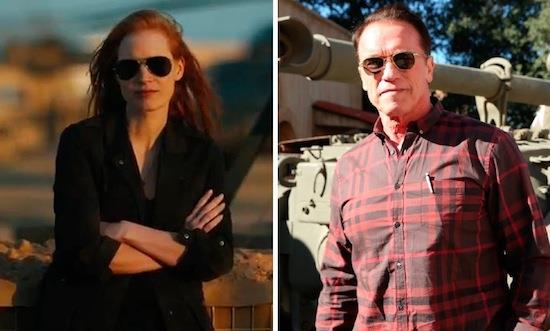 The American people have spoken: we prefer Jessica Chastain over Arnold Schwarzenegger! Okay, apples and oranges, but there's no question that Jessica is starring in the top two films in this weekend's North American box office while Arnold's first post-political starring role did not exactly break any records. And while Chastain is up for an Oscar next month for "Zero Dark Thirty," Schwarzenegger was more likely to get noticed by the Academy when he was governor of California. Just sayin. Maybe Arnold could still beat Jessica in an arm-wrestling competition but after seeing her last few films, I'm not so sure!


Proving there can be life in January releases, Universal's Spanish-Canadian horror flick "Mama" starring Chastain and Nikolaj Coster-Waldau, zoomed ahead of the Oscar contenders in its first weekend, earning  $28.4M (at 2,647 theaters) pushing Jessica's "Zero Dark Thirty" to #2, with $15.8M (at 2,946 theaters) and a domestic gross of $54.1M. An envious collection of Oscar noms and a wider release for "Silver Linings Playbook" catapulted that film up the chart to #3, with $10.7M in ticket sales (at 2,523 theaters) while "Gangster Squad" came in at #4, with $8.6M (at 3,103 theaters). Fox's new crime drama "Broken City," starring Mark Wahlberg and a non-singing Russell Crowe, opened at #5, with $8.2M (at 2,620 theaters).

Last week's worst-reviewed movie in the Top Ten, "A Haunted House," dropped to #6, earning $8.1M (at 2,160 theaters) while the ever-controversial "Django Unchained" slipped to #7, with $7.7M (at 2,516 theaters) and a domestic gross of $137.8M. The oft-maligned "Les Misérables" was the #8 film, thanks to its slavishly devoted fans. The musical added $7.5M (at 2,579 theaters) to its domestic total of $130M while Arnold Schwarzenegger's heavily publicized return to films, "The Last Stand," opened at #9 with only $6.1M (at 2,913 theaters). Arnold's film barely eclipsed the weekend take for the #10 film, "The Hobbit: An Unexpected Journey," which also earned $6.1M (at 2,323 theaters), but at least that film can boast a staggering domestic total of $287.1M in its sixth week.
Falling off the Top Ten this week was "Lincoln" (which may reappear after its likely Oscar wins) along with "Parental Guidance" and "Texas Chainsaw 3D." As for next weekend, revenge is in the air with Jeremy Renner and Gemma Arterton looking for closure for childhood trauma in "Hansel and Gretel: Witch Hunters," Jason Statham and Jennifer Lopez trying to get what they believe is coming to them in "Parker," and a bevy of Oscar winners giving their agents palpitations by appearing in the raunchy comedy, "Movie 43."