Kristen Stewart Out Of Potential 'Snow White' Sequel, Unless She's Not
Depends on who you ask, and when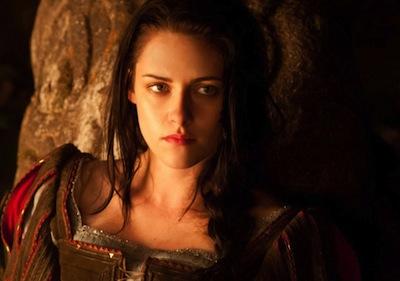 Yesterday,
The Hollywood Reporter
breathlessly, uh, reported that Kristen Stewart—who is currently embroiled in a
delicious/distastefu​l
tabloid scandal with her "Snow White and the Huntsman" director Rupert Sanders, one that we'd rather not elaborate upon on or belabor here—had been unceremoniously dumped from any potential "Snow White" sequel. Now comes word, courtesy of
Deadline
, that no, Kristen has
not
been dumped—from the franchise, anyway—and that everything the Hollywood Reporter has, er, reported is total rubbish.
Whom do we believe? Does it really matter? Despite it's worldwide gross of something like $400 milllion, "Snow White and the Huntsman" cost a reported $170 million to produce, making it only slightly more profitable than General Motors. Not exactly the kind of profit margins Hollywood looks for in its potential franchises. So we're not entirely sure whether anyone was exactly clamoring for a "Snow White" sequel in the first place. Still, to shift the focus of a sequel to Chris Hemsworth's Hunstman character, as THR had suggested, would seem a somewhat bizarre choice. The first film wasn't called "The Huntsman and Snow White," after all.
Is Chris Hemsworth a leading man worthy of his own franchise? (Of course! It's called "Thor," but never mind.) Has all of Stewart's perhaps unfortunate—but decidedly
well-publicised—misb​ehavior
only raised public awareness of and clamor for the film, and its potential sequel? (Uh, maybe?) Will Tarsem surprise everybody by springing into production on a "Snow White" sequel of his own? (Does anyone even remember that he made a "Snow White" film?) Only time will tell. More details as they become available...

It is my opionon that if anyone should be missing from the sequel of Snow White it should be Rupert Sanders. I think Kristen Stewart has taken more than her fair share of bad public rudeness, that man should take his now. After all he is probably the instigater in this mess anyway. As far a Rob goes i would not take him back either, he has stood bye and watch the women he suppposably loves take all the publics crap and not say a word. So much for his little chat with Rupert, she diserves better than them both. Move on Kristen hold your head high and move on. You are not the only women that has had to deal with this kind of situation before. We as women should not be ashamed of being human, if it was the other way around they would all be cheering him  on.
Are you sure you want to delete this comment?