Michael Arndt to write new 'Star Wars' film?
Writer has already turned in a '40-50' page treatment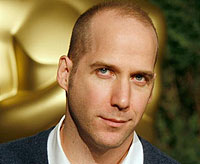 Before the internet spontaneously morphs into an all-consuming, space-time continuum altering, self-aware ouroboros of wildly uninformed speculation,
Vulture
is here to announce that the new "Star Wars" film may have already found its writer. And it's not Quentin Tarantino. Or Brad Bird.
On the contrary, it is (or may be) "Toy Story 3" and "Little Miss Sunshine" author Michael Arndt, who has already turned in a 40-50 page treatment for "Episode VII." While this doesn't necessarily guarantee him the job, "sources" say that it may very well put him on the short-list to at least be one of the presumably many, many screenwriters, script doctors, and "creative consultants" to take a crack at the next film's story. Honestly, we here at the Hitlist couldn't care either way whether he gets the job or not, as long as Lucas himself manages to stay true to his "retirement" and refrains from interfering, contributing any dialog, or really doing anything creative whatsoever. Because. "Episode IV" aside... Yeah. Just awful.
That said, given his extensive ties to Disney (and Disney subsidiary Pixar) and overall good reputation, we can't really find any potential downside to Arndt's involvement. As for whether we—and the rest of the universe—is ready for the continued cinematic adventures of Old Luke Skywalker, Old Leia Organa, and Old Han Solo, as they now all will be named... Well, that remains to be seen.