Streisand Back in Director's Chair… But Where's Mama Rose?
No sign of the "Gypsy" remake as Barbra guides Oscar winners Cate Blanchett and Colin Firth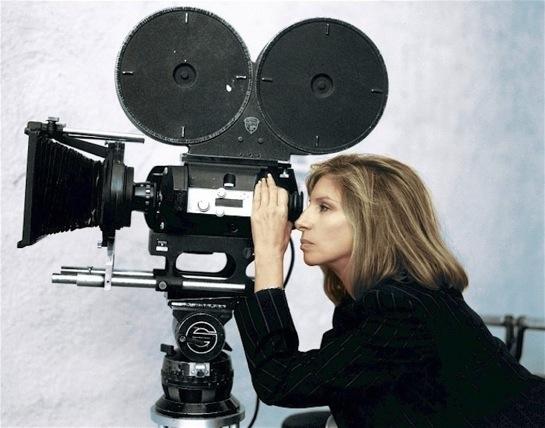 "You'll be swell! You'll be great! Gotta have the whole world on a plate!" Oh wait, not yet. Despite reports last March that Barbra Streisand finally succeeded in getting the rights to direct and star in a new film version of the legendary Broadway musical, "Gypsy," to be written by Julian Fellowes ("Downton Abbey"), the film is nowhere to be found on Streisand's IMDB page. Instead of focusing on the travails of stripper Gypsy Rose Lee, Barbra is hard at work on her fourth feature as a director—and the first one in which she does not appear. "Skinny and Cat" will tell the story of famed photographer Margaret Bourke-White (Cate Blanchett) who was the first female war correspondent and the photographer who shot the first cover for Life magazine. Streisand's film will chronicle Bourke-White's marriage to novelist Erskine Caldwell (Colin Firth) who wrote popular but controversial books about the American South such as "Tobacco Road" and "God's Little Acre." The couple's tempestuous marriage lasted less than four years, between 1939 and 1942.

This is Streisand's first directing gig since "The Mirror Had Two Faces" in 1996. At one point she had hoped to star in this story with former leading man Robert Redford, but the now 70-year-old superstar wisely decided to cast more age-appropriate stars. And she certainly couldn't do better than Blanchett and Firth, even though you have to wonder why no Yankees were tapped to play these American icons!
I'm looking forward to the film but I hope it doesn't distract Babs from her long-awaited musical comeback. Streisand hasn't sung a note on film since she starred in "Yentl," her directing debut, nearly 30 years ago. Maybe Julian Fellowes is hard at work on the "Gypsy" screenplay and Barbra's eager fans will soon be able to shout  that "Everything's Coming Up Roses!"

Barbara Streisand has been a heroine of mine since her wonderful albums of my youth, and I snuck away from school to see her on Broadway in Funny Girl. She is one of our greatest entertainers and most creative people who happily is not ready to retire!  And Blanchett and Firth are also among the best out there! --Good luck and high hopes for another success, although most likely it will be too brainy and artistically sophisticated, dare I say elite (?) to rank with the mindless violent and raunchy blockbusters that Hollywood likes to spew out
Are you sure you want to delete this comment?