Videodrone New Release: 'Skyfall'
Daniel Craig takes 007 back to the beginning in Bond 23
By 
SeanAx
 Feb 12, 2013 10:54AM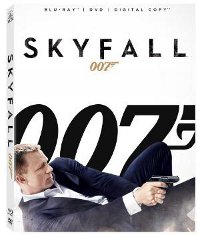 "Skyfall" (Fox), the 23rd official Bond movie, arrives on Blu-ray and DVD just days after taking home BAFTA awards (the British equivalent of the Oscar) for Best British Picture and Best Score (the first Bond to win a BAFTA since "From Russia With Love") and the American Society of Cinematographer's award for Outstanding Cinematography (to Roger Deakins) in a Theatrical Release.
That's pretty much the final garland in the crown of the film many are calling the best Bond ever. I'm not part of that chorus, but I understand the praise. It's a terrific Bond by any measure, smart and sinewy, filled with memorable action and inventive set pieces, and a significant improvement over the previous film.
Enter to win a "Skyfall" Blu-ray+DVD Combo Disc Set.
"Skyfall" attempts to make 007 more man than number as it works through some of Bond's issues (James Bond has issues?) while he grudgingly returns to her majesty's secret service when a conspiracy targets M and MI-5. It takes itself awfully seriously while doing some pretty crazy things and I don't find the Bond mythos necessarily enriched by backstory.
But Daniel Craig is a tough, roughed-up Bond with as much working class sand as high society style, a little too cold-blooded this time out (even Connery showed a little pang of responsibility when one of this lovers died on the course of an assignment), and stripping the film of gadgets for the bare-knuckle and booby-trap finale works very nicely. And don't forget a great Bond theme song by Adele, a flashback to the great sixties bluesy-brassy themes, and credits sequence, a necessary ritual in every cinematic offering.
Continue reading at Videodrone
For more releases, see Hot Tips and Top Picks: DVDs, Blu-rays and streaming video for week of February 12