Next summer's 'Man of Steel' to receive the 3D treatment, because money
On the heels of Warner Brothers' after-the-fact conversion of Guillermo del Toro's 'Pacific Rim'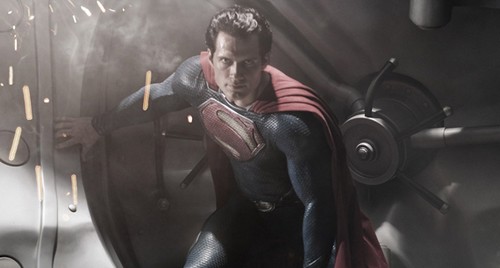 In the wake of "Titanic," it's virtually impossible for any blockbuster to put up record-breaking numbers without the help of an IMAX or 3D surcharge. (Thus, last spring's re-release of that film and next year's planned revivals of "Jurassic Park" and "Independence Day.") Christopher Nolan might have the kind of sway as a director to do without 3D conversion, but as a producer on "Man of Steel," that would appear to be less so.
The Playlist
reports that WB is setting forth with post-production 3D conversion on the Zack Snyder film in preparation for its June 14th, 2013 release. One can imagine how tantalizing the prospect of Superman (Henry Cavill) flying over the audience must be -- select scenes in "Superman Returns" followed suit for its own IMAX release -- but then again, that same kind of talk preceded the release of 2011's "Green Lantern," and well...
The news comes on the heels of Guillermo del Toro reportedly agreeing to convert his "Pacific Rim" for 3D before next July's tentpole date, despite that film also having been shot in old-fashioned two dimensions. Again, the spectacle of giant robot suits doing battle with massive monsters is a tantalizing one, but remember when that stuff used to be nifty enough on its own?

Well I won't be shelling out the extra money for the 3D version of Superman.  I think the 3D conversion movies (Like Star Wars:  The Phantom Menace) are a waste of money.  When the movies are actually shot in 3D to begin with (Like Avatar) they are really good. 
I'm also kind of against reboot reboot movies.  I liked the Toby McGuire Spiderman movies.  There have already been many Superman reboot movies and TV shows already, why do we need another one?  If they are going to change up Superman, I'd like to see a prequel movie showing all the events leading up to the destruction of Krypton.  Then the second movie would be with Kal El on earth.  I think that would be much more interesting than just putting yet another actor in red and blue jammies. 
Are you sure you want to delete this comment?