Interview: Chris Colfer, writer and star of 'Struck by Lightning'
The "Glee" actor helped assemble a stellar cast for his debut film as a screenwriter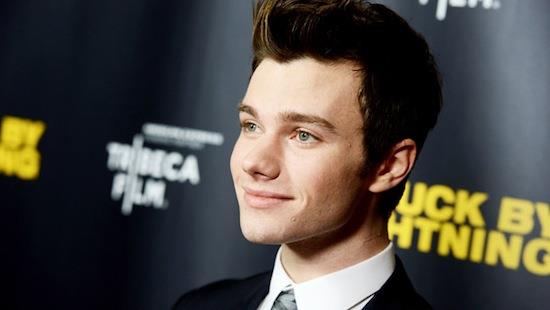 At the age of 22, talented Chris Colfer is already in his fourth season on the critically acclaimed series "Glee." He's been nominated for two Emmys and has won a Golden Globe for playing Kurt Hummel, McKinley High's first openly gay student, "a soprano with a flair for the dramatic." In "Struck by Lightning," written by Colfer and based on some of his own experiences, the actor returns to high school as Carson Phillips, a promising but troubled writer who is grappling with difficult family issues and is desperate to get out of his small town and make a name for himself. Oh, did I mention that Carson is struck dead by lightning in the first scene of the film and that the whole movie is told in flashback, narrated by the dead teen? This is a funny, poignant film, directed by Brian Dannelly ("Weeds," "Saved!") with an excellent cast that includes Allison Janney ("The West Wing," "The Help"), Christina Hendricks ("Mad Men"), Rebel Wilson ("Bridesmaids," "Pitch Perfect"), Sarah Hyland ("Modern Family"), Angela Kinsey ("The Office"), and Dermot Mulroney and Polly Bergen. I sat down with Colfer in Los Angeles to talk about the movie.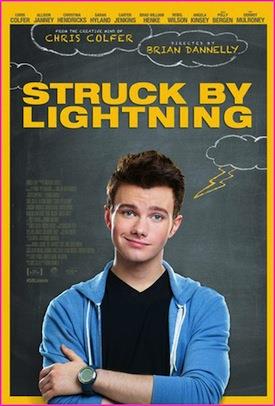 MSN Movies: I'm so sick of movies that present the same high school archetypes—kids who exhibit such extreme behavior that it always seems fake. Your film touches on the dark side of high school but it seems so much more honest and authentic.
Chris Colfer: Oh good, thank you! One of my biggest goals was to create as accurate a depiction of high school as possible. Many elements of the movie are based on things that I went through, like I really was president of the Writers Club and I was constantly frustrated in trying to get kids to write for my club! I wanted to make a movie that wasn't about those same high school kids we've seen in movie after movie. 
Bing: Chris Colfer | "Struck by Lightning"
The cast in this film is amazing. To have someone like Allison Janney playing your mom—
I know, it was a miracle! She's incredible. To be honest, Alison Janney was the ONLY actress I ever had in my mind when I was writing that character. She is just a genius and deserves every accolade that is possible.
Including bravery and courage considering what she looks like in this film!
It's true! And I swear, it took a good hour every morning to make her look that hideous! She'd come in every day looking fantastic and we'd have to spend all that time making her look bad—the complete reverse of a typical makeup session—starting with the alcoholic splotches they had to put on her!
You must have been pinching yourself to have the chance to work with Polly Bergen.
Oh my God. I've always been a huge fan of hers, I loved the show "Commander-in-Chief"​ when it was on where she played the mother of Geena Davis who was the first female president—
And you know Bergen herself played the first female president on film—
In "Kisses for My President"—1964! I was very close to the lunch ladies when I was in high school and they were huge Polly Bergen fans so they got me on the Polly Bergen train early on. And then later, when we were casting for the grandmother they were wondering who it should be and I said, "Polly Bergen!" She was the only person we met with and I totally fell in love with her. I remember I was supposed to meet with her for something like 20 minutes and I stayed for four hours just listening to all her stories, back from the days of filming live television in the 50s. She's great. My favorite memories, period, are hanging out with her on set.
There are so many other wonderful actors in this movie—Christina Hendricks, Rebel Wilson, Sarah Hyland—
It was a total miracle that we got all those people! Most of them are in other series so we had to get everyone in that same small slot that I also have when we're all on hiatus from our shows.
That must have meant a very short and crazy shooting schedule?
We shot the film in just 16 days but it really wasn't that bad. But then, I'm coming from "Glee" where it's like 24 hours a day!
I read that this script started as a short performance piece you wrote and performed in high school?
Yes. But I always knew that I wanted to be a screenwriter. I started writing this piece in high school just to therapeutically vent about my experience. Then after I got "Glee" I picked it up again and thought that this is something I really want to pursue.
Did you ever consider directing it yourself as well?
For maybe like a half a second. Then I thought, oh God, I can't. For one, I can't be that vain, and two, I was already freaking out thinking of people even reading the script. It's so scary when you try something new because you want to be good at everything. I'm pretty young and I didn't want people to think I'm just some idiot with a vanity project because it wasn't that at all. It's not like I just wanted to play a different character from Kurt. Believe me, if that was my goal, it wouldn't have been another high school outcast, I would have done something completely different, like play a jock! The greatest compliment I've gotten so far is that people don't believe I wrote it, so that's good…I think!
Do you have a preference between writing and acting or do you want to keep doing both?
They fulfill different things for me but I'd love to do both. I have a few more screenplays I've written since "Struck by Lightning" that I hope to get off the ground.
When you were making this film, were you consciously trying to make Carson different from Kurt?
You know, this character was with me way before I ever had Kurt in my life so I knew him better than I ever knew Kurt Hummel. It wasn't really a goal of mine to make him different, he was already his own person.
Was it always the plan that he'd be dead at the start of the movie?
Yeah, always. Some people see it as symbolic, but honestly, that's not how I meant it. I always thought, okay, this character is dead and the whole film is his sarcastic narration from his memory.
I admit I was kind of hoping the death was symbolic when I saw the film. I really wanted Carson to go on to Northwestern and become a successful writer.
No, he's dead, as dead as can be!
That scene when Allison Janney finds out about it is pretty intense.
Oh God, that scene, I still cry when I think I about it. I actually couldn't watch it when we were on set, I think I was off somewhere making my pencil costume. I just couldn't watch my fake mother grieve for me!
"Struck by Lightning" is currently playing in select cities and is available on demand. 

This is a truly amazing film, particularly for a first effort.  The cast, direction and production crew were a phenomenal and all made this as memorable as it is.  If people are expecting a standard high school comedy, they probably won't like it.  But if they like sarcastic, biting humor, excellent performances (particularly difficult when the characters SEEM to be stereotypes, but are more 3D than they appear) and subtle meanings, thoughts, whatever that keep coming to mind.  Humor, angst, pathos...all these are here, with a good dollop of life philosophy , all made easier to take by Carson's snide commentary and frustration.
ALL of the cast are absolutely amazing, most particularly Allison Janney, Colfer, Rebel Wilson, the indomitable Polly Bergen...just keep going.  Rob Aguire, who had a small part and was one of the producers, is adorable as an exchange student with flair.
This is great for anyone who has ever dreamed of something...anything​...and been told it couldn't/wouldn't happen.  No matter how much of an outcast or how much of a popular kid. Everyone finds their own meaning in any movie, but I like movies that make me think.
The companion book, "Struck By Lightning: The Carson Phillips Journal" is equally hard hitting and sometimes even funnier (movies often get shortened for time/cost management).  Once you get past the shock of modern high school language (keep reading), you'll eat it up.  Like the movie, it's emotionally exhausting, but strangely energizing.  Well worth a watch..or a read.
Are you sure you want to delete this comment?