Dax Shepard and Kristen Bell Are Being Chased Cross-Country in 'Hit & Run' Trailer
...by Bradley Cooper's ridiculous dreadlocks, no less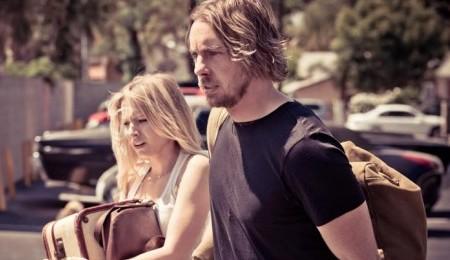 Well, actor Dax Shepard certainly seems to be stretching his chops, having written, co-directed (with David Palmer), and starred in the 2011 comedy "Brother's Justice." Now, the "Parenthood" actor looks to follow that up by writing, co-directing (with David Palmer), and starring in "Hit & Run" alongside real-life fiancée Kristen Bell.
Kind of an updated "Midnight Run" before Universal can actually get their own off the ground, "Hit" sees Witness Protection Program participant Charlie (Shepard) taking to the road to protect his girlfriend (Bell) when his past life, as a getaway driver for bank robbers like Bradley Cooper, catches up with him. I'll leave it to you to decide if the 
new trailer
 -- also included below and not afraid of prison rape jokes, for those of you watching at the office -- promises enough thrills and laffs to earn your late summer dollars.
Also starring Tom Arnold, Michael Rosenbaum, and the always welcome David Koechner, "Hit & Run" is due in theaters on August 24th.