Interview: Bobcat Goldthwait, Writer/Director of 'God Bless America'
The iconoclastic filmmaker channels his rage at the dumbing down of American culture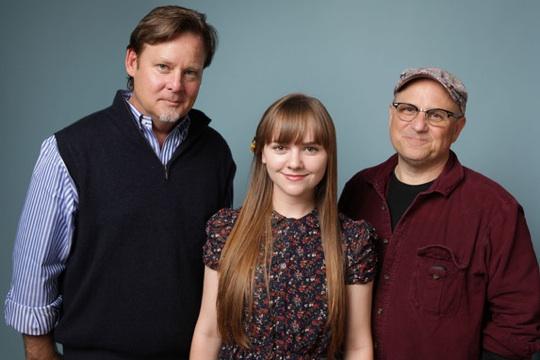 Are there still people who think of Bobcat Goldthwait as the frenetic high-pitched personality he played in the 1980s? Well, think again. In my opinion, Goldthwait is one of the most interesting filmmakers around. Not that his dark, frequently disturbing films are for everyone. "Sleeping Dogs Lie" (2006) focuses on a woman whose relationships are damaged when she admits to a past sexual encounter with her…um…dog. In "World's Greatest Dad" (2009), Robin Williams finally finds success as a writer when he fabricates a journal supposedly written by his teenaged son who died  while practicing auto-erotica. And now, in his new film, "God Bless America," Goldthwait offers up an unlikely pair of serial killers who aim to rid the country of the stupidity and rudeness that seem to have taken over much of society.

Frank (Joel Murray) has had enough of the downward spiral of American culture. Divorced, recently fired, and possibly terminally ill, Frank truly has nothing left to live for. But instead of taking his own life, he buys a gun and decides to take out his frustration on the cruelest, stupidest, most intolerant people he can imagine—starting with some particularly odious reality television stars. Frank finds an unusual accomplice in a high-school student named Roxy (Tara Lynne Barr in a star-making performance), who shares his sense of rage and disenfranchisement. Together they embark on a nationwide assault on our country's most irritating celebrities.
I met up with Bobcat Goldthwait this week to talk about his very funny, very dark film.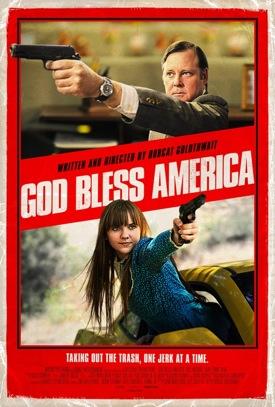 MSN Movies: Was it hard to limit Frank and Roxy's victims? There are so many good candidates for such a rampage! 
Bobcat Goldthwait: I know! The first draft of the script was almost 200 pages. It was a manifesto, with talk of different weapons and an endless rant. I'm really glad the Feds didn't come in and seize my computer!
When you see the film with an audience, does it ever creep you out that they are cheering some of these people being murdered?
No, but it completely creeps out friends of mine who get very upset when certain scenes get laughs and cheers.
When Frank kills the obnoxious reality star, it's hard NOT to cheer! But I like how you make things more difficult for us with some of the other killings. Some of the scenes are truly uncomfortable to watch, even if I laughed at them anyway. 
Yeah, I remember the movie "Falling Down" when Michael Douglas's character finally starts killing people but then his victim turns out to be a closet Nazi. Come on! As if someone's going to say, "Hey, wait a second, I'm pro-Nazi, I'm offended by that!" The comedy for me when I make movies is always about awkwardness and discomfort so I didn't want to let the audience off the hook when they start cheering along.
Are you bracing yourself for the criticism you're going to get that you're promoting the very values that you abhor?
Yes! I made a violent movie about kindness. The characters do despicable things while trying to point out despicable behavior. I know people will criticize the film but I'm not worried about copycats. I've done some research on murders where people blame movies or TV shows and the more you scratch the surface, the more you see that no, this had nothing to do with "Dexter," the person could have been watching "Dancing With the Stars" and done the same thing. You can't take healthy people and turn them into killers just because they watched a movie. If you could, the military would be producing more movies than Hollywood!
I completely agree with that but I have to admit that as I was walking around this morning I was channeling my inner Frank and looking around at the people who needed to die. How about the guy who walks around with the Bluetooth device in his ear all day long?
(Laughs.) You know, it's funny how everyone has their own choices. The one that makes me see red is when you stop for someone in a crosswalk and the guy behind you starts honking or trying to whip around you. I don't know why that one drives me so nuts. Maybe it's because I'm thinking, "Hey, I don't want to be here either, but I'm actually doing the right thing." That's my kryptonite!
Do you think such stupidity and rudeness is getting worse?
I do. The negative responses people have for each other are bigger and faster. Maybe it's because of the way we're all connected now. I'm not sure why we're going so off the rails and I wonder what's going to happen in five or ten years.
I don't want to give anything away, but Frank has one victim that's so shocking I was wondering if you worried you were going too far.
I was waiting to get a note about that scene in the script but no one said anything. Then we filmed it and I'm still looking around thinking someone was going to say something. Then I edited the scene together and still, I was waiting for someone to say, hey man, you can't do that! We had a midnight showing at the Toronto Film Festival with 1400 people and the whole crowd just exploded at that moment and cheered!
I remember when I watched "Network" for the first time and the shows that Faye Dunaway proposed were so laughably insane. Now they all seem pretty run of the mill! The fake reality shows in your film don't even seem that crazy anymore.
Oh, they're not parodies, I just reshot things I saw! It's pretty sad. Here's another thing on TV that drives me nuts—when you're watching a news program and they start reading tweets from random people watching the show. That just makes me insane—I really don't give a shit what coldwarrior68 thinks about the situation in Syria!  
I thought Joel Murray (who is Bill's brother and played the part of Freddy Rumsen on "Mad Men") was so effective as Frank. And where on earth did you find Tara Lynne Barr, she's extraordinary!
She just auditioned. My wife is the one who saw her tape and said, "That's the kid, you don't have to watch the rest of them!" Remember an old film called "The Sterile Cuckoo" with Liza Minnelli? That's the kind of person I was going for with Roxy. Tara came in and she just killed it. I didn't want it to be some Goth kid or some Lolita kind of thing. Roxy's obviously crazy but very funny and sort of wholesome! Although she's homicidal, Roxy supplies Frank with the family he's missing. We all just want people to listen to us. I always say that agreeing about things isn't what makes a great relationship, it's more about hating the same things!
You have many recognizable targets in the film. Have you heard from anyone at "American Idol" yet?
I think my movies are so small and under the radar that I can't imagine that! But my daughter just texted me a minute ago, saying "What did you do to piss off Stephen Tyler?" My daughter and I are really close but sometimes it's hard for her to have a dad like me. "Why did you say that about such and such?"
20th Century Fox just had to change the name of their "Neighborhood Watch" comedy because of the Trayvon Martin case. Do you worry that if any reality star is attacked by some crazed fan, that will be the end of your film?
A little, but you know, as we were making the film, something horrible would happen, and I'd think, "Hmm, maybe I'm making the wrong movie," but then something else would happen, much worse, and I soon realized that I can't even keep up with how insane we are right now.
("God Bless America" is currently playing in select cities and on VOD.)