Interview: Kodi Smit-McPhee of 'ParaNorman'
'I really do love the classics, like Scooby-Doo ... like Jason and Freddy Krueger ...'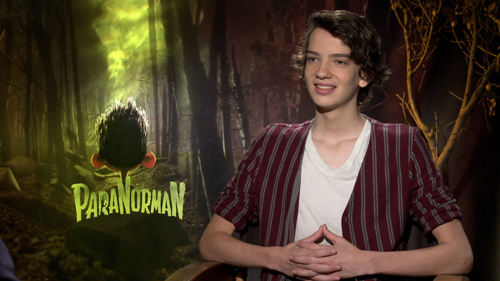 The world perhaps best knows Kodi Smit-McPhee as one of the leads in "The Road," playing Viggo Mortensen's son in a shattered world. But the real Smit-McPhee -- who notoriously wore a Montreal Canadiens jersey to the Toronto Film Festival unveiling of "The Road" -- is a lively, fun kid not given to, as his "The Road" character does, shouting "Papa!" over and over again. In "ParaNorman," Smit-McPhee voices the title character, a nice-hearted kid who can also talk to the deceased; we spoke with McPhee in L.A. about classic horror, stop-motion and the challenges of vocal work.

MSN Movies: Seeing the dead versus being a normal kid ... I mean, which is harder for you to portray? You've been a child actor for a while now…
Kodi Smit-McPhee: I think Norman, it was pretty hard to portray, but once I had the whole character and his whole in my head, it really just turned into fun, and I loved portraying this character and having the relationships with the sister and Neil and Alvin. It was awesome.
The great thing about this movie is that while there's scary stuff and the great animation, I care about the people. I could watch this movie done with sock puppets.
(Laughs) Yeah.
Did you feel that just reading the script that these people cared as much or more about the characters than the technology?
Definitely, that's amazing. That's a really good point. I think just the story itself has so much heart and so much soul into it because the people that made it really are every one of those characters just pushed into it. And they just topped it off with a cherry of making it stop motion, and the music was beautiful and shot in 3D. Just all of it kind of brings you into that world.
Well, I have to imagine, you're going to a recording booth about a year or so into production. This film takes years. I mean, did you almost forget about it by the time they showed you the finished product?
Yeah, I mean, you're in that little moment of kind of expecting something and it's just you create it in your head and then when you see it it's just like, this is what I've been waiting for for so many years, and just seeing it all together was amazing.
A lot of this movie is driven by the love of old scary films, everything from George Romero to John Carpenter, a little hint of Scooby-Doo. What are some of your favorite scary old films? What does your inner Norman like to watch?
I really do love like Scooby-Doo, the classics -- Jason and Freddy Krueger, Elm Street, all that. I really like the classic, iconic kind of ... the really great horror movies that they (made) reference to in this.
So you like a little bit more of the old ultra-violence say than Norman does.
Definitely.
He's more of a scary monster guy and you definitely like the classics.
Yes, definitely.
When you watch this film, well first of all, did you at any point see the process of making this film? Did they ever bring you bring you out to Oregon and go all this is to bring you to life? Did they show you all that work?
Yeah, it was crazy. While recording, it started out just with cardboard cutouts and these little drawings and that was cool. But then later on the progress that they made they would bring in these huge pictures of the town and the town hall and cemetery and the models. And then eventually I did get to go Laika, and it was amazing I got to see "Coraline" little sets and "ParaNorman" and the 40,000 faces. It's just so much work that goes into it, and I was blown away.
There's a lot of ways this is different from being on a regular film so I'm going to ask you which is more depressing, the fact that you didn't really get to meet any of your great co-stars like Leslie Mann or Anna Kendrick or the fact that Norman has that great little red hoodie and you can't steal it because it's only (four inches) tall?
(Laughs) Yes, I think it was kind of hard. Most of the time I was in a room by myself, but they were really cool to let me do some sessions with the characters because some of the conversations you see on screen, you feel the vibe of a real conversation, and it was really natural and I really loved that about it .
That you did get some sessions with your fellow cast members?
Yes, I did. I got to record with Anna who play Courtney, Tucker who plays Neil, and Chris who plays Alvin.
Just another way the film's special?
Exactly...
("ParaNorman" is in theaters.)