'The Incredible Burt Wonderstone' set visit preview
Steve Buscemi and Steve Carell play bickering Las Vegas musicians attempting a comeback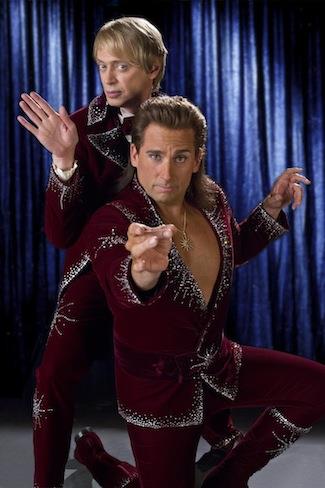 Check out the first image of Steve Buscemi and Steve Carell from the upcoming comedy, 'The Incredible Burt Wonderstone,' directed by Don Scardino. The photo at left (by John P. Johnson) features Buscemi and Carell in full sequined and blow-dried splendor as a pair of Las Vegas magicians who have reunited in order to compete with an upstart street magician played by Jim Carrey. I had the pleasure of spending a day on the set of this film earlier this year at the Wadsworth Theater in West Los Angeles which was standing in for a glitzy Las Vegas showroom. 
With a script by John Francis Daley and Jonathan Goldstein, the story details the checkered history of Burt Wonderstone (Carell) and Anton Lovecraft (Buscemi) whose magic act is the toast of Vegas until an on-stage injury leads to a bitter break-up and causes Anton to abandon showbiz. When street magician Steve Gray (Carrey) starts getting all of the attention in town, Burt begs Anton to come back to Las Vegas to re-mount their act.

On the day we visited the set, Carell and Buscemi were performing their outrageous act on the stage of the Wadsworth. They were resplendent in their Vegas duds and their patter and perfect delivery made me laugh during all of the multiple takes. Olivia Wilde, as Burt's former assistant, was also on hand, and we had a chance to interview them and others involved in what looks like a very funny film. The cast includes James Gandolfini, Brad Garrett, Jay Mohr, Alan Arkin, and Michael Herbig, as well as some clever cameos by actual Las Vegas magicians. I'll share the interviews and more about the set visit closer to the film's March release. For now, take a look at another just-released photo from the film (after the break).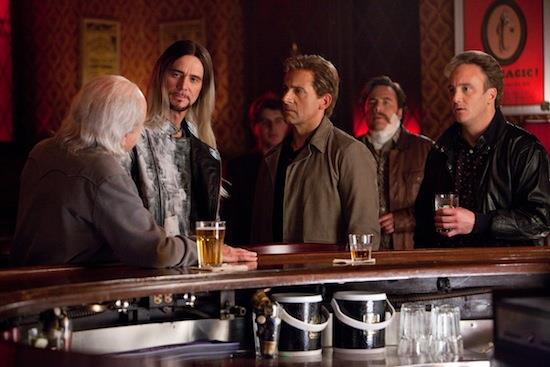 (l-r) ALAN ARKIN as Rance Holloway, JIM CARREY as Steve Gray, STEVE CARELL as Burt Wonderstone, MICHAEL HERBIG as Lucius Belvedere, and JAY MOHR as Rick the Implausible in New Line Cinema's comedy, "THE INCREDIBLE BURT WONDERSTONE," a Warner Bros. Pictures release. (Photo by Ben Glass) 
Are you sure you want to delete this comment?